Online Gambling in Florida – Legal FL Casinos To Gamble On
Florida is one of the most popular tourist destinations in the United States. Beautiful beaches down south are an ideal place for your next vacation. But what about gambling? Florida offers several modern casinos in and around Miami, its largest city.
The most popular place for gamblers is Fort Lauderdale. Here, you can find several high-quality land-based casinos, but the best way to enjoy some luxury casino gambling is to take a cruise. While in the international waters, you won't be obligated to pay any tax for your winnings, so everything you win is yours. Neat!
Online gambling is also very popular in Florida. Floridians generally like playing video slots, roulette, blackjack, poker and other casino games.
List of Casino sites accepting players from Florida:
History Of Online Gambling In Florida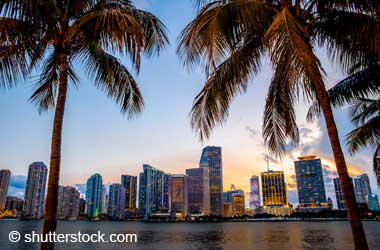 In Florida, gambling can take many forms, such as playing the night away at one of the casinos based on an Indian reservation, playing a quick round of poker or blackjack at home, or even placing some bucks on one of the local sports teams.
Though, Florida does have a distinct way to regulate and identify which forms of gambling are acceptable and which ones are crossing the line. Since Florida is considered a liberal state in terms of gaming, it still has certain limitations.
For starters, all casinos in the state are located on the Indian reservations, and the main form of betting is on horse racing. Moreover, the number of wagers allowed always have to be in accordance with state regulations. Though there are other forms of gambling allowed, such as greyhound betting casino games, poker and dominoes.
While cardrooms and bingo are permitted, all winnings must go to charity for it to be considered legal. Despite legalising and regulating other forms of gambling, sports betting is illegal in the state due to federal laws.
For the longest time, residents in Florida settled and accepted that they could not legally place wagers on sports. Though, thanks to the ever-growing market of offshore sportsbooks allowing America based players, Florida residents are finally getting the opportunity to place wagers of the major leagues domestically and internationally. While this advancement gives them a safe option to place wagers, residents should be aware that not every offshore sportsbook will allow American players and moreover, not each one is legal and licensed.
Is Online Gambling Legal in Florida?
Like in most parts of the US, online gambling in Florida is in a grey area. Since the state itself doesn't regulate online gambling, it is technically illegal. However, the law doesn't mention anything about offshore websites.
So, if you want to gamble online in Florida and be sure that you're not breaking any law, you can do so by playing on several high-quality offshore websites that I listed above. All these operators are licensed by official regulatory bodies, so you can feel 100% safe while playing on them.
Does Florida Allow Legal Online Sports Betting?
No, due to federal laws, land-based and domestic online sports-betting is illegal in Florida. Why the state itself does not have any personal legislation that prohibits this form of gambling, its accomplice with the federal laws does make it a punishable offence.
Any bookie that claims that are based in Florida should be avoided and reported since the state does not license any bookies or sportsbooks. Since sports betting is illegal in the state, residents have flocked to using offshore sportsbook as it provides a safe haven that allows them to place bets on a wide arrange of sports leagues – both American and internationally and considering how the federal and state laws do not have the power to affect them.
Currently, there have been no recorded arrests tied to an individual using an offshore sportsbook. Plus, the way that these offshore sportsbooks are run ensures that Florida residents who use them will not get into trouble – unless the sportsbook is run illegally and is unlicensed.
Though one interesting fact is that if a Florida residents bets on one of the Florida NFL teams using an offshore sportsbook, transactions made back to the bank will be easily accepted, even despite the UIGEA act, which makes bank transfers from known sportsbooks illegal.
Future of Online Gambling In Florida
The sports betting situation in Florida is complicated despite the PAPSA being repealed in May 2018. This is due partly because there is an amendment that will be on the ballot in Florida that would require any of the casino expansions to be approved by a popular vote from the voters in the state.
Though if that law is passed, the legislation regarding sports betting will instead be in the hands of the voters instead of the state government. Since the ruling, McKinley Lewis, the deputy communications director for the state government, stated that the state assembly will ultimately decide any changes pertaining to Florida gambling laws.
Frequently Asked

California Online Gambling Questions
Is internet gambling legal?
Are there any deposit and withdraw fees when using an online casino?
What is the Age requirement for using an online gambling site?
Other US States Laws & Regulations For Online Gambling