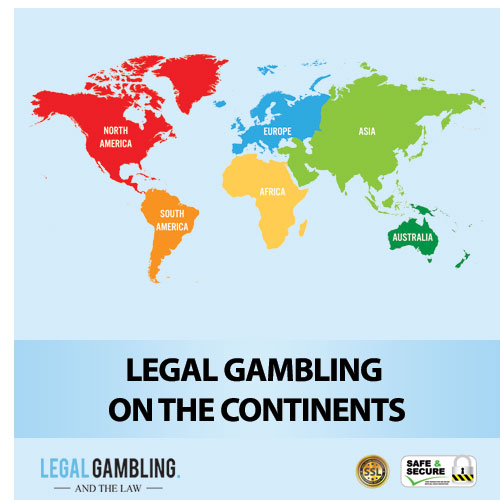 We've made sure that you can easily navigate through our website and find exactly what you're looking for in a few clicks.
Simply click on one of the six continents from our list and read about that continent's countries we've covered. Pick a country and you'll see dedicated pages for every type of gambling platform available there, including sportsbooks, casino sites, poker rooms, bingo sites, DFS sites, esports, and more.
Although it took us a lot of time, we have finally completed our list of countries. No matter where you are or where you plan on traveling to, our website is the only source you will need to find top gambling sites and learn about gambling laws in every part of the world.
Every country page contains a list of the best gambling sites you can access from there, together with a breakdown of that country's laws on different types of online gambling.
Top-Rated Gambling Sites by Continent
As of today, there are 195 recognized countries in the world, spread across six continents. Now, we haven't written articles about every single country out there, as some were left out for obvious reasons, like North Korea or the Vatican, for example.
Nevertheless, if you're not sure whether online gambling is legal or want to learn how and where to play your favorite gambling games in a specific country, you can get all the info you need on our website.
Every country in the world has its own rules regarding online gambling. Some have a fairly liberal stance on gambling and will allow you to place real-money wagers on the internet without having to worry about facing legal consequences.
Of course, there are also countries that consider gambling to be a grave sin; getting caught gambling there might result in severe punishment.
In any case, you shouldn't start gambling anywhere without knowing what to expect, and that's where we can help you out. Below is a preview of six continents and their gambling laws.
Asia
Asia is the biggest continent by land mass, and more than half of the world's population lives here. This is a very versatile continent in terms of geography, culture, religion, and, of course, gambling laws.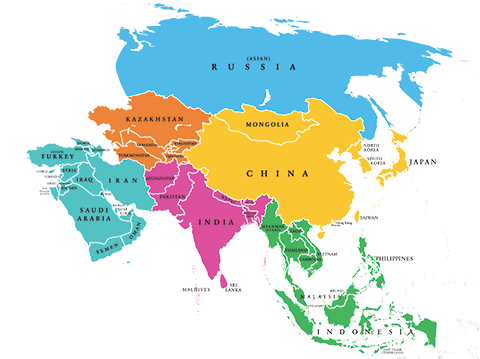 Considering the fact that almost two-thirds of all Muslims live in Asia, it comes as no surprise that gambling is illegal in most Asian countries, especially those located on the Arabian peninsula and in countries like Pakistan, Indonesia, Iraq, Iraq, most of India, and others.
There are also a few countries run by communist governments, like China, North Korea, Laos and Vietnam, and it's safe to assume that gambling is entirely illegal there, as well. Even some more liberal countries forbid gambling, like Japan and South Korea, for example, although there are exceptions for several types of gambling games.
Of course, there are also plenty of places where gambling is a common practice. Macau, China's special administrative region, is home to some of the biggest casinos in the world.
Asia is a massive continent with over 40 independent nations. If you want to find out more about each country's gambling laws and learn about their top gambling sites, feel free to browse through our Asian countries' pages.
Africa
There are 54 independent countries in Africa — more than on any other continent. Unfortunately, Africa is also one of the most unfriendly continents when it comes to online gambling.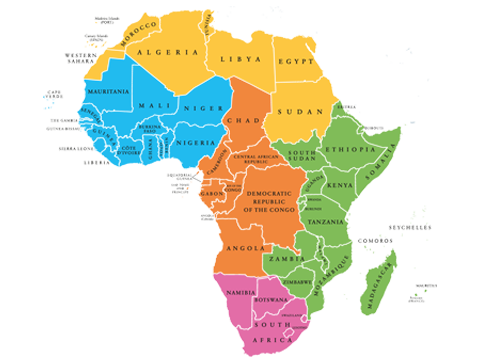 Namely, one-third of all Muslim population lives in Africa, and there are over a dozen countries in which 90% or more people are Muslim. These countries are usually governed by Islamic law that strictly forbids all forms of gambling. Among those countries are Somalia, Egypt, Algeria, Morocco, Sudan, Mauritania and several others.
While not all African countries are governed by Islamic law, plenty of them are not developed enough to have a viable online gambling industry.
Of course, there are exceptions. Nigeria, for example, has a completely regulated online gambling industry and issues licenses to dozens of gambling operators, both foreign and domestic. There are also countries like South Africa where all forms of gambling are legal, but only in land-based establishments.
While most African countries have a tough stance on gambling, plenty of African residents can freely log in to offshore gambling sites and play without hassle. If you want to learn more about those sites, check out our pages dedicated to top gambling sites in Africa!
North America
The majority of people in North America live in the United States. This is also the country that has some of the most complicated gambling laws on the continent.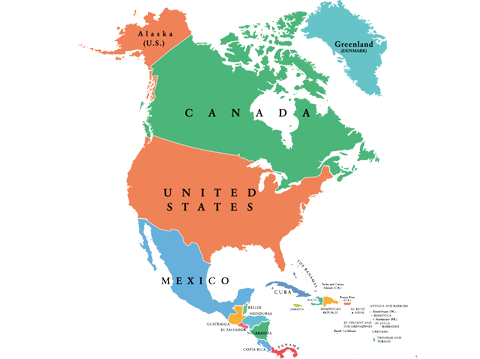 In the United States, each of the 50 states has its own online gambling laws. Even though the US is considered to be a very liberal country, online gambling is not legal across its entire territory. In the last several years, online sports betting has become legal in several states, like New Jersey, Pennsylvania, Delaware, Illinois, and a few others. Gambling remains strictly forbidden in states like Utah and Hawaii.
Canada is more lenient with online gambling regulation, as they have legal online casino and sports betting providers in almost every province. However, due to the fact that these websites have plenty of restrictive rules, many Canadians choose to play on offshore sites.
When it comes to Mexico and Central America, most countries don't have any specific legal definitions of online gambling, so the people from these countries play freely on offshore sites, as well.
One of the biggest issuers of online gambling licenses on the continent is Panama, and many North Americans choose to play on Panama-based websites. Other notable licensing jurisdictions in the region include Costa Rica, Antigua and Barbuda and Belize.
Of course, this is only a fraction of the story when it comes to online gambling in North America. To learn more, go through our North America list where we break down gambling laws and talk about top gambling sites for each of the continent's countries.
South America
South America is home to millions of people who frequently visit online gambling sites. Online gambling in South America is rarely penalized in any of the 12 countries.
Countries like Venezuela, Colombia and Peru have fully regulated gambling markets, with operators being free to apply for licenses and offer their services over the web. In some countries, like Argentina, each province is given the freedom to write its own gambling laws, and most of them allow their people to gamble online.
There are also several South American countries where the legality of online gambling is not defined clearly, like Brazil, Uruguay and Chile. However, these nations are not keen on punishing players who visit offshore gambling sites.
The island country of Curacao that's located off the coast of Venezuela and is a constituent country of the Netherlands is known for being one of the main online gambling licensors in the Western Hemisphere.
Europe
Europeans love to gamble, and most European governments allow their citizens to gamble online through legal and regulated channels.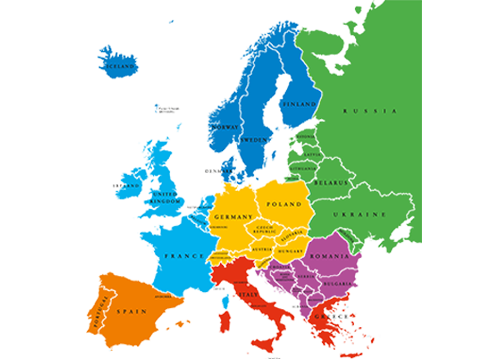 Europe is home to some of the most reputable online gambling jurisdictions, including the United Kingdom Gambling Commission (UKGC), Malta Gaming Authority (MGA), Gibraltar, and others.
The United Kingdom is probably the most gambling-friendly market in Europe. Plenty of top sports betting sites are based in the country, like Bet365, Ladbrokes, BetVictor, and many more. Online gambling is also legal in countries like Italy, Germany, Portugal, Finland, Serbia, Poland, Belarus and others.
The small island nation of Malta has one of the most flexible legal gambling frameworks in the world, which is why many online gambling companies choose to operate from here.
Of course, there are also countries where online gambling is forbidden in all forms, like Russia and Albania, for example.
Each European country has its own story when it comes to online gambling, so make sure to read through our pages in order to learn more.
Oceania
Australia/Oceania is the smallest continent on Earth, accounting for only 5.2% of the planet's land mass. It is also the continent with the smallest population (not counting Antarctica), with around 41 million inhabitants.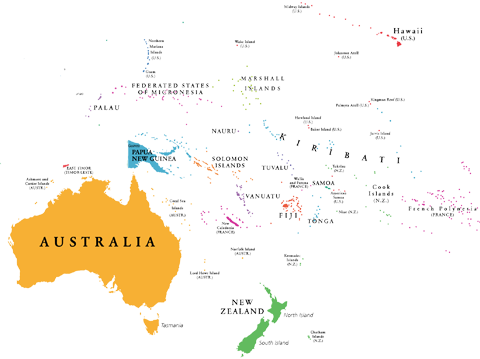 When talking about online gambling on the Australian continent, we can mention just three countries — Australia, New Zealand and Papua New Guinea. The rest of the continent is composed of small island nations that don't even have an online gambling industry, let alone a regulated one.
All three of these countries have pretty much the same rules when it comes to online gambling. Gambling over the internet is technically illegal, but the authorities don't bother to punish players who pursue this activity on offshore sites.
Australia and New Zealand have hundreds of thousands of gamblers who play on a daily basis, and the most popular gambling games in these countries are video slots or "pokies" as they call them.
We have created dedicated pages for both Australia and New Zealand, discussing their gambling laws in detail and listing top gambling sites where their residents can safely play.
What Is the Best Continent for Online Gambling?
When it comes to online gambling, every country on every continent has peculiar gambling-related regulations. Also, every continent comes with both pros and cons, which makes it hard to single out one as the best.
However, if we had to give you a straightforward answer, we would probably go for Europe. Not only is online gambling legal in most European countries, but those countries also have a regulated gambling industry, issuing licenses to renowned operators, and providing their residents with a safe online gambling environment.
Central and South America are also considered safe for online gamblers. However, the problem is that countries there usually don't have defined online gambling laws. So, while it is safe to bet from some of them, you should be careful when choosing the websites.
In the United States and Canada, online gambling is mostly legal, but only in some states and provinces. If you live in a part of the country that has a regulated online gambling industry, you will have plenty of great options.
By far, the worst continents for online gambling are Asia and Africa. That doesn't mean there aren't ways to gamble from these places; most Asian and African countries have strict gambling policies, and if you are caught gambling in a country where the activity is considered illegal, you might get in a lot of trouble.
Online Gambling Jurisdictions Around the World
There are plenty of online gambling jurisdictions and licensing authorities around the globe. These organizations are in charge of making sure a gambling site has checked all the right boxes in terms of fairness, safety, and the quality of its service.
Most reputable gambling jurisdictions are located in Europe. These include the United Kingdom Gambling Commission (UKGC), Malta Gaming Authority (MGA), Gibraltar Gambling Commissioner, Isle of Man's Gambling Supervision Commission, Alderney Gaming Control Commission (AGCC) and Cyprus Ministry of Finance.
Plenty of licensing authorities are located in Central America, too, as this is a very popular part of the world when it comes to offshore banking. The most recognized online gambling jurisdictions there include the Panama Gaming Control Board, Antigua Directorate of Offshore Gambling, Belize Computer Wagering License Board, Costa Rica and Curacao e–Gaming Licensing Authority.
Another well-known licensing jurisdiction that regulates websites on our lists is the Kahnawake Gaming Commission located in Canada.
Other than the ones we've mentioned, there are licensing jurisdictions in every country where online gambling is legal and regulated.
What Are Offshore Gambling Sites and Are They Legal?
By going through our website, you will hear a lot about offshore gambling sites. So, what are offshore gambling sites, why are they so popular, and, most importantly, are they legal?
A lot of countries have laws that prevent gamblers from enjoying their hobby. Some countries have legalized gambling but only in the land-based form. There are also those parts of the world where online gambling is yet to be regulated, so the status of online gambling there is in limbo.
For players who reside in countries where online gambling is illegal or unregulated, offshore gambling sites are the only option. Offshore websites are platforms that operate from a foreign country. As such, they do not have to abide by the laws of any country except for their own.
In most countries, playing on offshore gambling sites is technically illegal, but rarely do the authorities bother to punish the players. Instead, they target the operators. In other words, you can play on offshore gambling sites without the fear of being prosecuted or arrested.
Offshore websites are also the primary choice for players who reside in countries where online gambling is legal. The reason for this is that offshore websites often have better offers than local gambling platforms.
If you are from a country where online gambling is illegal or unregulated, you should check out offshore gambling sites. Every country we wrote about comes with a list of top-rated gambling platforms, and more often than not, those lists contain plenty of offshore operators.
Of course, whether you should play on offshore gambling sites or not largely depends on where you live. Always check your country's laws before gambling online.
How We Create Our Lists
Up until now, we've created hundreds of pages, breaking down each country's gambling laws and coming up with lists of the best gambling websites based on geographical location. It was a huge task that required months of hard work.
In order for you to trust us and understand that this website provides 100% accurate information, we've decided to share with you how we create lists and research gambling laws.
Here's how we do it!'
Studying Gambling Laws
When we get a task to write about top gambling sites for a certain country, the first thing we do is find out whether online gambling in that country is legal or not. This process is a bit more complicated than just googling "is online gambling legal in United States?" as we don't rely too much on information gathered from other websites.
Instead, we try to find information on official government sites and law books. Studying these can be somewhat difficult, as some countries have outdated gambling laws, while others have downright confusing and contradicting rules that are not easy to grasp.
Nevertheless, we can only start writing about a specific country's gambling laws once we fully understand them. We then try to present our findings in the simplest and most comprehensive way possible, so you can get a straightforward answer without having to read through multiple pages filled with legal terminology.
Looking for Gambling Sites
Once we've established whether online gambling in a given country is legal or not and in what capacity, we can start searching for gambling sites where players from that country can register and play using real money.
After doing a rundown of all local gambling platforms, we move on to offshore operators, as they are usually the best ones. When it comes to offshore sites, we first make sure the players from the country we're working on are welcome there.
Then, we make sure that each website we plan to put on the list is licensed by a reputable gambling jurisdiction. Also, we look into the website's safety protocols to make sure that players' information will be protected at all times.
Of course, licensing and safety are not the only things we look into. In order to truly evaluate these sites, we must look into their contents, as well. We evaluate how good the website is by checking its bonuses, available games and betting features, mobile compatibility, payment methods, and more.
Updates
Legal climates change constantly, especially when it comes to online gambling. Luckily for players, most countries that change their gambling laws do so in order to legalize gambling and regulate the industry.
Here at LegalGamblingAndTheLaw, we always keep up with legal news and recent developments in the online gambling world and are keen on updating you regularly. You can be sure that everything you read on our website is correct and up to date, although we do advise you that you always do your own research and get familiar with the legal gambling framework of your country.
Stay safe, stay legal, and gamble responsibly!