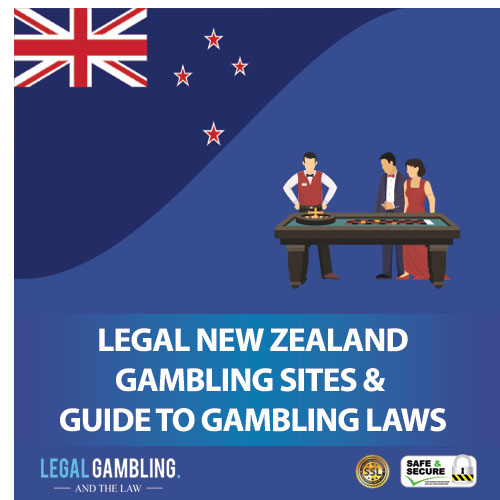 Gambling has been present almost everywhere in the world since the beginning of time.
While it didn't have a form that it has today, people had a lot of time to come up with different ways to gamble simply for the sake of having fun and prevailing over another person.
New Zealand, in particular, is a beautiful country that has a lot to offer to both tourists and residents.
Consequently, it was just a matter of time when New Zealand will include gambling activities into its front lines and use casinos as the means of giving people another way to have fun and also generating revenue.
Legal New Zealand Gambling Sites
The Internet is full of gambling sites that accept players from New Zealand. Therefore, our team had a tough time of reviewing and selecting the best ones.
Nevertheless, after countless hours or research, we were able to create a comprehensive list of what we believe to be the best online gambling platforms for New Zealanders.
All these websites have been tested for their legitimacy and quality of content, so you can rest assured that you will be getting the best possible online gambling experience. Enjoy!
Casino
Play Now / Review

No Casinos Found!
Rank
Broker
Offer
Trade Now

Deposit: $5

Leverage: 888:1

Trade Now!
Popular Pages:
Is Online Gambling Legal in New Zealand?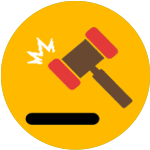 Before you jump on to the list of the best New Zealand gambling sites, we advise that you get familiar with the latest gambling laws in the country.
According to the 2003 Gambling Act, all forms of gambling are prohibited unless given the green light by the government. However, the law doesn't mention anything about offshore gambling sites. This means that playing on foreign-based gambling platforms from New Zealand is technically not illegal, meaning that you should not fear prosecution if you do so.
There are a few quality online gambling sites that are licensed and regulated by the New Zealand Gambling Commission, but the best ones are actually located offshore.
Whichever you choose, you should not be afraid that you will get in any legal trouble.
Under New Zealand law, the minimum gambling age for casinos is 18.
Gambling Site Specific New Zealand Laws and Regulations
The institution responsible for keeping gambling in New Zealand under control is predominantly the Department of Internal Affairs. Additionally, other casino and non-casino gambling services got a piece of the gambling world to regulate so that everything would be smooth.
The government of New Zealand divided this huge market into smaller units and assigned different authorities to regulate them. For example, there is a casino inspectorate that regulates all casino activities. Another institution is the Gambling Group that is taking care of all non-casino activities.
These institutions are there to investigate and audit the activities in their particular area of expertise, provide licenses to non-casino operators and certificates of approval to the casinos.
Moreover, New Zealand went quite far to make everyone happy when it comes to gambling. Apart from these highest levels of control and security, other regulatory agencies got to share responsibility for different gambling aspects and its legislation.
Here is the list of the central regulatory bodies and the roles they have in New Zealand's gambling operations:
The Department of Internal Affairs administers gambling legislation licenses gambling activities (except for casino gambling) ensures compliance with the legislation provides public information and education.
The Gambling Commission considers and determines applications for casino operators' licenses and the renewal of casino venue licenses approves agreements and changes to agreements between casino operators and casino venue license holders considers and deals with complaints about the way the Department of Internal Affairs has handled complaints in relation to Class 4 gambling specifies, varies and revokes casino license conditions advises Ministers and facilitates consultation on the setting of the problem gambling levy considers and determines appeals against regulatory and licensing decisions made by the Department of Internal Affairs.
The Ministry of Health funds and coordinates problem gambling services has recently finalized its Preventing and Minimising Gambling Harm, three-year Service Plan 2011-2013, and its six-year Strategic Plan 2011-2016.
Gambling Laws and Acts
Like their neighboring country, Australia, New Zealand is a relatively new country; therefore, gambling legislation changed rapidly. They currently have one act under which gambling is regulated, but before I tell you more about it, let's see the list of the laws and acts that marked New Zealand's gambling history.
1977 — The Gaming and Lotteries Act
1981 — The Boxing and Wrestling Act
1990 — The Casino Control Act
2003 — The Racing Act
2003 — The Gambling Act
2005 — The Gambling Amendment Act
2015 — The Gambling Amendment Act and the Gambling Amendment Act (No 2)
The Gambling Act 2003
The most important piece of the gambling puzzle in New Zealand is the Gambling Act 2003. The purpose of the Gambling Act 2003 was to gather most of the gambling rules and regulations under one roof. That's why the Gaming and Lotteries Act 1988 and the Casino Control Act 1990 were united under this new act in 2003. The only part left was racing, which still falls under the regulations of the Racing Act 2003 with some exceptions.
The core idea behind the Gambling Act 2003 was to focus mainly on the benefits of gambling for the country of New Zealand and its people, as well as to ensure that the harmful effects of gambling are reduced to the minimum.
According to the Department of Internal Affairs, the Gambling Act 2003 intends to:
Control the growth of gambling
Prevent and minimize the harm caused by gambling including problem gambling
Authorize some gambling and prohibit the rest
Facilitate responsible gambling
Ensure the fairness and integrity of games
Limit opportunities for crime and dishonesty associated with gambling
Ensure that money from gambling benefits the community
Facilitate community involvement in decisions about the provision of gambling
After 2003, a few more gambling amendment acts were passed, but they only changed the minor things regarding gambling legislation, while all the crucial points of the Gambling Act 2003 remained unchanged.
How We Found the Best Gambling Sites in New Zealand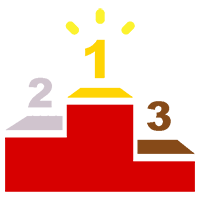 We understand that a lot of our readers are skeptical when going through our list, and we applaud their skepticism as you can never be too careful when choosing a gambling site.
That's why we decided to share a few words about our selection process and earn the trust of our readers.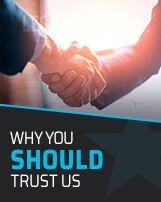 Why You Can Count on Legal Gambling
We have a decade-long experience with reviewing gambling sites and talking about gambling laws in various countries.
Additionally, our website employs some of the best gambling experts in the world. These people are not only keen on spotting quality gambling sites, but they are also avid gamblers themselves.
Our experts would never pick a website on which they themselves wouldn't lay a bet.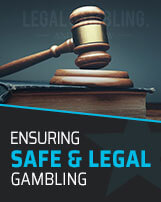 How We Make Sure That Gambling Sites Are Safe and Legal
Safety and legality are the first things on our checklist when we go through a given gambling site. We don't want to recommend an unregulated website without all the necessary cybersecurity measures in check.
Each operator that we put on our list must provide us with information about their licensing jurisdiction.
They also must tell us what encryption technology they use, so we can be sure that the players' personal and financial details are out of harm's way.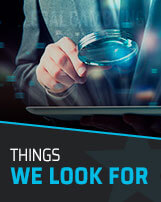 Important Aspects of New Zealand Gambling Sites
Once an operator proves to be licensed and secure, we can start going through its contents. A worthwhile gambling site must excel in several key aspects before earning the spot on our list.
These aspects include the following and more:
The quality of software
Overall design
Selection of games
The value of bonuses and promotions
Customer support responsiveness
We go through each of these segments step-by-step and evaluate them according to our standards.
Online Gambling in New Zealand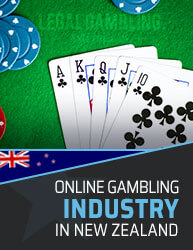 As it usually goes with the colonized countries, gambling in New Zealand dates back to the day the first colonists set their foot on the island. They brought along their customs, ceremonies, beliefs, and games they used to play to keep them occupied while they build a new world.
After the colonists settled, the story of gambling unfolded with the first chapter assigning the leading role to horses. Horse race betting was the primary type of gambling which New Zealand had in common with the first neighbor, Australia. The first official bets on horses happened in 1835 during an organized horse race at Bay Islands.
Horse-racing was primarily considered to be an excellent way for people to spend their free time and possibly make some money at the same time. Races were exciting enough on their own, but betting on horses was the hidden reason why people started getting more attracted to them.
In 1910, when the authorities find out the fact that betting took its toll on the New Zealand population, they banned many bookmakers accusing them of controlling the horse-race betting operations.
Forty years later, TAB was founded, which gave people a chance to place a bet on horse-racing again.
The next move forward in terms of gambling happened in the 1980s with the appearance of the first lottery. The initial way of organizing lottery was a weekly lotto which gathered a lot of people. This inspired the Lottery Commission of New Zealand to put together the new framework for regulating the lotteries in 1987.
From this moment on, lotteries started flourishing among the Kiwis to a great extent. This resulted in the increased number of sold lottery tickets, as well as the incredibly popular scratch cards.
The statistics from that period show that in the mid-2000s, more than 65% of New Zealanders participated in lotteries. It could even be described as a lottery fever, as the draws were broadcasted on television and broke all the spectating records.
Another trendy way of gambling had a form of a fruit machine, or "pokies" if you ask Australians. They were first shipped to New Zealand in 1987 and quickly became the most favorite toys for the Kiwis.
In the beginning, the pokies could only be found at specific venues, but shortly after they had been spotted, they started to round up a considerable number of people who were enchanted by the modern way of gambling which doesn't require any particular skill or knowledge.
The official entrance of pokies into New Zealand society had happened in 1991, after which they became legal in the whole country. Until today, their popularity remained the same, except now they are getting replaced by the new type of video slot machines.
Finally, in 1994, the first casino under the name "Christchurch" was opened in New Zealand. Apart from legal gambling, it also offered great food and drinks, so that anyone who enters the casino feels at home.
At first, casinos consisted of slot machines and live tables, but recently they have started following the pattern set by some of the most modern casinos in the world and upgraded the whole system which relies mostly on technological advancement.
The most frequently asked question that bothers anyone who desires to play any online gambling games is whether the activity itself is legal or not. That's why the first thing to be clarified is that you as a punter don't need to worry about participating in online gambling in New Zealand, but you do have to choose offshore sites when doing so.
To be precise, online gambling in New Zealand is controlled by the Gambling Act 2003 in which it is referred to as the Remote Interactive Gambling. According to the definition by the Department of Internal Affairs, remote interactive gambling is
gambling by a person at a distance by interaction through a communication device
In other words, if you use a computer, tablet, phone, radio, or any other communication device to deposit money which will allow you to play a game and win a prize, you are illegally gambling online according to the laws of New Zealand. Moreover, New Zealand doesn't even offer the possibility to get a gambling license for starting a business with an online casino, and that's why you cannot find any there.
However, it is not illegal for a person from New Zealand to participate in online gambling offered by providers based overseas, and again, I will cite the information shared by the official regulating body for gambling in New Zealand, the Department of Internal Affairs:
The prohibition is on remote interactive gambling in New Zealand and therefore does not prohibit gambling conducted overseas. For example, it is not illegal for someone in New Zealand to participate in gambling over the Internet if that website is based overseas. However, you should be aware of the dangers such gambling can involve.
After the given explanation, there are certainly no doubts about what you as a punter can or cannot do. Until New Zealand authorities decide to make some changes to their existing gambling laws and acts, you can enjoy online gambling at any reputable offshore websites you can find.
Stats About Gambling in New Zealand
New Zealanders absolutely love gambling. Some estimates show that around 80% of the nation's population plays games of chance, although the majority of them participate only in playing lottery games. The gross gaming turnover is expected to reach close to 18 billion NZD at the end of 2020.
When it comes to online casinos, most New Zealanders enjoy playing pokies (video slots), but other casino games like roulette and blackjack are quite popular as well. Sports bettors wager 1.5 billion NZD on horse racing, and around 100 million NZD on greyhound racing every year.
The most popular sports for betting in New Zealand include:
Mobile Gambling in New Zealand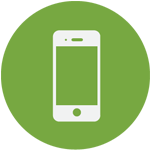 Mobile gambling enjoys high popularity in New Zealand. Therefore, mobile compatibility was one of the main aspects we looked at when reviewing NZ gambling sites.
All the sites on our list have mobile-friendly platforms that are compatible with a wide range of devices such as iOS, Android, and Windows.
Moreover, plenty of sites have free mobile apps that you can download through a respectable app store.
Mobile gambling sites are mirror images of desktop sites. On them, you will find the same number of games and features, while some operators even have mobile-exclusive bonuses and promotions.
Popular Payment Methods In New Zealand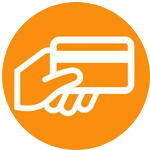 New Zealanders can use a wide variety of payment methods to fund their online gambling accounts. The most popular methods include credit and debit cards such as:
Visa
Visa Electron
Visa Debit
Maestro
Many Kiwis also use e-wallets. They are really convenient and have fast transaction times. The most accepted e-wallets on gambling platforms include:
Moreover, a number of NZ casinos accept cryptocurrencies.
Alternatively, many New Zealand online gamblers choose methods that are popular in their region, like:
Of course, there is always a good old bank transfer that's especially useful for large deposits and withdrawals. Many gambling sites also accept checks.
Future of Online Gambling in New Zealand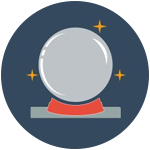 The status of online gambling in New Zealand is a little murky right now. The government issues licenses to operators, but the majority of New Zealanders still play on offshore sites simply because they have better options there.
Whether this will change in the future is left for us to see. Considering the trends in the world of online gambling, it won't be too surprising if New Zealand starts doing more when it comes to the regulation of their online gambling industry.
Responsible Gambling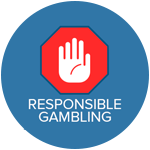 Unfortunately, there are plenty of people in New Zealand who can't keep control over their gambling habits and end up becoming addicts.
If you recognize some patterns of addictive behavior either in yourself or someone you may know, here are a couple of useful links to keep in mind:
Final Thoughts
Due to unrestrictive gambling laws, New Zealanders can enjoy online gambling on hundreds of different websites. However, not all those websites are worthwhile, so we helped you out by selecting a few of the best ones.
The sites on our list all included high-quality software, rewarding bonuses and promotions, and are mobile-compatible. Have fun playing!
Frequently Asked Questions On

New Zealand's Online Gambling Law
Is online gambling legal in New Zealand?
What is the minimum online gambling age in New Zealand?
Are online gambling sites in NZ fair?
Can I play online gambling games for free?
Do online casinos accept NZD?
How do I create an account on a New Zealand gambling site?
How do I deposit on New Zealand gambling sites?
What is the minimum deposit limit on NZ gambling sites?
Are there any bonuses on NZ gambling sites?
How do I reach customer support on a gambling site?