Rugby Betting Sites – Legal Sports Books to bet on Rugby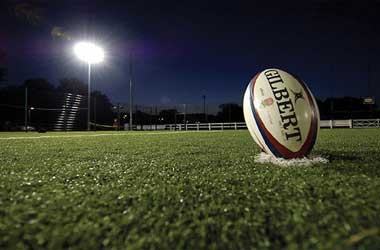 Rugby was initially created during the 19th century in England, and is played with an oval ball that players need to pass backwards to other team members to gain ground against the opposing team. The main objective of the game is the carry the ball to the other side of the field to accumulate a score. The team that accumulates the highest score in 80 minutes is the winner.
Depending on the rugby league, there is a total of 15 players in a team, and it's not considered a game for the weak. It's an extremely physical sport that demands a lot of speed and strength to make it to the other side of the field. Rugby has grown in popularity over the years, and bettors can find an assortment of betting types at legal sportsbooks.
In my article, I take a closer look at the most popular rugby leagues from around the world and provide a brief explanation of each. I then take you through the various types of bets you can wager on rugby found at most of the sports betting sites, and include useful tips and strategies on how you can win while betting on rugby. I then continue to answer the most commonly asked questions surrounding the sport and tell you why I strongly recommend betting on rugby.
If you wish to jump straight into the betting action, and merely looking for a legal sportsbook that offers rugby odds, you can register with any of my recommended sportsbooks included below:
List of Sports Betting sites accepting players from the USA:
Popular Rugby Events
Rugby is played in several countries, and the most popular of them include Australia, South Africa, United Kingdom, Ireland, and New Zealand. Due to the fact that rugby is played in numerous countries, bettors have access to loads of matches throughout the year, especially when it comes to leagues. There is a variety of major rugby events attracting casual and diehard bettors, including:
The Rugby World Cup is a rugby tournament for men, contested every four years among the best international teams. There is a total of 20 international teams, and the winner is awarded the prestigious William Webb Ellis Cup. The next Rugby World Cup will be held in Japan in 2019.
Premiership Rugby, also referred to as Aviva Premiership Rugby, is an English professional rugby union competition consisting of 12 rugby clubs. These clubs qualify for Europe's two main competitions, including the European Rugby Challenge Cup and the European Rugby Champions Cup.
This is an annual top-tier European rugby tournament for clubs where the country's national team participate in the Six Nations Championship. Clubs qualify for the Cup through their final positions in the Pro14, Top 14, and Premiership leagues. There's a total of 20 teams, and those that do not qualify are eligible to participate in the Challenge Cup.
This is an annual second-tier European rugby union competition for clubs where the country's national team participate in the Six Nations Championship. Twenty teams qualify for the Challenge Cup, two from the Continental shield and eighteen from the three main European domestic leagues, including Pro14, Top 14, and English Premiership.
The Six Nations Championship also referred to as NatWest 6 Nations, is an annual international rugby competition between Wales, Scotland, Italy, Ireland, France, and England.
Super Rugby is a professional rugby union competition taking place in the Southern hemisphere, as well as Japan. There is a total of 15 teams in the competition from Argentina, Australia, Japan, New Zealand, and South Africa.
Different Rugby Betting Selections
There is an arsenal of different types of bets available on rugby matches. I have included all the major types of bets you'll find at legal sports betting sites and included examples on how to place a rugby wager.
Supremacy Bet
A supremacy bet is made to indicate how many points a team will score against another team to beat them. Should the point be set at 6, it will indicate that team A is required to beat team B by 6 points to win.
Future Bet
A future bet is a type of bet that bettors can use to predict the winner of a league or tournament. For instance, Team A has a three to one odd on winning the Rugby World Cup. These types of bets are available weeks prior to the start of the tournament and are updated regularly by the bookmakers.
First Try Scorer
This is a high paying and fun bet that most bettors will use when it comes to rugby betting. This type of bet is used to predict which of the two teams will score the first points of the game. First Try scorer can also be coupled with Outright Winner, ensuring the game is interesting from start to finish.
Outright Winner
Bettors will use this type of bet to predict who the winner will be at the end of the match. Each team will have odds listed next to their name to indicate how much you will win if your prediction is correct. The team with the highest odds are usually the underdog and will pay the highest amount.
Tries Scored
This type of bet is used to predict the number of tries a team will score during a match. You can also use this bet to predict the number of tries a team will score in the first half or second half.
Top Try Scorer
This is a type of bet to indicate which player of a specific team will score the most tries in the match. This is a much more difficult bet as it will require some research on the statistics of each player to be a winner.
Total Points Betting
This is a type of bet that bettors will use to predict how many points a game will have. This is also known as an Over/Under bet. Bettors will either bet that the game will be over the amount posted by bookmakers, or under the amount posted by bookmakers.
Rugby Betting Tips and Strategies
In the rough and high scoring world of rugby, the unpredictability of each game is as inevitable as the injuries and bruises of players. Rugby is an extremely exciting sport with its hair-raising mash of raw brute force and tactical human chess. Before placing a bet on any rugby match, thorough research will give you a huge advantage in making a winning bet. There are several key areas in rugby that you will need to focus on prior to placing your bet.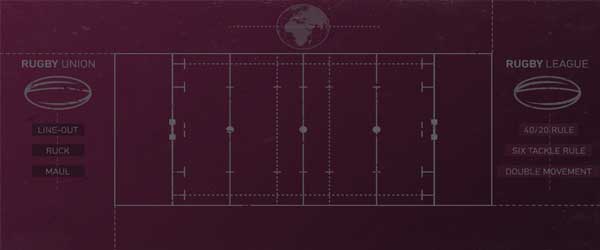 Weather Conditions
Wet weather conditions are a fantastic leveller when it comes to the sport of rugby. If teams are playing a game while it's raining, don't expect teams that love to attack with the ball and score tries to perform the same way as they do when it's a sunny day. You will need to turn your attention to how effective and strong the pack of forwards are, and have a good understanding on the fly-half's ability to control the game. A powerful forward pack that can direct in the wet and keep the play tight will have a huge advantage, while the fly-half's kicking game will ensure territory is made to dominate the game.
Home Advantage
Home advantage should always be a contributing factor in any sport, especially when it comes to rugby. The passion of the fans will always provide an additional boost for their team while playing at home. Teams that are travelling great distances to play against a home team will also be more tired as opposed to the home team who will be more rested before playing the match. Those travelling for weeks and living out of suitcases, as they travel from hotel to hotel, can have a massive impact on the way they perform. Furthermore, the conditions in the Northern hemisphere are very different when compared to the Southern hemisphere. In the Southern hemisphere, the conditions are suitable for attacking with the ball due to far drier conditions, and this makes it an unfamiliar territory for teams visiting from the Northern hemisphere. This is due to the fact they are accustomed to conditions are wetter. The results gives the home team a more distinct advantage that always needs to be factored into your betting decision.
Team Announcements
Team announcements are one of the most important factors to consider when it comes to betting on rugby. You should always know the players in each team and ensure they are available prior to making your decision. Rugby is an extremely physical sport and for players to get injured is very common. Players can miss weeks or even months that will greatly impact the overall performance of a team. Therefore, it's crucial not to assume that every player is always available. Another vital part when it comes to match day is to check the list of substitutes. These lists of players can inject new life into the game when the match starts drifting due to players getting tired. The level of experience on the bench will play a significant role on the game that cannot be underestimated.
The Referee
Referee decisions can also have a huge influence on the outcome of each game, so it will be beneficial to know the reputation of each referee in the game. It's common knowledge that referees in the Northern hemisphere tend to officiate the match differently when compared to referees in the Southern hemisphere. This means that team tactics played in the south might not be accepted by a referee in the north, causing penalties to occur that will result on more points for the other team. You will also need to know the history of each referee, and their tendency to give out yellow cards. This will cause a player to be sent to the sin bin for 10 minutes that will also have a massive impact on the game.
Legality of Rugby Betting
In the ever-changing world of online sports betting, it is very important for bettors to understand the laws and regulations for their respective country and how it will affect them before registering with an online sports betting site. While most countries have embraced online rugby betting, several other countries still view rugby betting with a head in the sand approach. Therefore, it's crucial first to check the laws and regulations of the country you reside in before deciding to place a bet.
In addition, bettors also need to ensure that they register with a safe and secure online sportsbook that has a reputation for paying their players when a cash-in request is made. Doing the necessary research into each sportsbook, you potentially wish to register with will go a long way in your decision-making process. There are several factors that make a good sportsbook, including customer service, competitive betting odds, welcome offers, on-going promotions, and processing times on withdrawals. However, the most important is to ensure that the sportsbook is licensed and regulated by a well-known governing body such as the UK Gambling Commission or the Malta Gaming Authority.
Conclusion
Rugby is an extremely physical sport that is loved by sports fans around the world. The same can be said for bettors who enjoy betting on rugby due to the wide range of betting markets available on every match. To become an expert while betting on rugby, you will first need to compare several sports betting sites to locate the most competitive odds. Thereafter, you will need to transform the statistical information from reliable sources into an optimal betting strategy to enjoy long-term profits.
Rugby

FAQ Section
What is the dimensions of a rugby field?
How does the point system work in rugby?
Why I Would Recommend Rugby Betting