Mixed Martial Betting – Legal sport websites to bet on the MMA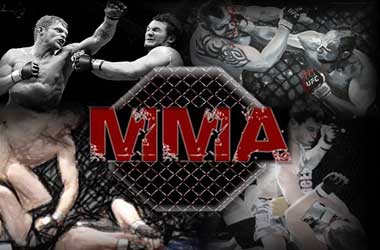 There are copious amounts of movies that feature mixed martial arts, also known as MMA, but do you truly know what this intense sport is? Simply put, mixed martial art is an extreme combat sport which allows participants to incorporate techniques stemming from wrestling, boxing, judo and karate. Mixed martial art fighting usually takes place inside an enclosed ring, similar to a boxing ring. However, the framing of the encoded ring is higher and is similar to a cage.
Usually, mixed martial arts last for three rounds of five minutes, with a quick rest period in between each round. The main idea of this sport is for two competitors to claim dominance over one another using a variety of moves and methods until one player either gets knocked out, submits, or is stopped by referee interference.
The apparel aspect of this sport is simplistic. Fighters are required to have various of protective gear: open-fingered gloves, mouth guards, and groin and chest protection. Other than that, fighters have free reign over what they are allowed to physically wear as long as it is in accordance to set MMA rules, which can vary slightly from one another.
Historically, mixed martial art fighting was more intense and gruesome than it is commonly known now. In the past, the only rules were the prohibition of gouging out the opponent's eyes, fish-hooking and biting of any part of the body. Due to new rules, this is changed so the fighters can have a bit more protection from seriously hurting one another.
Mixed martial art scoring is not a too complex concept to understand. Each match is overlooked by judges who rate each round based on a 10-point scale. The winner of the round will be given 10 points exactly while the loser will only receive 9 points or possibly less. The judging is also based on which fighter had the most effective fighting methods along with the amount of successful execution of takedowns and reversals.
List of Sports Betting sites accepting players from the USA:
After going over the brief introduction to MMA fighting, this article will list different mixed martial art betting organisations that potential bettors can make their bets, the betting variations that could be made, and many MMA strategies and advice that could be used for the bettors benefit when placing their desired bet. The article will also explain the legality surrounding MMA betting, along with some of the frequently asked questions regarding betting on MMA fights. Finally, I will also tell you why I personally recommended betting on such an intense and entertaining sport, such as mixed martial art fighting.
Although, if this information is irrelevant for you, since you have a solid knowledge with betting on MMA fights, and would prefer a secure, legal, and trustworthy betting site to use – my personal recommended sportsbooks that are listed below may provide some help in your decision before registering your new account:
Top Mixed Martial Art Events
When it comes to mixed martial art fighting, there are a plethora of organisations and leagues that fighters can participate in. Each organization has varying weight classes and specializations: judo, kickboxing, Muay Thai, just to name a few. Which can cause potential confusion for betters who are looking to see who is considered a top fighter. When it comes down to this, bettors should look at if the fighters are at the amateur level or the professional level, and what MMA fighting style they use.
Amateur
Contrary to popular belief, amateur style mixed martial art does not refer to the skill level of a new player that does not have a solid foundation of how the sport is played. In this regard, it means quite the opposite. Fighters who are considered amateur, usually focus on clinches and takedowns. These fighters have high skill in MMA fighting. However, many choose to stay at the amateur level as they compete to increase their skill and experience before starting the process of becoming a professional fighter.
Professional
When the fighter is at the professional level of MMA fighting, that means that they are considered to be of an extremely high skill level and that they are getting paid for their matches. At the professional level, many different organisations offer the fighters to participate in championships, tournaments, and titles can be won. Currently, the five main organisations that MMA fighting is known for, are the following:
Ultimate Fighting Championship (UFC)
There are a total of nine weight divisions used in MMA championships. However, both male and female fights can compete in the varying divisions. Thus meaning, there could be a dozen or more championships and tournaments happening at a given time.
Types of MMA Bets
Although one of the most popular forms of MMA betting is who would be the winner of the match, many other betting variations can occur as well. Having betting variety can lead to a higher chance of winning a profit due to the diversification of what aspect of the fight you would like to bet on. In some cases, certain bets may be based on if the fight will last over or under the set number of rounds. Either way, listed below are the most popular types of betting within the MMA.
Money Line/ Match Betting
This form of betting is one of the more commonly well-known forms. As the title states, this bet is based off of the overall winner of the match – whether that be by knocking out the opponent or having the higher number of points. Many MMA betting experts recommend that a potential better should look at the odds: a system of which that tells the better how much they could potentially win in this situation. Usually, profits have been noted to range from 40% – 60%. So, it is a safe bet only to choose fighters that have a higher number of payouts.
Method of Victory Betting
As previously mentioned: MMA fights can end in either, knockout, submission, referee interference or even the judge's decision. Most, if not all, sportsbooks will allow the better to bet on which way the fight will most likely end. This method of betting does not focus on whoever will win – instead, the core focus will be on how the winner is decided. This betting style is mainly popular amongst bettors who plan on betting live.
Parlay Betting
With this betting style, a bettor must select the winner for multiple fights. This method is riskier, it can offer a higher payout if the bettor correctly chooses the winners. The downside to this style is that if the bettor incorrectly guesses a single winner, then they are out of luck. This style is recommended for the more experienced bettors who are good with money management techniques.
Round Betting
This betting method is one of the more simple and straightforward ones. With this kind of bet, the bettor will bet on which round they think the match will end at. Even though the obvious method will be to choose the fighter that is known to knockout their opponents quickly, these outcomes can be completely random at times. Bettors who choose this style will have a high chance of making a profit is they create a betting strategy.
Over/Under MMA Betting
With this betting variation, the sportsbook will post the round total, and the bettor has the responsibility of betting if the fight will go over longer or shorter than the round total. This is one of the riskier forms of betting since the fights can be unpredictable in some cases. It is recommended to have a solid foundation of the fighters and their preferred method of fighting.
Prop Betting
This form of betting focuses on the details of the fight instead of who the winner will be. They mainly focus on number of points awarded, victory method, and other factors that are closely tied in with determining the winner. Prop betting can offer larger profits for the bettor along with more variety as well. A few examples of prop betting are the method of victory, fight to go the distance (how long the match will last), round betting, and points handicap (a method that helps avoid issues that can come from ties).
MMA Betting Strategies and Tips
What makes MMA betting so exciting is knowing a few tips and strategies that can be incorporated that will increase the likelihood of winning a bet and profit. Listed below are the more important aspects that can be focused on to avoid any confusion or feeling of being overwhelmed with information.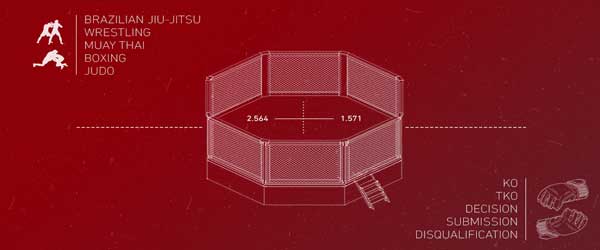 Understanding the Betting Odds
This is considered one of the most valued and important tips a person who plans on betting in MMA fighting should understand. A sportsbooks main goal is to still make a profit without doing any of the actual betting themselves – so they strive to make sure that the bets are equal on both sides, so that no matter who wins or loses, the sportsbook can still make a profit. When it comes to the actual fight, the sportsbooks will use a plus/minus system to average out the betting odds, which is measured on the money line. The plus/minus also has important significance. If the player has a plus beside their name, they are considered to be the underdog. While the player with the minus is a well-known fan favourite. When it comes to this system, minus-any-number represents how much the bettor has to bet to win $100, on the flip side, plus-any-number is what the bettor will receive in winnings if they bet 100%.
How Often Should you make a Bet
Although many bettors have full faith in confidence in their skills, many experts universally agree that making a wager on every fight could lead to more losses in the bettors' personal finances then winnings. It's near impossible to have the most accurate stats on every player that's fighting in a match. It's better if the bettor decided to make calculated risks instead of making bets to every fight around. It's a safer method, and it could lead to a higher winnings profit if the bettor does their proper research.
Fighting Styles
In the MMA, multitudes of different fighting styles are incorporated, such as boxing, kickboxing, judo, karate, and capoeira to just name a few. However, bettors should note that not every match is fought by fights who use the same techniques. In the MMA, fights are paired based off of their weight class exclusively, so for the bettor's sake of making the correct decision on how to bet on, they should be familiarised with the fighters specialised techniques and how they could counteract one another during the match.
Studying the Fighters
This goes beyond knowing the fight's stats and their preferred use of fighting style. Bettors should take into consideration multiple facts and features about the fighters the choose to bet on. Such as who they trained with. If the fight trained with a well-known organisation, such as UFC or World Champs, then the fighter is expected to have more skills and to fight better as well. Another important factor is to look at the fighter's record when it comes to what fight skills their opponents specialised in, and how they held up against opponents with that specialisation. One last key factor is to look at any injuries the might may have previously had, even if the injury is healed, it's a safe bet for potential bettors to consider this while making their betting choices.
Avoidance of Public Opinion
Many bettors will have different opinions of who is the "best fighter" based on their own experiences with betting on the said fighter. Although this information may seem helpful at first, you as a bettor should do your own research and make your own opinions about the fights and how the match will go. Remember, this is your money that you are investing, it's never safe to out your money and the potential to make a profit based off of someone's else opinion.
Legality of Mixed Martial Arts Betting
Considering how online sports betting is one of the most popular forms of online gambling, it is important as a potential better that you know the laws surrounding this. In countries such as the United States, many states have banned and illegalised online betting of all forms. The only states that regulate this practice and legalised are – Nevada, Delaware, Oregon and Montana. However, potential betters should not fear this because many offshore sports betting sites will allow for US- based bettors to use their sites and resources.
Though, the process of researching to find legal and trustworthy can be an extensive and tiring one for some bettors. To ease this burden, I recommended using the sportsbooks that I have provided in this article to ensure any protentional bettor that they are using a proper site without any worries. Each site listed is ranked on varying factors: licensing, customer service, secureness of your information, and withdraw processing time.
Conclusion
Mixed martial arts are a thrilling sport to place wagers on. Due to the multitude of fighting techniques, bettors can find players that will intrigue them and make them feel more secure that they will win the match. Betting on this sport can lead to the potential of making a great deal of profit from winnings. The bettor should consider these factors to increase the likelihood of being successful in the market: finding a licensed and legal online sportsbook, learning strategies and tips, and doing their research before making a bet. If these are followed, the bettor is sure to have success in making some profit in winnings in this market.
Mixed Martial Art

FAQ Section
How Often do MMA Matches Occur?
How are the Winners Determined?
What is the Point of Having so many Different Organizations?
Why do I Recommend MMA Betting?