eSports Betting Sites – Legal Sports Books to bet on eSports Events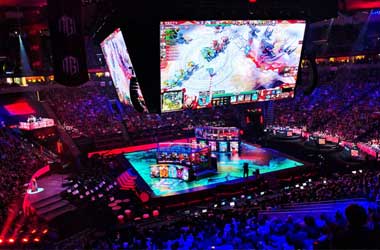 Ever since the appearance of first arcade games, video games have been slowly gaining in popularity.
At first, games could be played only in single player mode.
However, that didn't stop players from finding ways to determine who's a better player, and they competed by trying to beat each other's high scores.
In time, video games have become a lot better — graphics got improved, gameplay became more challenging and, most notably, games started getting designed so that huge number of people can play them simultaneously from the comfort of their home. Not only did that make video games more popular than ever, but it also allowed players to compete on a global level.
As is the case with conventional sports, video games often have teams of players competing with each other. And what better way to determine who's the best than various tournaments? Thus, eSports were born.
Nowadays, video game tournaments are held annually all over the globe. Thousands of players regularly compete for prize pools of millions of dollars, so it doesn't come as a surprise that such events attract a lot of action, either from bettors or eSports fans.
If you happen to be new to the world of eSports betting and wish to find out more about eSports, as well as the best eSports betting sites, you've come to the right place. We will also cover info about betting markets and different types of bets. Finally, we'll cover some of the most popular eSports events, so make sure to check it all out!
List of Sports Betting sites accepting players from the USA:
Even though eSports betting is a relatively new market, there are countless sportsbooks that present you with an opportunity to bet on eSports games.
However, our team over here at Legal Gambling and the Law strives to bring you the best odds and the best offers out there. For that reason, backed by years' worth of experience, we hand-picked only the best ones that offer top odds, and you can find them in the list below.
Popular eSports Events
eSports is a form of competition in playing video games. As such, the whole eSports franchise is comprised of numerous games, teams, and players. If you compare it to conventional sports, for example, every video game could be considered a different sport. Similar to regular sports, every video game has multiple tournaments and leagues, but we've selected some of the most popular ones with the biggest audiences and the largest prize pools.
The International – Dota 2 Championships
Dota 2 is a team game that falls under the MOBA category of games. A match is played between two teams of five players and, as is often the case with these types of games, the goal is to destroy the enemy base. Dota 2 is by far the most popular game out there and it has tons of tournaments throughout the year.
However, the biggest Dota 2 event is undoubtedly The International. It is held each year around August and prize pool averages around $20M. Needless to say, it is also one of the most popular events to bet on.
Intel Extreme Masters Katowice (CS: GO)
Counter-Strike has been around for decades. The first-ever game in the long series was created in 1999. Ever since, Counter-Strike held its place as one of the most popular first-person shooter games.
The CS: GO tournaments can be split into three categories: premier, major and minor. The most prestigious one is held annually in Katowice and is sponsored by Intel, hence the name. The long history of the game regularly brings in tons of fans.
League of Legends World Championship
In its core, League of Legends is quite similar to Dota 2 — even though the mechanics are different, the objective is the same, and the game also involves two teams of five players.
Even though the LoL's prize pool might not be as large as the one for Dota 2 games, it is not any less popular — the event is the culmination of the whole season and it is often watched by around 50 million people worldwide.
Intel Extreme Masters Katowice (Starcraft II)
Starcraft II is a real-time strategy game and a leader in the genre. Unlike the others we've included in our list, each player is on their own. The games are fast paced and intense and require employing various strategies and extremely high APM (actions per minute), so it is considered as one of the games that require the most skill. The event is held in Katowice, Poland at the same venue/arena as CS: GO.
Different eSports Betting Selections
Now that you know what eSports are and what are some of the most popular eSports events, you're ready to start betting on it. Before you rush in, though, make sure to check out some of the eSports betting markets that reputable sportsbooks provide. If you're an experienced bettor, however, you won't be all that surprised as the majority of markets are fairly similar to the ones you have for conventional sports.
Winner Bets
Winner bets are represented in virtually any sport/competition and are also the most common ones. They are the easiest ones as well; the name is sort of self-explanatory. Simply select the game or the match and pick your favorite. That's all there is to it! One thing to keep an eye on are the odds as they may fluctuate as the game approaches.
Game Bets
Virtually every game/match in eSports is played in three or five rounds, sometimes even more. To win the match, a team/player must win the majority of the games. For example, two out of three games, if it's best of three. However, instead of betting on the winner of the match, many sportsbooks allow bettors to bet on the winner of a certain game.
Outright Bets
Outright bets are perfect for any eSport tournament. To win an outright bet, you must correctly predict the winner of the tournament or the team/player that is going to advance to semi-finals or quarter-finals. Naturally, the odds will change as the tournament progresses, so the earlier you place your bets the higher the profit you can make.
Handicap Bets
Handicap bets work in the same way, regardless of the sport. Granted, the way they work may slightly change depending on the video game, but generally speaking, sportsbooks will add a handicap to a, let's say, team that's a favorite to balance things out. In order for you to win the handicap bet, the team/player that you have bet on should both win the bet and overcome the handicap.
Special Bets
Special bets are unique, and this market has the biggest diversity. These types of bets are game-specific, and they change depending on both the sportsbooks and the video game that you're looking to bet on. For example, in Counter-Strike, players can bet on who's going to win pistol rounds or who's going to draw first blood. Some sportsbooks even allow players to bet by using in-game items.
eSports Betting Tips and Strategies
There's a lot that goes into eSports betting. As we've previously mentioned, if you compare eSports to conventional sports, the whole eSports branch is huge. There are dozens of video games, hundreds of tournaments, and thousands of players, which can make the whole experience slightly overwhelming. However, to help get you started, we've prepared some small tips and tricks that you can use to your advantage and boost your win percentage.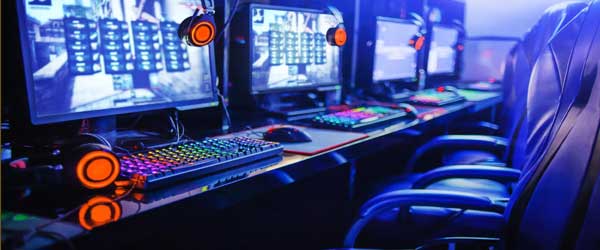 Do Your Research
As the title says, you should do your homework. You need to know your game, the teams, and the players. Perhaps the best things that you can do is to familiarize yourself with their recent performance and see if they're on a roll. In order to stay ahead of sportsbooks, you should also learn more about the players. For example, see if some of the players are ill or if they are unable to attend the tournament and have to be replaced by another player. This can greatly affect the team's chemistry and give you a significant advantage when placing your bet.
Find the Best Odds
It should go without saying, but there's no perfect sportsbook that is the best at everything. The betting markets are fierce, and sportsbooks compete with each other in order to provide the best odds. You can use this to your advantage and find the best odds out there. It might take you a bit longer, but you can significantly increase the number of your winning bets.
Take Advantage of the In-Play Betting
In-Play betting is quite popular among the eSports enthusiast as it goes hand in hand with watching your favorite team compete. Nowadays, eSports tournaments are broadcasted on platforms available to virtually anyone, so it is extremely easy to watch the game and bet at the same time. Moreover, the events are hosted by experienced commentators who might provide you with additional insight into the game which you can use when placing a bet.
Legality of eSports Betting
As we've mentioned before, eSports are extremely similar to conventional sports in every regard and the same can be said when it comes to the legality of betting on it. In other words, as long as online betting is legal in your country/jurisdiction, you should have no trouble betting on eSports games.
Granted, this may change depending on your country of residence, so make sure to quickly check if online gambling is regulated, and if eSports betting isn't an exception.
Conclusion
As you can see, even though eSports is a fairly new betting market, there's not that many differences between betting on conventional sports and eSports events. Hopefully, our article has helped you familiarise yourself a bit more with the various eSports markets and some of the most popular games and events that you can bet on. Finally, we hope that a few tips we've provided are going to prove helpful whenever you decide to enjoy betting on eSports. Best of luck!
eSports

FAQ Section
Are the odds on eSports any good?
When are eSports tournaments played?
What are the most popular games to bet on?
Where can I bet on eSports online?
Is eSports betting legal?