Online Volleyball Betting Sites – Legal Sports Books to bet on Volleyball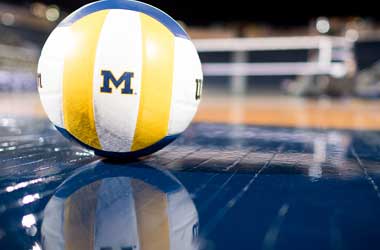 Volleyball is a team sport in which two teams of six players try to score points by grounding the ball on the other team's court under organised rules.
Besides football, volleyball is arguably the most popular sport on the planet, enjoyed by over 800 million people worldwide. It was enlisted in the Olympic program in the Summer Olympic games in Tokyo in 1964.
The sport was invented in the US in the 19th century. Mintonette, as the sport was initially called, became popular in US schools, as a less intense, non-contact, less violent alternative to the already popular basketball. Nowadays, volleyball is the second most popular sport on the planet, featuring over 200 million registered players worldwide.
Volleyball is (alongside football) considered a national sport in Brazil, and it ranks second in the US in terms of team sports popularity. Volleyball is also treated as a major sport in countries such as Italy, Russia, Cuba, Serbia, Bulgaria, Spain, Netherlands and so on.
Although volleyball is a prevalent sport worldwide, it's considered a second-tier betting market among the elite bookmakers. However, bettors can use that to their advantage. Less popular sports often provide more opportunities to knowledgeable bettors to find value bets — this is a concept known as the Pareto Principle.
Recommended Online Sports Betting Sites:
So if you want to sharpen your volleyball betting skills, you'll probably need some help finding the best sites for betting on volleyball. With our detailed volleyball betting guide, we'll provide you with the information you need for developing a successful volleyball betting strategy. Read on!
Volleyball is prevalent on betting sites, but not all bookmakers provide the same range of betting offers and the same quality of odds. Therefore, you need to find a reliable, legitimate, trustworthy, and safe bookmaker. To help you speed up the selection process, our team of experts has comprised a list of the best sports betting sites for volleyball. Have a look!
Popular Volleyball Events
The two most popular types of volleyball are indoor volleyball and beach volleyball. These two volleyball variants share a lot of similarities in terms of the rules they abide by — in each of these disciplines the team scores points either by grounding the ball on the opponent's court or when the opposing team makes a fault. Also, in both volleyball formats teams are allowed to touch the ball maximum three times before they take it to the other side of the net.
The most notable difference between beach and indoor volleyball relates to the surface and team size. In beach volleyball, there are only two players per team, and the game is played on a smaller, sand court.
Now, let's take a look at the most popular volleyball events for betting.
Summer Olympics
Indoor
This is the pinnacle of the volleyball world and a tournament where the best players in the world compete for the gold medal and a special place in volleyball history books. Olympics volleyball is an immensely popular betting sport that attracts millions of bettors worldwide. Only 12 teams can earn a spot in the volleyball summer Olympics tournament, including the host nation.
Beach
Beach volleyball was introduced at the Summer Olympics in 1996. Brazil and the USA have been the dominant force at the tournament, winning nine gold medals combined. As is the case with other sports, winning the gold medal at the Summer Olympics is considered to be the highest honour in international beach volleyball. The betting offer during this tournament is the most extensive.
FIVB World Championships
Indoor
This is one of the most prestigious international competitions organized by FIVB — the sport's global governing body. It takes place every four years and includes the top 24 nations from all over the world. The betting offer for FIVB World Championships is traditionally extensive.
Beach
This tournament is organized by FIVB, the sport's global governing body. The inaugural edition took place in Los Angeles in 1997 and has been held every two years ever since. Apart from the Summer Olympics, World Championships is regarded as the most prestigious international beach volleyball tournament.
FIVB World Cup
This is a qualification tournament for the Olympic Games. It takes place every four years (the first one was in 1977), and the current format of the competition involves 12 teams, including the host nation. Bettors can find a wide variety of betting options for this tournament.
FIVB Nations League
This is an annual competition considered to be the richest of all the international events organised by FIVB. The Nations League replaced the World League — an international tournament that used to be held every year from 1990 to 2017.
Different Volleyball Betting Selections
When it comes to volleyball betting, you will have a decent range of betting types at your disposal on pretty much every reputable betting site. The most popular bet types, like match bets, handicap bets, and so on, can be found in every bookmaker's offer. But there are other bets available too, and if you want to know how to bet on volleyball successfully, you should learn as much as possible about these options.
Again, we are here to help! We're going to walk you through the main volleyball bet types, along with some of the unique bets offered only during certain competitions, such as the Summer Olympic Games.
Match Bets
As is the case with other sports, this is the most straightforward type of bet available. All you have to do with this bet is to predict which team is going to win the match and place your bet on it. This type of bet is great for recreational bettors. In volleyball, as in all other sports, betting on the favourites will get you a lower payout than if you chose to back the underdog team. Trying to find value bets in any volleyball match is the best strategy.
Futures Bets
With futures bets, instead of betting on the outcome of the game, as in match betting, you are betting on the outcome of a certain competition. The basic idea is to predict the winner of the upcoming event. Usually, the list of teams competing at a particular event is known before the start of the tournament, so the bookmakers will allow betting on the eventual winner long before the tournament even begins.
For example, if you think that the Russian team is going to win a gold medal in the 2020 Summer Olympics in Tokyo, you can place a bet on Russia before the tournament gets underway.
Over/Under Bets
With this type of bet, you're trying to predict how many points will be scored in total by both teams. The bookmaker will pick a value, and then it's up to you to decide whether that number is too low or too high. For example, if the bookmaker has chosen a value of 101.5, and you place the over bet, the number of points scored by both teams needs to be 102 (or more) in order for you to get the payout.
Volleyball Betting Tips and Strategies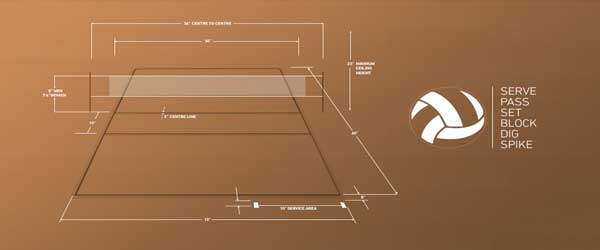 If you want to develop a successful volleyball betting strategy, there are certain factors you should take into consideration. While betting on volleyball can be potentially lucrative, it can be daunting to find value in volleyball bets, especially for beginners. But by following our volleyball tips, you'll be able to learn how to recognize value in volleyball betting, which will ultimately bring you the desired profits.
International Competitions are More Prestigious
First and foremost, you should conduct proper research on the importance and the prestige of tournaments. In volleyball, international matches are more highly regarded than league matches, which may differ from what you're used to when it comes to other team sports like football.
International volleyball matches are more popular than club tournaments, and volleyball players consider playing for the national team a great honor. The most important international tournaments are the Olympic Games, World Championships and the World Cup. During these events, the players are performing at the highest level possible, which is definitely an important factor to consider when betting on volleyball.
Hall Conditions Matter
Another important factor that can be crucial for determining the outcome of a game is the court at which the game is played. While the court conditions and size may sound irrelevant for a sport like volleyball, it is something that needs to be taken seriously. Not all courts are the same in every regard — the size of the hall can vary significantly, which can ultimately have an impact on players who can't adapt to new conditions quickly enough.
The height and distribution of lights over the parquet floor, the height of the ceiling, or even the layout's distance from the field can all have a tremendous impact on the team's performance. Having said that, teams who have gotten used to playing in small halls may have slight problems adjusting to bigger stadiums, especially during the initial stages of the tournament.
Do Your Homework
It is important to learn as much as you can about the team compositions and starting line-ups, especially if you're betting on a minor event. Don't get ahead of yourself and bet until the rosters for both teams have been officially announced. Bookmakers might try to lure you with favourable odds before the rosters are announced, but betting without proper knowledge is not a profitable strategy in the long run.
Volleyball features a multitude of events, and oftentimes the trainers won't bring the strongest line-up on the court. You'll often see that the star players are resting during less important matches. Fatigue plays a crucial role in sports like volleyball where players often play day-to-day matches, and the schedule can be quite gruelling at times.
For example, at the 2015 World Cup, the players were playing 11 matches in 15 days, which can wear off even the most prepared players. A vast number of matches and their intensity may cause numerous injuries to athletes. That is why we recommend you take a look at the team's profile on social networks — this is where you can find the most information.
Legality of Volleyball Betting
Betting on volleyball is absolutely legal in every country that allows sports betting. So if the gambling laws in your country of residence don't forbid you from betting online, you can legally bet on volleyball on sites that offer volleyball bets.
Conclusion
As you can see, betting on volleyball is a straightforward process. All you have to do is find a trustworthy online betting site and create an account. However, you'll need time to become an experienced bettor who can recognise value in volleyball bets. The first step in this process is carefully analysing everything you've read in our article, and then taking it from there.
Volleyball

FAQ Section
Is it profitable to bet on volleyball?
What events are a part of volleyball?
How often do volleyball events happen?
How do I start to place bets on volleyball?
What is an alternative to volleyball betting?
Is it legal to bet on volleyball?