Online Handball Betting – Legal Handball betting sites and Sports Books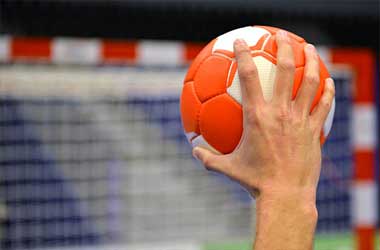 Handball, also known as Olympic handball, is a team sport consisting of two teams with 7 players on each side. There is one goalkeeper, six outfields in a team and the main objective of handball is to pass the ball with your hands and try to score a point by throwing the ball into the goal of the opposing team. A regular match will consist of two 30 periods of 30 each, and the team that manages to score more goals is declared the winner.
Modern handball is played on a 40-meter by 20-meter court with a goal located in the middle of each end. The goal areas are surrounded by a six-meter zone, and teams can only score goals by throwing the ball from the outside of the zone or by diving into the zone while throwing the ball.
Handball is normally played indoors, but you will also find outdoor variants in the form of Czech handball, beach handball, or field handball. The game is both fast-paced and high scoring with professional teams usually scoring up to 35 goals per game. The first international handball games were played in 1925 and made its first appearance in the Summer Olympics in 1936 as outdoor handball in Berlin. During the Summer Olympics in 1972, handball was played indoors. In 1946, the International Handball Federation was established and as of 2016, there are more than 190-member federations. Handball is extremely popular in Europe, Brazil, and South Korea.
In my guide, I will provide the most popular handball events featured at legal sportsbooks for you to bet on, include a complete list of all the handball betting types you will find at legal sports betting sites, and offer a range of strategies and tips when betting on handball. In addition, I will walk you through the legality of handball betting, include frequently asked questions surrounding the sport of handball, and explain why I believe handball is a great sport to place wagers on.
If you already know the in's and out's surrounding handball betting, and only want to find a legal sportsbook that provides handball betting without the additional research, you can choose any of my recommended sportsbooks listed above.
List of Sports Betting sites accepting players from the USA:
Popular Handball Events
Although handball is not as popular as soccer or basketball, there is still a handful of popular events that bettors can use to place their wagers and potentially make a decent profit. I have included the most popular handball events below and provided a brief explanation on each and when they take place:
As previously mentioned, the first international handball games were played at the Summer Olympics in 1936 and has been part of the Olympic Games ever since. The Olympics are held every 4 years and features the best handball teams from across the globe. At the 2016 Rio Olympics, Denmark won the gold medal, France won the silver medal, and Germany won the bronze medal in handball. The next Olympic Games will be held in Tokyo in 2020.
This is considered the biggest handball event on the calendar and takes place biennially, involving several countries from around the world. Like the FIFA World Cup, handball is initially played in a group format where the qualifiers then progress to the knockout stages. In 2017, the men's international handball championship was held in France where the host nation managed to win the tournament. Both Germany and Denmark will host the 2019 World Handball Championship. The women's World Handball Championship was held in Germany in 2017 where Norway managed to win the tournament.
The European Handball Championship is also held biennially, on even numbered years, and features the best European countries competing for the title. This event also acts as the qualifying event for the Olympics and the World Handball Championship. In 2016, the men's championship was held in Poland and Germany managed to claim the title. The women's championship was held in Sweden and Norway managed to claim the title. The men's championship will be held in Croatia, while the women's championship will be held France in 2018.
Unlike the 3 handball events mentioned above, clubs play the EHF Champions League instead of countries. It's basically the equivalent of the UEFA Champions League where the best and biggest handball clubs in Europe participate. The length of the EHF Champions League starts from September every year and extends until June the following year.
There are also plenty of other domestic handball leagues available throughout the year, including the Spanish Liga and German Bundesliga. It follows the same format as the soccer Bundesliga with 18 teams in the handball league. The Spanish Liga runs parallel with the Bundesliga and features 16 teams, while the LNG Starligue (French equivalent) only features 14 teams.
Different Handball Betting Selections
There is a great variety of handball betting types available at an assortment of legal sports betting sites. It's worth mentioning, however, that handball is not the most popular sport event in the world, and for this reason, you won't find an arsenal of different betting types when it comes to handball. In addition, you will also need to ensure that the sportsbook you register with offers handball betting if you are interested in betting on handball events. I have included the most popular betting types you'll find when betting on handball below:
Match Betting
Match betting is basically the same as a moneyline betting where you will need to pick the winner of the two teams playing or predict a tie. Let's look at an example from the German Bundesliga:
SC Magdeburg -400
TBV Lemgo +400
Tie +750
In my example, SC Magdeburg are considered the favourites, and TBV Lemgo are considered the underdogs. The plus sign in front of the number will indicate the underdogs, while the minus sign in front of the number will indicate the favourites. Match betting is also similar to soccer's 1X2 bet where you will have three options, including lose, win, or tie. As you can see, a tie wager will be the most profitable but also the most unlikely scenario in a handball match.
Handicap Betting
Handicap betting is basically a moneyline wager with the addition of a point spread element. Let's look at another example in the same German Bundesliga matchup:
SC Magdeburg -5.5 -118
TBV Lemgo +5.5 -112
SC Magdeburg are the favourites in this matchup but are giving 5.5 goals. For your bet to win, SC Magdeburg must win the game by 6 goals or more. You will need to risk $118 to win $100. TBV Lemgo are considered the underdogs but are getting 5.5 goals. For you to win your bet, TBV Lemgo either needs to win the game or lose by less than 5.5 goals. You will need to risk $112 to win $100.
Totals Betting
Totals betting is also known as Over/Under betting. The bookmaker will predict the total number of goals that will be scored in the game. Let's look at an example of total betting:
SC Magdeburg O 56.5 -134
TBV Lemgo U 56.5 +105
The bookmaker predicts that a total of 56.5 goals will be scored in the match. You can either bet that the total goal amount will be less than 56.5 goals (Under), or more than 56.5 goals (Over). If you predict that the goal amount will be more than 56.5 goals, you will need to risk $134 to win $100. If you predict that the total goal amount will be less than 56.5 goals, you will need to risk $105 to win $100.
First and Second Half Betting
You will get the opportunity to bet on the score at the end of the first half, and at the end of the second half.
Future Betting
Instead of betting on a single match outcome, you can bet on the winner of the Championship or tournament. This bet is usually available before the start of a major handball tournament and provides the best odds if you make an early bet.
Handball Betting Tips and Strategies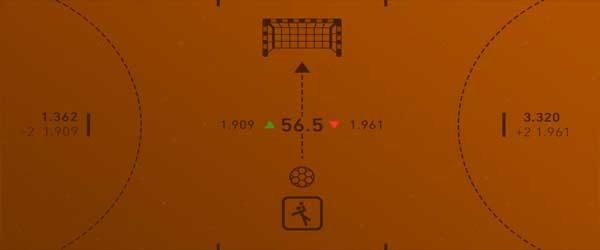 There are several different ways you can increase your chances of winning when betting on handball. I have included the top strategies and tips to help you make a more educated prediction before you decide to place your bet on the next handball matchup below:
Home Advantage
Home advantage will always be a contributing factor in any sport you decide to bet on. Handball teams will always have an extra edge when playing in front of their home crowd. The road team will also be more tired on match day due to travelling and staying in hotels. Therefore, your first step is to check where the teams are playing to get a better understanding of the environment they will be introduced to.
Pay Attention to Injuries
With only 7 players in a team, it's vital that the best players are always fit and healthy before any matchup. However, this will not always be the case. Although handball is not a very physical sport, there can still be injuries during play. If a key player is absent from the next game, you will need to evaluate how the team will perform without him/her and ensure you know the statistics of the replacement.
Team Motivation
Team motivation is another vital part to any team's success when it comes to handball. Some handball teams might perform at their best during the European Handball Championship, but will find it difficult to get anywhere in a domestic league. Teams will also be more motivated against a rival opponent. You will need to factor this into every game you wish to bet on.
Always Compare Odds
This is probably the most important advice I can give you. Handball might not be the most popular sport as previously discussed, but that doesn't mean that you won't find a handful of legal sportsbooks that offer handball betting. Prior to making a bet, ensure you check the sports betting sites that offer handball betting and check which of them offer you the best bang for your buck.
Legality of Handball Betting
Handball betting is extremely popular in European countries, but that doesn't mean that you won't be able to bet on handball from other parts of the world. Although handball betting can be done from across the globe, the problem comes in with certain jurisdictions. Specific countries prohibit online bettors from making any sort of bet at online sportsbooks. It's for this very reason that most bettors will look for an alternative sports betting site offshore.
The biggest problem with registering with an offshore sports betting site is that some of them might not be legal or they are not licensed and regulated by a reputable gaming authority. Therefore, I strongly urge you to first ensure that the site you wish to register with is licensed and regulated by a governing body such as the UK Gambling Commission on the Malta Gaming Authority. These governing bodies ensure trustworthiness and fairness. They also ensure that you will receive your winnings when it's time to make a cash-in. In addition, the site will also offer more attractive bonuses, provide a more superior customer service centre, and offer competitive odds.
Why I Would Recommend Handball Betting
Even though handball is not a sport enjoyed around the world, bettors can still make a decent profit at leading sportsbooks when placing a bet on handball. There are several betting types available on every handball match, especially during the Summer Olympic Games.
Conclusion
Handball is not considered the most popular sport in the world, and therefore you won't find a wide variety of sportsbooks that offer handball betting either. However, those that do offer handball betting will give bettors the perfect opportunity to increase their overall winnings. This can be achieved by locating an online sports betting site that offers handball, along with competitive odds, and by taking the statistical information of the sport and transforming it into a profitable long-term strategy.
Handball

FAQ Section
How are points scored in Handball?
Can players kick the ball in handball?
Where is handball the most popular?