Table Tennis Betting Sites – Legal Sports Books to bet on Table Tennis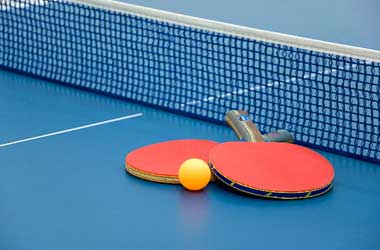 Table tennis, also known as ping-pong, originated in the 1880s in Victorian England, where it was mostly played among royalty.
It became a regulated sport in 1926 when the first table tennis World Championship was held.
Table tennis has been growing in popularity considerably since it became an Olympic Sport back in 1988.
Nowadays, one of the most significant competitions is the ITTF tour, with around 15 tournaments being played each year, and the Grand Finals at the end of the season. Recently, the sport has undergone several format changes, which has made it more appealing to television audiences and armchair punters.
The changes included decreasing set lengths, which means the first player/team who wins 11 points (instead of 21) wins the set. Also, players in major tournaments now play in best of five sets, rather than best of seven.
Although table tennis is not particularly popular in betting circles, prestigious bookmakers have included this sport in their betting offer. Bookmakers' lack of interest and knowledge in a small betting market like table tennis gives punters an excellent chance of finding incredibly high odds.
List of Sports Betting sites accepting players from the USA:
In most cases, they only take into consideration factors like ranking and neglect much more important factors. That creates great opportunities for punters to capitalize on.
If you want to find out everything about table tennis betting, take a look at our in-depth table tennis betting guide.
Most elite bookmakers offer odds on numerous table tennis tournaments throughout the year. However, since table tennis doesn't rank very high on their popularity list, it can be challenging to find a bookmaker that provides the best odds alongside a decent range of table tennis games to bet on.
This is why our team has decided to do a little digging and find the best online bookmakers for table tennis betting. Feel free to check them out!
Popular Table Tennis Events
This sport usually appears on everyone's radar during the Olympic Games. However, table tennis features many other tournaments that are held on a biannual or annual basis. These tournaments are highly popular in many countries and they also have a great betting fan base.
The biggest tournaments are organised by the International Table Tennis Federation (ITTF), which is the main governing body for this sport. The world rankings are compiled from the results of the ITTF competitions.
The Olympics
The Olympic Games are the most significant event in the sports calendar. Olympic table tennis is played in a couple of formats, including singles, doubles, men's, women's and so on. Unsurprisingly, table tennis betting offers are the most extensive during the Olympics, and bookmakers offer a lot of unique betting options that can't be found during "less" important events.
Athletes from China have dominated this competition, winning 28 of 32 gold medals since table tennis became an Olympic sport in 1988.
World Championships
World Championships are on par with the Olympic Games in terms of popularity among table tennis fans. It consists of five individual events, including men's singles, men's doubles, women's singles, women's doubles and mixed doubles that are being held in odd-numbered years. This tournament dates back to 1920 when the inaugural World Championship was played, with Hungarians claiming the first title.
Commonwealth Games
Imagine a tennis tournament without the "Big Four" — Novak Djokovic, Rafael Nadal, Roger Federer and Andy Murray. That's pretty much the case with Commonwealth Games since most Asian countries are excluded from the tournament. However, it can be quite enticing to bet on this event since the competition is stiff and punters can get their hands on a plethora of value bets.
Asian Championships
Asian Championships are held biannually and they're one of the biggest events in the ITTF season, with teams, singles, and doubles events. It's one of the most significant major tournaments held in Asia, alongside the Asian Games and the Asian Cup.
Different Table Tennis Betting Selections
Although table tennis isn't as popular as football or basketball, the range of betting markets offered by the bookmakers is quite decent, particularly during major events. Having said that, punters should expect to find the following table tennis types of bets on most betting sites.
Winner Bet
This is a universal type of bet that allows you to predict the winner of the match. As we've mentioned earlier, bookmakers' lack of knowledge of the sport makes betting on table tennis a potentially lucrative opportunity. With proper research and a good understanding of value bets, you can make decent cash. Note that if the match has been cancelled for any reason, all bets become void. In a best-of-five set match, whichever player/team wins three sets first is the winner.
Over/Under Bet
With point bets, you must predict whether the total number of points scored by a certain player or team will be above or under the specified value.
For example, you bet on "Total Over 70.5" and the match result is 3:1 (11:9, 9:12, 13:11, 11:7). To find out whether your bet wins, you need to add all the points earned by both players/teams. If it's more than 70, you win the bet.
Handicap Bet
In a nutshell, handicap betting means that a player or team B is given a head start of X number of games. By doing this, bookies even out the match. So when betting on handicaps, it's important to know that the actual result of the game doesn't matter — it's only important who wins more games.
Set Bets
With this bet, the punter needs to predict the winner of a certain set. A player or a team who wins 11 points first (with an advantage of at least two points) is the winner. If the result is 10:10, then the first player or team who gains a two-point lead is the winner of the set. If the match has been suspended, bets on the winner of uncompleted sets will be refunded.
Table Tennis Betting Tips and Strategies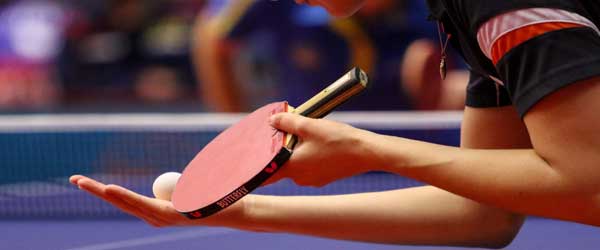 As is the case with all sports, there are factors you need to consider when betting on table tennis, especially if you want to increase your chances of winning. In table tennis, you need to learn to notice slight differences that distinguish top players from the rest. That's why we've summed up a few tips that might help you find value bets.
Playstyle Is an Important Factor
At the top of the draw, you may have the world No. 1 who is a defensive virtuoso, playing like a human wall, getting every ball back. That might play into the hands of the world No. 7 who performs exceptionally well against defensive-minded players or has a playstyle that can penetrate even the top defenders.
Thoroughly Check the Odds
As we've mentioned a couple of times already in this article, table tennis is a minor betting market, which opens up a ton of possibilities for punters to find value bets. You can expect to find substantial odds differences between bookmakers, so it's up to you to do proper research and use bookmakers' lack of knowledge to your advantage.
Assessing Form
Table tennis is not a physical sport like rugby or water polo, but more a sport of precision and reflexes. Oftentimes, different players will be peaking from tournament to tournament. The point we're trying to make here is that you can't rely too much on the player's form as of late since he could have just had a couple of good or maybe even lucky performances. Of course, top players perform better at major tournaments such as the Olympics or the ITTF.
External Conditions
You also need to take into account some external conditions when placing bets. For example, some athletes perform better if weather conditions suit them. Although the Summer Olympics and other competitions are held when the weather is dry and relatively hot, other factors such as humidity and wind may significantly impact the performance of some athletes.
Look for Value Outside of China
This is a sport largely dominated by Chinese players. Still, there are many great non-Asian players like Dimitrij Ovtcharov, Timo Boll and Vladimir Samsonov who have a chance against Chinese juggernauts. Naturally, the odds against Chinese players are extremely high, so if you feel that a non-Asian player stands even the smallest chance, that bet is definitely worth a punt.
Legality of Table Tennis Betting
Betting legality is primarily determined by the gambling laws of your country of residence. If you're allowed to place bets in your country, then it's absolutely legal to bet on table tennis too.
Conclusion
By now, you should have learned all the basics about betting on table tennis, so now it's up to you to take your table tennis betting experience to another level. How can you do that? By staying on top of the news, doing proper research, and paying close attention to the details we discussed in this article. Of course, you'll need a little bit of luck as well.
Table Tennis

FAQ Section
Is it profitable to bet on table tennis?
What events are a part of table tennis?
How often do table tennis events take place?
How do I start to place bets on table tennis?
What is an alternative to table tennis betting?
Is it legal to bet on table tennis?