Online Football Betting Sites – Legal Sports Books to bet on Football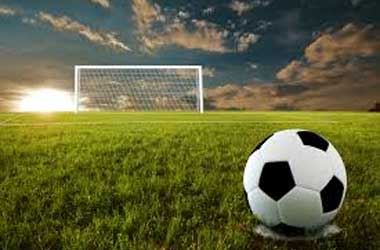 Football is definitely the most popular sport on the planet, and a sport played by over 250 million players from every corner of the globe.
The history of football dates way back to ancient history, over 3,000 ago, when old Mesoamerican cultures were kicking the ball made out a rock. Back then, the ball would symbolise the sun, and the captain of the losing team was allegedly sacrificed to the gods.
Obviously, the game underwent numerous transitions since then, and now has a set of rules that keep the game fast-paced and sensational.
Football or as the Americans say Soccer is a team sport played on a 45–90 m x 90–120 m pitch with 11 players on each team trying to score more goals than the opposing team by putting the ball into the opponent's net. The football game lasts 90 minutes (plus an additional time when necessary) and those 90 minutes are split into two halves. Referees conduct matches, and they are responsible for enforcing the Laws of the Game during the match.
Football is also the top attraction for all betting companies and the favourite game to bet on for the largest part of the betting community. It's a sport that offers a countless number of bet types that can be placed on hundreds of matches happening in different parts of the world.
Our team of professionals has composed a guide that will take you through the world of football, and show you everything you need to know about football betting. Stay tuned!
List of Sports Betting sites accepting players from the USA:
Something you will bump into when you start football betting is a wide array of different online bookmakers. All of them have their own way of dealing with things and all of them want to work with you differently.
Choosing the best online bookmaker to bet on football can be an intimidating task. Our team has decided to take matters into their own hands and narrow down the choice for you by composing a list of the best sports betting sites for football.
Popular Football Events
There are hundreds of football events taking place every day, and sometimes it can be intimidating to find the best ones to bet on. Bookmakers cover the smaller markets so that local punters can enjoy betting action during the football season of their countries. However, sports betting fans prefer betting on major football leagues and tournaments, because the betting offer is the most comprehensive during these events. Here are some of the major events that you may check out.
European Football Leagues
Most sports betting enthusiasts love to bet on football tournaments that are administered by UEFA, one of the six continental confederations of the world's governing body FIFA. The top-ranked UEFA competition is the Champions League, which is an annual club competition where top-division European clubs compete for the title of the best team in Europe. It is widely regarded as the most prestigious club competition in the world, played only by the highest-ranked teams of the strongest UEFA national associations.
The second-ranked competition in terms of popularity and fame (both among fans and the betting community) is the UEFA Europa League — a club competition that ranks only a tier below the Champions League.
There are also other popular European leagues that are on par with Champions League and the Europa League. These include Ligue 1 (France), Bundesliga (Germany), Serie A (Italy), La Liga (Spain), and Premier League (England). The English Premier League (EPL) is one of the biggest and most sponsored football leagues in the world, attracting bettors from over 150 countries worldwide.
International Football
International football competitions are the ones that bring the most money, and it only makes sense since there is nothing more appealing for a football fan than watching the best football nations compete against each other on the highest stage. The ultimate tournament in the football calendar and the one that every football fan is eagerly waiting for is the World Cup, taking place every four years. The competition kicks off with 210 countries trying to advance from the qualifying rounds to make the final 32. Bettors can place wagers on each step of the way during the qualifying phase.
Other popular international competitions include the Copa America (CONMEBOL) and the European Championships (UEFA). Among the fan favourites, there are also the Asian Cup (AFC) and the CONCACAF Gold Cup that features top teams from North America, Central America, and Caribbean national teams.
As you can see, the great thing about betting on football is that even when domestic leagues are out of season, there are plenty of major competitions bettors can wager on.
Types of Football Bets
The reason why so many bettors prefer betting on football is that there is a plethora of wagering options associated with this sport, and it's a sport covered by every single online bookmaker in the world. The football calendar is overcrowded and online bookies are constantly introducing new football betting markets to lure the bettors in. Although most football bets are pretty straightforward, it can be helpful to get familiar with the most trending football markets.
Straight Bets
This is the most simple bet you can make on any sport. With this bet, you are required to predict the outcome of the game after full-time, while the result at half-time, the goal difference, and the total number of goals scored in the match is irrelevant. This bet gives you three opportunities — to bet on a home win (1), away win (2) or a draw (x).
Handicap Bets
In handicap betting, one selection (underdog team) is given a virtual head start by the bookmaker, and it's the oddsmaker's way to even the odds between the two teams. This is a popular form of betting when strong favorites are playing since you'll be able to place a bet at bigger odds with a 1 or 2 goals start, for instance.
Over/Under Bets
This bet is also known as totals, and with this bet, you're trying to predict whether the final score of the game will be over or under the value suggested by the bookies. So, let's take an example of a total score of 3.5. In order to win an under bet, the teams must score less than four goals in total.
Prop Bets
When it comes to prop bets, the list of possibilities can be endless. Prop bets can be anything from "both teams to score'', "the result after 15/30/45 min of play'', "halftime bets'', "who will score the game'', and much, much more. Every online bookmaker has its own variations of props, and sports betting fans have an opportunity to choose from a wide range of unique bets.
Football Betting Tips and Strategies
When betting on football, there are numerous factors that you need to take into consideration, and even then, the outcome of a certain match may shock you — but that's the beauty of football, and the unpredictability factor only adds to the excitement and thrill of the game. However, there is a huge difference between a professional bettor who knows how to find value in football bets and a recreational bettor who just wants to have some fun. Therefore, our team has comprised a list of things that might increase your chances and help you make the profit you seek.
Betting on Favourites Isn't a Wise Tactics Long Term
Most bettors are under the false impression that betting on favourites can help them make some easy cash. But the fact is that the chance of favourites having an off night is much higher than most of you think. Also, the odds for betting on top-tier teams are really low, which means that you need to add more matches so that the risk might actually pay off. And the more matches you have on your ticket, the higher the chance that something unpredictable happens. Even if you correctly guess all the matches from the ticket, you're not going to make a lot of cash. It's much more profitable to bet on just a few games that have bigger odds.
Form Matters
There are many teams in football that play streaky. For example, they go on a 10-match winning streak and then fall into oblivion. This is mostly the case with second-class teams, but the point we're trying to make here is that betting on such teams can really pay off.
Also, if some of the elite clubs are scheduled to play an important match at major competitions such as the Champions League, chances are that the coach is going to rest their biggest stars prior to the match. Therefore, you should avoid betting on such teams when they perform in their domestic leagues during that period.
Match History Is an Important Factor
Another thing you should pay attention to is how two teams have been playing against each other in recent years. If their matches were low-scoring, then it would be a good idea to bet on under goals. Also, you should check out how the two teams play their home and away matches. There are certain teams that cave under the pressure of playing in a "hostile'' environment and perform well only in front of their home crowd.
Legality of Football Betting
Betting on football is legal in countries where sports betting is not forbidden. While you can bet on football regardless of whether online sports betting is regulated in your country of residence, it would be unwise to bet on illegal betting sites. Why? Because if something goes wrong, you won't be able to count on your country to help you resolve that matter — it's simple as that.
Conclusion
If you've read our in-depth guide from top to bottom, then you've learned all the basics you need to know in order to bet on football.However, this is only the first step, as becoming an adept football bettor requires much more than just acquiring the stuff you've learned from our article. It takes a lot of time and dedication to take your betting to another level, but when you get there, you'll be rewarded for your patience.
Football

FAQ Section
Is it profitable to bet on football?
What events are a part of football?
How often do football events happen?
How can I start placing bets on football?
What is an alternative to football betting?
Is it legal to bet on football?