FIFA World Cup Sportsbooks – Legal sites to bet on the FIFA World Cup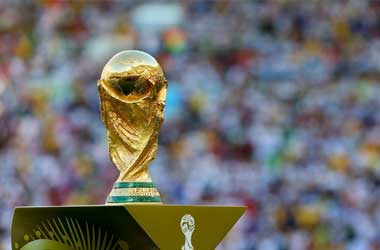 The FIFA World Cup is an international football association competition comprised of national men's teams that participate in a tournament. National teams participating are members of the Fédération Internationale de Football Association (FIFA), which is the body that governs the championship tournament.
The first tournament was held in 1930 and is played in four year intervals with the exception of 1942 and 1946 due to the 2nd World War. The tournament begins with qualification games that are held over the course of three years in order to determine that national teams that will qualify for the World Cup Finals. This will see thirty-two teams competing over the course of about thirty days in the finals for the title of World Cup Champion.
The World Cup is the world's most prestigious football tournament and is also the most watched sports event with average viewership surpassing 26 billion people watching matches over the course of the tournament. While the first tournament internationally for football was played in 1872, it wasn't until the 20th century before the sport began to grow in popularity on an international level due to being added as an Olympic demonstration sport in 1900 and 1904.
List of Sports Betting sites accepting players from the USA:
As an international federation, FIFA was established in 1904 and began trying to organise international tournaments between countries separate from the Olympics. Yet, it wasn't until 1908 that the sport of football became an Olympic sport for amateur athletes only. This saw opposition to only allowing amateurs, and this led to the organisation of the Sir Thomas Lipton Trophy tournament. It comprised of international football clubs that would represent their respective nation. However, some nations refused to send a club, one of those being England.
This led to FIFA acknowledging the Olympic tournament as one that would be an amateur football championship and then began running the event and this eventually paved way for what we know the FIFA Championships as today. There are 204 nations from six continents that compete for the thirty-one spots available. The process of qualification sees over 850 matches held around the world to determine what nations will participate in the tournament.
The selection process for the World Cup was one of heated contention in the early days as the responsibility for choosing a host nation was decided by FIFA's congress. Many of the locations created controversy with other nations as football was most popular in Europe and South America, and many countries would have to travel for weeks in order to participate, and this led to a number of boycotts.
At the beginning of 1958, the FIFA congress decided that in order to avoid boycotts in the future, the World Cup would be alternate between Europe and the Americas and that continued until 1998 until FIFA elected to have host countries decided through a vote by the FIFA Governing body. Nations wishing to host the event must submit a ballot and must make a big to FIFA. This begins a process that has inspectors visiting countries who submitted a ballot to determine which country is best suited to host the tournament. Changes in 2010 now only permit those countries located within a chosen confederation to submit ballots.
FIFA World Cup Qualification
There are over 200 countries in six continents that participate in tournaments in order to determine which nations will earn one of the thirty-one spots available in the World Cup. The six continents include Asia, Africa, Europe, , North and Central America and Caribbean and Oceania.
Each is overseen by their own confederation and FIFA determines how many places will be awarded to each continent prior to qualification tournaments being held.
The process of qualification usually will begin three years ahead of the next tournament and takes approximately two years to complete. Each continent is allocated a set number of spots for the tournament and through a series of home and away games, participating nations within each continent will be whittled away until the winning teams are determined and spots have been earned.
FIFA World Cup Final
The FIFA World Cup Final is made up of thirty-two teams from competing nations and is held over the course of thirty days. This is divided over two stages, the first being the group stage, and the second being the knockout stage.
The group stage will include eight different groups, each consisting of four teams. The seeding of each team is determined by a FIFA formula that is based on past World Cup performances and World FIFA rankings. This is then used to create the separate groups that sees the teams assigned pots that often use criteria based on their geographical location.
Each group of eight then play three matches against other teams within their designated group. After six games per group have been played, the two top teams from each group will advance to the knockout stage. This stage is an elimination tournament that will begin with teams playing one-off matches that, if necessary will include shootouts and extra time to determine a winner. This gets underway with sixteen teams where group winners will then play runner ups from another group.
This will then lead to the quarter-finals, semi-finals, third-place finalist and will conclude with the finals to determine the winner and runner up. In 2017. FIFA announced a new format that will increase the number of spots to forty-eight. It will see sixteen groups formed by three teams each and allow two teams for each group to advance to the knockout stage. This will take effect in 2026.
Different FIFA World Cup Bets
Many different bets can be placed when betting on the World Cup. We have put together a list of the most popular, and included an explanation of each and their advantage or disadvantage.
Favourites to Win the World Cup
This is a bet that is placed on the eventual winner of the World Cup. It is a simple bet that requires punters to select the team they believe will win the world cup. Odds are based on past World Cup performances as well as the strength of the team, its players, injuries and other factors.
World Cup Group Odds
This is a little more detailed and involved determining who will win from each group. As there are eight groups, bettors can place bets on one or all eight groups and will win should their chosen team win their respective group.
World Cup Top Goal Scorer
This type of bet is one that requires a lot more thought, and research, as it requires the punter to determine which player out of all participating teams will score the most goals, which is no easy task. While most will have favourite teams based on current football stats, considering past World Cup team performances will also be helpful in selecting those who will perform well.
Accumulator Bets
An Accumulator bet will require bettors to place a bet on four or more teams they believe will win matches in the World Cup and advance. The drawback to this style of bet is if one team loses, then the bet is lost.
FIFA World Cup Betting Tips and Strategies
Do your research!
It is easy to allow country partisanship to be a factor when deciding on which team to bet on, but this is not always the smartest thing to do. Of course, support one's team is a good thing, and even if not expected to win, it can be a long shot that pays off. However, researching past World Cups is imperative if you are to succeed and see a profit.
Study World Cup history
History has a tendency to repeat itself, and often that has applied to World Cup winners. Brazil are the kings of the tournament with 5 wins (1958, 1962, 1970, 1994, 2002). Current champions Germany are tied with Italy with wins in 1954, 1974, 1990 and 2014. Clearly an understanding of the history of the World Cup can be a factor in the process of researching which team you favour.
Make your bet early for the best odds
Betting early is one way to see you secure superior odds. Many sportsbooks will change their odds and information comes to light on how a particular team is performing during the qualification process. Some teams obviously will not be favoured, but just because a team is favoured by no means makes is a sure thing. Getting your bet in early on an underdog could see you walking away with a substantial profit for a relatively small bet.
Do not allow yourself to be swayed by other opinions
This can be a dangerous positon to allow yourself to get carried away on. While listening to professional analysts who may have information others are unaware of can be idea, focus on the research you undertake and what it tells you. This is always the smartest way to determine your selections.
Legality of FIFA World Cup Betting
The legality FIFA World Cup betting is determined by where you live. Not all nations allow for gambling, and many prohibit in some form or another. The first method to undertake in determining if you are legally allowed to place bets on the World Cup is to find out if it is legal within your country. Some countries will offer their own state-run betting operations, such as Canada's Pro-line, which permits bets on sports. However, those that do allow it within their borders may not permit offshore World Cup betting, and therefore it is imperative you verify this prior to placing a bet.
Ultimately, it is recommended you utilise sites such as Betting.ca that has a list of recommended sportsbetting sites. As there are all licensed and regulated, act responsibly and only allow those within countries where sportsbetting is legal to register, you will have assurances that if allowed to register with one of our recommended sportsbooks, that it is legal within your jurisdiction.
As you delve deeper into the process of selecting a legal World Cup sportsbetting site, you will find that those we list are licensed with leading regulatory bodies such as the Malta Gaming Authority, the U.K Gambling Commission and several others. While that does not have anything to do with whether gambling is legal in your country, it does give you a higher level of assurance that the companies you are trusting your bets with as honest, operate in a professional manner and will make prompt payment of winnings should your bets be successful.
FIFA World Cup

FAQ Section
What is the regulation size of a football pitch?
What type of football is used and what are its regulations?
How many matches take place in the World Cup Finals?
Why I recommend betting on the FIFA World Cup