Water Polo Betting – Top Legal Sportsbook For Water Polo Betting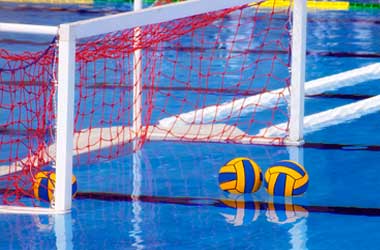 The origin of water polo is still vague to this day, but some sources indicate that this rather strange pastime was initially developed by British holiday resort owners somewhere around the 1850s.
Although the game originated as a form of rugby football, the inventors thought that the game's passing was similar to horseback polo, which is why the sport was named water polo.
Note that there are no similarities between water polo and horseback polo whatsoever. In fact, water polo indeed resembles "water rugby" as it's one of the most physically demanding sports in the world. In the beginning, water polo games featured a lot of brutal tackles and aggressive contact between the players. With time, most of the brutality had disappeared from the game. Still, minor things like scratching, biting, kicking, or clawing continue to be an active part of the game.
Men's water polo was among the first team sports in the Olympic Games program, having its debut at the 1900 Paris Olympic Games. Until recently, water polo was a popular sport only in several regions and countries in the world, which is why bookmakers' offers are not yet as extensive as you would expect from an Olympic sport. Nowadays, the sport is popular in many countries around the world, notably Europe (Serbia, Montenegro, Croatia, Hungary, Spain, Italy, Greece), Canada, Australia, and the US.
List of Sports Betting sites accepting players from the USA:
While water polo is not the most popular sport out there, betting fans can find water polo betting offers in various bookmakers. However, if you want to be able to evaluate water polo betting tips and make successful predictions, you should first get familiar with the most prestigious competitions and betting offers. Therefore, read our article about water polo betting from top to bottom and learn everything you need to know about this sport in order to make informed bets.
As we've mentioned earlier, water polo betting markets are not prevalent among online bookmakers. Since water polo is a middle-ranking sport in terms of betting turnover, a good water polo betting offer is hard to come by. Fortunately, our team of experts did a little digging around the web and came up with a list of the best sports betting sites for this sport. Check it out!
Popular Water Polo Events
Water polo tournaments are very frequent, and most of them are covered by top sportsbooks. As is the case with other sports, the most popular water polo competition is held at the Olympic Games, and during that time the betting offer is the most extensive. Apart from the Olympics, major water polo competitions include World Cup, World League, World Championship and domestic leagues.
The Summer Olympics
The Summer Olympics takes place every four years and represents the most significant sports event in the world. This is also a tournament that's considered a "betting paradise" as the bookmakers offer is spectacular during those three weeks. As any sports discipline at the Summer Olympics, water polo has great appeal among the sports betting community.
Hungary is leading the way in terms of won medals with 15 (nine of them are gold), while the reigning champion is Serbia who defeated Croatia at the 2016 Rio Olympics in the finals.
World Cup
FINA Water Polo World Cup is an international water polo competition that was established in 1979. Since 2002, the tournament takes place every four years, in the even years between the Olympic Games. Only eight countries participate, which only goes to show how stiff the competition is at this event. The reigning champion is Hungary who won against Australia in the 2018 finals.
World Championships
FINA World Championships is an international water polo tournament that takes place every two years as part of the World Aquatic Championships. This year's Water Polo World Championships kicks off on Sunday, July 14 and it will be in South Korea. This is one of the most elite water polo competitions during which the betting offer is quite comprehensive. The last World Championships took place in 2017 and it was won by Croatia.
World League
World League is an international competition that is held annually and runs from late July until winter. The League features continental teams from which the top teams emerge to play in the Super Final where the champion of the League is determined. Men's Water Polo World League was founded in 2002 and Serbia is the team with the most titles — 13. The most recent champion is Montenegro — they managed to secure their second title last year.
Domestic Leagues
The most popular leagues to bet on are the Spanish league, Italian league, Division de Honor, and Serie A, respectively. There is also the LEN Champions League (similar to the UEFA Champions League in football) — a top-tier European club competition that features best teams from over 18 countries.
Different Water Polo Betting Selections
Although water polo isn't as mainstream as football or basketball, it's a surprisingly formful sport. Betting on water polo can be exciting and potentially lucrative. Water polo betting offer is not mind-blowing, but there are few betting options that could tickle your imagination. As usual, we'll start with the basic types of bets.
Winner (Matched) Bet
This bet is also known as "straight bet" and it's as simple as it sounds — you try to predict the winner of the match. Note that there is also a tied outcome but that is relatively rare in this sport, which is why the odds for this bet type are huge.
Total Score (Over/Under) Bet
When it comes to total score bet, you're to predict how many goals will be scored by both teams in the match. The bookmaker will set a value, and you need to predict whether the total number of scored goals will be under or over that value. Regular bettors will most likely recognize this type of bet since its quite popular in football and basketball as well. The odds for this type of bet usually vary between 1.70 and 2.00.
Handicap Bets
When one team (the favourite) in the event is given a virtual deficit (handicap) to overcome in order to win, that's a handicap bet. The odd-makers give advantage to the underdog team in the form of goals, for instance, 2.5, 3.5, and so on. The team X with a handicap of 2.5 must win by three goals to cover its handicap.
Prop Bets
This type of bets is also known as "special" bets and it can be anything from "best scorer of the match" to "will the team win a medal at a certain competition". As you can imagine, there are plenty of bets you can make here. You can bet on the winner of the tournament, try to guess which three teams will be standing on the podium during the award ceremony, and more.
Water Polo Betting Tips and Strategies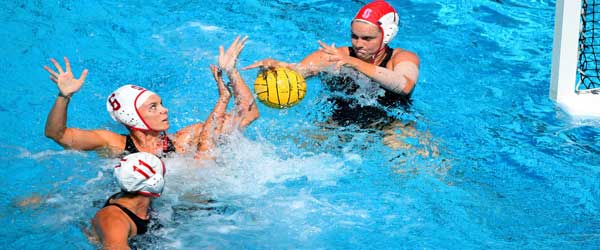 Water polo provides great betting opportunities, but only to those who have done proper research and have a winning strategy. If you do your homework and learn about the sport, you can recognise value bets. Water polo is predictable at times, delivering great value to those who know where to look.
The biggest advantage is that there aren't many people who watch the sport closely, so excellent value and soft lines are certainly there for experienced sports bettors to find. Here are some things to take into consideration when making water polo bets.
Do Proper Research
This is something you probably already know, but we'll mention it again since its a key factor in any successful betting strategy. Inform yourself about the lineups, injuries, and even look up into the personal lives of players as you might dig up something that could potentially affect the game's outcome. Check out the players' performances at previous tournaments. You have all the information you need on the web — Google can be your greatest ally in this quest.
Be Careful When Betting on Olympic Games
When betting on Olympic water polo, you should keep in mind that there are no real favourites at this competition. More often than not, only one good move or a referee's mistake can determine the outcome of the game.
Look Into Previous Matches of the Teams
This can provide you with great insight into the teams' forms. On top of that, you can see what type of game (low-scoring match, tight game) you can expect when they face off. Also, in most sports, it's all about matchups, and one team usually takes advantage of the other team's weaknesses, which is definitely something to take into consideration when placing bets.
Good Goalkeeper Is Essential
Even if it sounds unbelievable, the goalkeeper is often the one who wins matches. How many times has the goalkeeper brought his team a win by saving the goal in impossible situations? Goalkeeping is much more than blocking and anticipating the shots — it's also about informing the players about gaps in the defense and imposing threats, and even initiating counter attacks, which is why water polo goalkeepers tend to have many assists.
Legality of Water Polo Betting
Everyone can place water polo bets at any tournament and event offered by legal online sportsbooks. However, there are certain country-specific restrictions that come into play, which is why you should avoid betting from countries that forbid online sports betting — should something go wrong, you won't have any support from your country.
Conclusion
Now that you've learned about the sport and its betting offer, you can see that betting on water polo is easy as pie. Since you've read useful info about the sport, you can try to translate that knowledge into winning bets.
Water polo provides a lot of betting opportunities, and you can further increase your chances of winning by keeping your end of the bargain and conducting in-depth research about upcoming water polo matches.
Water Polo

FAQ Section
Is it profitable to bet on water polo?
What events are part of water polo?
How often do water polo events happen?
How do I start to place bets on water polo?
What is an alternative to water polo betting?
Is it legal to bet on water polo?