Formula One – Legal and Licensed Formula 1 betting sites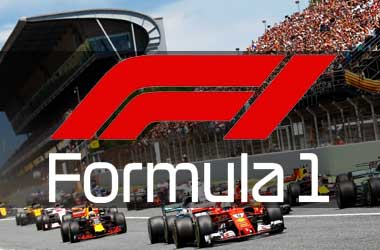 Formula 1 is undoubtedly an international sport, with fast-paced races held across the globe every year. Not only does this expose racing drivers and motorsport fans to several of the world's best racing tracks, but it also generates Formula 1 betting action from around the world. Due to the popularity of this international sport, Formula 1 is offered at sports betting sites, but various aspects need to be analysed when educating yourself on how to bet on F1.
The performance of a car and the ability of each driver is obviously the most important, but luck also plays a contributing factor when it comes to betting on Formula 1. In my article, I will take a closer look at how to bet on Formula 1, and provide a guideline on what each race will consist of.
I will also include the different types of betting options you will come across when betting on Formula 1 at any of my recommended sportsbooks, and offer valuable and useful strategies and tips that you can use when betting on Formula 1. Furthermore, I will walk you through the legality of betting on Formula 1, as well as take you through the most commonly asked questions surrounding the sport. Lastly, I will tell you more about why I consider F1 betting to be one of the best options in the online betting industry.
If you would like to jump straight into the F1 betting action and skip over my detailed article surrounding Formula 1, you can do so by simply selecting one of my recommended legal sportsbooks below, register a new account, make a deposit, and place your first bet on the next upcoming race:
List of Sports Betting sites accepting players from the USA:
The Formula 1 Championship
There are currently 11 teams in the F1 Championship made up of two cars in each team that participate in a total of 21 races around the world. On a race weekend, each team will take part in three practice sessions, a qualifying session, as well as the race. The race is considered the most aspect of the weekend as, depending on what position driver finishes, points will be awarded towards the constructor's championship and drivers championship.
As it stands, finishing in pole position will earn a driver 25 points per race, 18 points is awarded to the second place finisher, and the third position receives 15 points. Finally, the point system will award points for all other drivers that 4th through 10th.
The accumulated points by each driver across every racing weekend are added up at the end of each season. The driver with the most points at the end of each season is crowned as the FIA F1 World Champion. For the car makers or constructors, the points for their two drivers are combined to crown the FIA F1 World Constructors Champion. Formula 1 is considered the highest class in single-seat motor racing, sanctioned by the FIA. The Formula 1 season usually starts in March and ends in November every year.
Different Formula 1 Betting Selections
Formula 1 provides an exciting range of different betting options for bettors to take advantage of. The bets are not only available for the main race but also comes into play during the qualifying stages prior to the start of each race. Unlike other sports, Formula 1 has a unique range of betting options that you will need to learn and understand before betting on an upcoming race.
Qualifying Bets
In F1, every driver needs to qualify for their position in the upcoming race. This always takes place a day before the actual race and offers the perfect opportunity for bettors to wager on qualifying, and who will take pole position. Apart from who will take pole position, bettors can also wager on qualifying times.
Individual Winner
This is essentially a bet on who will win the race. There is normally a clear favourite such as Sebastian Vettel who will be presented as a -200 to win the race. Therefore, bettors need to bet $200 to receive a winning amount of $100. Other drivers down the field will be presented anywhere from +300, wager $100 to be awarded $300, up to mind-blowing odds such as 5,000 to 1 that is usually presented on massive underdogs.
Top Scoring Constructor
This is a very popular bet amongst bettors and is based on which constructor can accumulate the most points in a specific F1 race. You can also bet on which constructor will accumulate the most points for the entire F1 season.
F1 Championship Bets
There are numerous wagers of this type that bettors can use to place a bet. A bettor will bet on which driver they predict will win the Formula 1 Championship at the end of the season.
Podium Finish
Bettors can place a wager on which driver they predict will finish in the top 3 podium positions.
Points Finish
Bettors can also wager on which driver will finish the race in the top 10 positions and gain additional points.
Fastest Lap Time
Bettors can go even more in-depth and predict which Formula 1 driver will have the fastest lap time during the qualifying stages and the actual race.
Safety Car
Bettors will also have the opportunity to bet on whether the Safety Car will be deployed during the race.
Number of Finishers
Another bizarre bet in Formula 1 for bettors is to predict how many drivers will complete a specific race
Winning Distance
You can test your betting skills by predicting how far a driver will finish ahead of another driver in seconds.
Formula 1 Betting Tips and Strategies
Placing a bet on any Formula 1 race is pretty straightforward and considered one of the easiest markets to understand regarding betting options. However, the real secret to making a winning bet lies with the historical information, track information, tyre choices, weather, and team strategies that you will need to understand before an educated prediction can be made.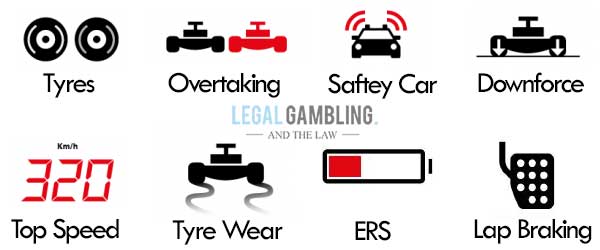 Therefore, I decided to include some of the most important aspects to assist you in making a more informed betting decision.
Driver Position
Grid position has a fluctuating importance that is greatly dependent on the race track. To qualify in pole position in Monza has a guaranteed race win of over 80% in the last 12 races, while in Montreal it's a mere 33% when a driver in pole position went on the win the race. This explains how important it is to view the driver position along with the race track results in F1 betting.
Tyres
To understand tyre characteristics and how tyres perform is a vital part of learning Formula 1 betting. There are a few key aspects to consider, including a driver's racing style, a team's tyre strategy, and how a track affects a driver's tyres. Since Pirelli has returned to F1 as a tyre manufacturer, they have produced unpredictable tyres, creating more overtaking opportunities. This makes tyre characteristics even more vital than before.
Weather
Bettors of Formula 1 should always consider weather conditions and frequently check the weather forecast, and alter their betting strategy accordingly. The weather conditions for soccer has a major impact on the gameplay, and in Formula 1 it's even more pronounced. When the weather conditions are great, and the track temperature is hot, the weather won't have much of an affect. However, once the temperatures drop and it starts to rain, it can immediately cause chaos. Therefore, I strongly suggest that you look at driver performance when there are poor weather conditions to assist you with your betting strategy.
Track Characteristics
Matching driver capabilities and track characteristics is extremely important to anyone who wants to master the art of betting on Formula 1. Every circuit is distinctive and must be treated uniquely as each of them will offer brand-new challenges for bettors. For instance, let's look at the Bahrain GP. This circuit offers a range of key characteristics that will provide a completely different challenge when compared to other circuits. The track consists of 4 long straights that end in high braking zones that offer plenty of overtaking opportunities. There are also several medium speed corners that will require fantastic car balance. It's for this reason that a car should have a setup between cornering grip and straight-line speed.
Team Strategies
Another essential part of a winning F1 bet is to understand team strategy. Bettors need to be fully aware of the influences that occur between the drivers and the overall team. Teams will always look to gain an advantage over their competitors through tactical pitstops, car setup, and tyre tactics. But don't forget that team orders also play a vital part in a driver's success. To avoid team orders from affecting your betting strategy, you will always need to pay close attention to constructors' and drivers' championships. To understand who will be the number two driver before the start of each season is vital, as the number two driver will always give way to the favoured driver during a race.
Legality of Formula 1 Betting
Bettors of Formula 1 can find an almost endless list of sports betting sites to place their bets. However, bettors require the assurance that the online sports betting site they choose will abide by the rules and won't try to steal their winnings. The internet has formed a worldwide economy that caused the online betting industry to explode. Bettors across the globe can easily find an online sports betting site to take their hard-earned money, but how do you know which sportsbook is legal and which aren't?
There are multiple factors to consider when choosing an online sportsbook, and the legality of a site should be your main concern. If you don't know what to look for in a sportsbook to ensure it's legal, you will be very disappointed when you eventually learn that you wasted your money.
Therefore, I recommend checking the authority of the site, as this can give you valuable information on how they conduct their business with customers. The top-ranked sportsbooks I listed on my site are all licensed and regulated by reputable gaming authorities, such as the UK Gambling Commission, the Maltese Gaming Authority, or the Isle of Man Gambling Supervision Commission.
Each of these gaming authorities continuously check each sports betting site to ensure fairness and trustworthiness to each of their customers. This also allows bettors to file a complaint when there's a dispute on the site, as these governing bodies will help when you're in need. Anyone can bet on Formula 1; you just have to do some much-needed research to find a respectable sportsbook.
Conclusion
Formula 1 betting is considered one of the toughest propositions in the online betting industry due to various unpredictable factors that come into play during every single race. This provides an extra layer of excitement to astute bettors that can lead to additional winning potential. Finding a reputable online sportsbook with a wide range of betting markets and competitive odds should be your primary goal, while translating statistical information into profitable earnings should be your ultimate betting strategy.
Formula 1

FAQ Section
What engine powers a Formula 1 car?
How fast do Formula 1 cars go?
How many races are in a Formula 1 season?
Why I Would Recommend Formula 1 Betting