Greyhound Racing Betting Sites – Legal Online Greyhound Sportsbooks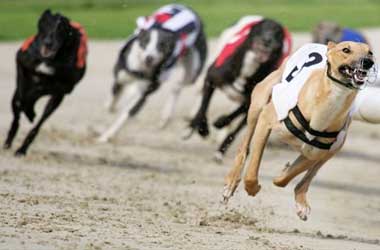 Greyhound racing or dog racing is a competitive sport in which greyhounds, a special breed of dogs trained for coursing games and racing, race around an enclosed track.
There are two disciplines in greyhound racing — coursing and track racing.
Similar to horse racing, greyhound racing is a significant part of the gambling industry.
Dog racing dates back to the ancient Egyptian civilisation, as greyhounds were a beloved breed of the Egyptians. However, it wasn't until the 16th century that Queen Elizabeth I organised the first races. Dog racing reached its pinnacle in the 19th century, while it was introduced in America in the 20th century.
A greyhound is an active dog and a lover of running. The racing sport has taken their endurance and agility and turned it into a betting market. In many countries, greyhound racing is a fun and recreational pastime. However, in countries such as Ireland, Australia, Macau, Spain, Mexico, the UK and the US, greyhound racing is considered a major betting market.
Although there isn't a certain way to gain profit from betting on greyhounds, you can develop your own strategy based on the understanding of the track and online gambling knowledge to increase your chances of winning. To learn more about this popular betting pastime, take a look at our greyhound betting guide below.
List of Sports Betting sites accepting players from the USA:
Greyhound racing is a prevalent sport in the sports betting community, offered by most bookmakers. However, the greyhound betting offer varies significantly between different bookmakers, with each bookmaker covering different greyhound events. Having said that, our team of betting experts has comprised a list of best sports betting sites for greyhounds. Check it out!
Popular Greyhound Events
There are a plethora of greyhound events being held throughout the racing calendar year. Some events, such as the Greyhound Derby, require several qualifying rounds before the final race, while others are a one-and-done race held annually at a certain track. Derby finals take place at a distance of over 500 meters, while sprints are run at a distance of around 250-300m.
Now, let's take a look at the most prestigious greyhound racing events in the world. All of these events represent great betting opportunities, with bookmakers coming up with special offers to entice you into betting.
English Greyhound Derby
This is the most important event in greyhound racing. It takes place in June or July, with the prize money for the final race exceeding £200,000. The English Greyhound Derby was first held at White City Stadium in 1927. Nowadays, it takes place at Nottingham Greyhound Stadium.
Scottish Greyhound Derby
Featuring a total pot of over £50,000, the Scottish Greyhound Derby is the most important greyhound racing event in Scotland. The inaugural race was held at Carntyne Stadium in 1928 but has moved to Shawfield Stadium. The Scottish Greyhound Derby takes place in April and it is run on a 480m track field. Many greyhounds that compete in this event go on to contest the English Greyhound Derby.
Irish Greyhound Derby
Irish Greyhound Derby is an elite greyhound racing competition that dates back to 1928 when it was first held at Harold's Cross. The event is sponsored by Boyle Sports and has a total prize of over £200,000, £100,000 of which goes toward the winner. It takes place over 550 yards at Shelbourne Park in South Dublin.
Different Greyhound Betting Selections
There are numerous gambling terms you should learn before you start placing bets. The most recommended type of bet for beginners is the single bet, while more experienced bettors could try out multiples bets. These are the basics, while professional greyhound bettors often engage in bets such as forecast and trifecta bets that require advanced knowledge of the sport.
If you want to maximize your betting experience and understand what each bet type means, make sure to keep reading.
Single Bet
This is the most straightforward bet in greyhound betting. You try to predict which greyhound will win the race, and if you guess correctly, you get paid. This is definitely a good way to get started, especially if you have a hunch about a certain greyhound.
Multiples Bet
There is nothing sweeter for a bettor than winning a lot of money with a small stake bet, and that's what multiples bets, also known as the accumulator are all about.
Basically, this bet type works by multiplying odds for two events — for example, a 3/1 bet and a 5/1 bet get combined to become a 15/1 bet. This starts with a double that consists of just two selections and goes up to fifteen selections. So a simple £1 bet could potentially net you thousands of pounds. However, the chances of predicting so many selections are very slim.
Forecast Bet
With forecast bets, you have to predict the winner and the runner-up of the event. This is considered a decent way to get a substantial payout. We recommend this bet type if you have a strong hunch about which two greyhounds will finish the race at the top positions.
Trifecta Bet
This is a bet type similar to forecast bets. However, this time, instead of "just" betting on the first and second place, you will be trying to guess which three greyhounds will finish the race at the top three positions in exact order. Naturally, the odds for this bet type are rather high, making it a good choice for an informed bettor.
Pick 3 Bets
With this bet type, you're predicting the winner for three races in a row. This kind of bet is usually offered for the first three races in a day. The likelihood of predicting three selections in a row is very small, which is why this type of bet should be used by the most seasoned bettors. Needless to say, the payouts for this kind of bet are massive.
Pick 6 Bets
If you think that Pick 3 Bets is impossible to win, don't even consider trying the Pick 6 Bet that requires you to predict winners of six races in a row. Just do the math — if the odds for every winner you predict are at £1, this would give you a mind-blowing return of £730. Truth be told, you could bet on this outcome 730 times and still get it wrong. It requires a lot of skill and luck to get it right.
Greyhound Betting Tips and Strategies
If you want to take your greyhound betting experience to another level and make substantial profits, you need to develop a winning strategy based on numerous factors, such as race conditions, running styles, racing tracks, and more. Below, we've discussed in detail some tips and tricks that can help you get over the hump and make big bucks. Take a look!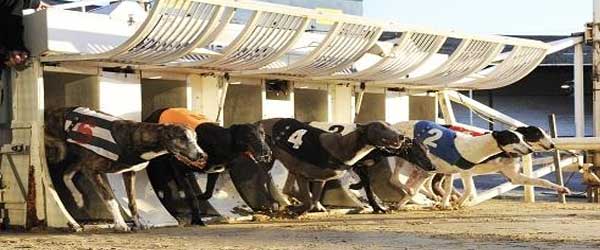 Check the Conditions
Track conditions play a major role in greyhound racing, so our first tip would be to check out the first two or three races and see how the dogs are performing under certain conditions. Wet weather favors wide runners, and it can also be a big advantage for frontrunners. Conversely, during winter when it is freezing, the tracks could work in favor of inside runners.
Don't Look for "Unlucky Losers"
The odds for dogs who experience an "unlucky defeat" can be unrealistically low at times. In some races, a dog gets squeezed out at the third bend after making headway at the beginning of the race.
Pacey dogs are often underpriced at the following race as the public has seen the unfortunate loss. Consequently, bookmakers try to protect themselves by offering low odds on them in the next couple of races. Generally, it's much better to look for well-drawn runners.
Favor a Younger Pup Rather than an Old Timer
You should always back young, most inexperienced runners rather than dogs with over 100 races under their belt. Greyhounds with less than 20 runs are still improving, learning how to run the bends more smoothly, and trap better. These younger dogs tend to have more verve and pace than their more jaded colleagues.
Try to Visualize the Race
Race-reading is a skill that requires plenty of experience and hours of watching races and taking notes. At venues such as Romford or Crayford, the winner is often decided in the first 20 meters after the traps, so the key is to try to determine which dog will have a great start.
Certain tracks, such as Hove, often feature dramatic changes at the last bend, with the early paced dogs canceling each other out. By gradually understanding the dogs' preferred run styles, you can become an informed punter who understands where the value lies.
Obviously, this is much easier said than done, but in the long term, luck levels itself out and skill gets vindicated.
Legality of Greyhound Betting
Greyhound racing is considered a cruel sport by animal welfare activists, which is why this activity has been banned in some countries. However, if you are not a resident of a country that forbids online gambling and abides by the law that forbids greyhound racing, you are allowed to bet on this sport.
Conclusion
Although betting on greyhounds is straightforward, you'll need to do much more than simply pick a random dog to win the race if you want to make some profits. Hopefully, our guide has provided you with enough knowledge to take the first step in becoming an informed bettor who is able to find value in greyhound racing.
Greyhound Racing

FAQ Section
Is it profitable to bet on greyhounds?
What events are a part of greyhound betting?
How often do greyhound events happen?
How do I start to place bets on greyhounds?
What is an alternative to greyhound betting?
Is it legal to bet on greyhounds?