Australian Football Betting – Legal Sport Sites to bet on Aussie Rules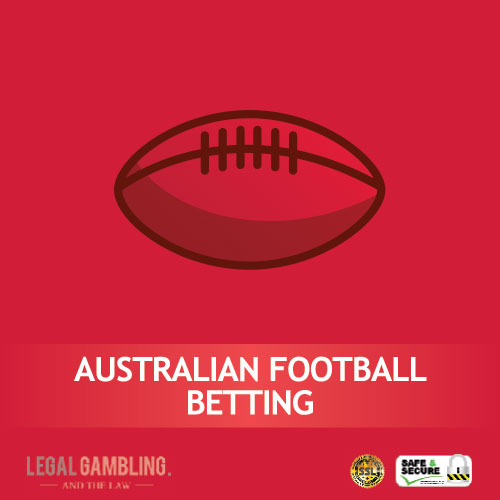 Australian football (also known as Aussie rules, Australian rule football, or footy) is a type of sport that resembles rugby and American football but is played with slightly different rules.
Betting on Aussie rules games is very entertaining, especially if you already know the rules for NFL or rugby and want to try something different and exciting. Even if you are an avid Australian football fan, placing bets on this sport can boost your overall experience and even bring you rewards if you are lucky and knowledgeable in the game.
Needless to say, this is one of the most popular sports in Australia. Approximately 35,000 people attend home and away games during the league, and the finals usually host more than 60,000 people.
On top of that, millions of people from both Australia and other parts of the world actively watch the footy on TV or online. Sportsbooks that focus on Australia are doing their best to provide an extensive offer of betting options related to this sport, given that Aussies really love betting. However, it seems that the popularity of this sport among bettors has outgrown The Land Down Under and that people from other parts of the world are becoming increasingly interested in it.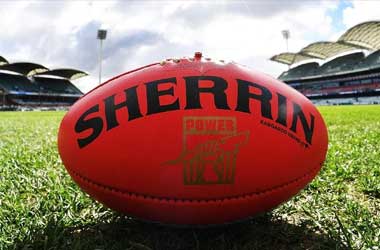 The sport was sporadically being played in 19th century Australia among British colonists, but it was considered a minor sport at the time. One of the main shifts towards promoting this sport and making it significant happened back in 1858 when many schools in Melbourne decided to organise football competitions, inspired by English public schools. The first football club was established shortly after that,coming up with official rules for the game which are more or less similar to the present-day Aussie rules.
The rules were a sort of response to rugby rules, as they were heavily based on the British variant of this sport. However, their creators came up with a couple of "corrections", excluding some rules and adding new ones so as to make the footy more suitable for Australian players and audiences.
List of Sports Betting sites accepting players from the USA:
If you want to place bets on Australian Rules, make sure to do that from the best possible sportsbook. In order to facilitate your choice, our team of experts narrowed down the list to a couple of sportsbooks that offer the best possible odds and betting options for Aussie rules. Check them out!
Popular Australian Football Events
The main competition in American football is called the NFL, which is often used interchangeably with the term American football, as it is the most popular competition of this sport. The things are pretty much identical in Australia, where Aussie rules is often called AFL, which stands for Australian Football League.

AFL (Australian Football League)
The Australian Football League (often called just AFL) is the only professional competition that exists for Australian football.
It is regulated and governed by the AFL Commission — the main governing body for this sport worldwide.The league actually has a pretty long history.
It was founded back in 1986, and the inaugural season took place back in 1897 when the league was named Victorian Football League. In other words, Australian Football has been played for more than 120 years on the Continent.
At the moment, there are 18 active teams which come from all six states of Australia (except for Tasmania), competing in AFL. AFL matches have the home and away format, meaning that teams often travel to all parts of Australia to compete with each other.
The AFL season begins with a pre-season competition (aka JLT Community Series). After that, there is a regular part of the competition that consists of 23 rounds and is played from March to September — the winter time in Australia. As soon as the regular part ends, the "minor premiership" title is awarded to the team with the best score. However, this title is not really important, as what's to come bears the greatest significance among AFL fans and teams alike.
The teams that occupy the top eight positions proceed to the playoff part of the competition which consists of four rounds. The last game of the competition is the AFL Grand Final, which is considered the most popular event in the world of Australian football. In fact, some dare claim that the AFL Grand Final is the most popular sports event in the entire country of Australia.
Different Australian Football Betting Selections
The previous decade was very fruitful when it comes to the expansion of betting in Australia, and Australian Football was one of the most popular choices for placing bets. Therefore, this sport allows bettors to test their luck and knowledge by placing a wide specter of bets in sportsbooks. Let's take a look at all the possible options for betting on Australian Rules.
Head-to-head Betting
Head-to-head betting is an Australian term for money-line betting (straight-up betting). In other words, you bet on a team you think is going to win in the upcoming match. Just like Europeans, Australians use decimal odds in their sportsbooks, but sometimes mistakenly insert an Australian dollar sign in front of decimals. However, many sportsbooks out of Australia offer odds that their bettors understand, so if you want to place bets on AFL, don't worry about dollar signs. Instead, focus on getting your bets right by choosing the winner of the game you are betting on.
Line Betting
Line betting is sort of a handicap betting where sportsbooks handicap one team by a certain number of points so as to make odds equal to both teams.
For example, if they believe that Geelong would beat Brisbane by approximately ten points, they would handicap them and set the odds to about 1.90 each. If you bet on Geelong winning the game, and they indeed manage to beat Brisbane with 10+ points (10.5 specifically), then you will win the bet. If they win but the difference in score is less then ten points, your line bet is lost.
Margin Betting
Sportsbooks in Australia often offer a number of possible outcomes in a game by creating a margin with points. In order to get your bet right, you need to select the winner of the game and get the margin right.
In other words, if you believe that Geelong would win against Brisbane, you also need to guess the difference in points by selecting the right margin. For example, you can select between 1–39 points difference and 40+ points difference in some sportsbooks.
Exotic Bets
Exotic bets are available in every sport, including Australian Rules, and they may differ in every sportsbook. One of the most popular bets is to try and guess which team would score a goal first and which team would score the first point. Furthermore, you can take your shot at who will be the man of the match, who will score the most points, and more. Finally, over/under bets are also considered exotic although they are very popular among bettors who like the footy.
Australian Football Betting Tips and Strategies
Here are a couple of important pieces of advice you should take into account when betting on Australian Rules.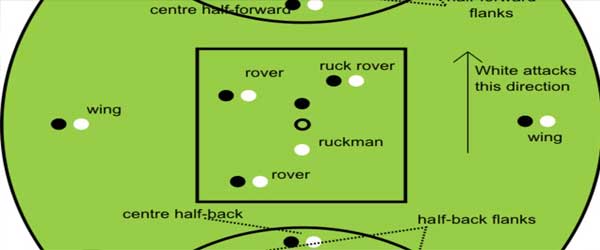 Pay Close Attention to Weather
Australian Football is a sport which is played outside and weather plays a very important role in the games. This is especially important if you like to place over/under bets as some players might underperform under bad weather conditions. Furthermore, some teams are more accustomed to playing in certain weather conditions than others, which means that some types of weather can bring advantage to them.
Create a Betting Plan
This may sound like a cliche strategy, but creating a betting plan is very important if you want to get the most out of betting on Australian rules. This sport is very exciting, and it is very easy to get carried away and spend a lot more money than you initially intended. Therefore, make a betting plan with a limited budget for placing bets and stick to it, no matter the outcome!
Focus on Head-to-head If You're New
This piece of advice is applicable for every sport where head-to-head bets are available. If you do not have a lot of experience betting on a particular sport, make sure to stick to the most basic type of bets — there'll be plenty of room to experiment with more exotic bets once you learn more about teams, players, games, rules, and more.
Legality of Australian Football Betting
Australian rules betting is available in every part of the world where online and land-based sports betting are legal. Therefore, if you live in a country where you are legally free to register at an online sportsbook and place bets, chances are high that you can bet on footy. However, not all sportsbooks offer this sport. Luckily, we made a list of online betting platforms which offer Aussie rules and are available in many countries.
Conclusion
To sum up, betting on Australian Rules is an exciting activity as Aussies love visiting their bookies and supporting their favourite teams. However, this sport can be particularly interesting for non-Australian bettors who want to try something different and exciting. For example, if you consider yourself an NFL fan, you should definitely try betting on the AFL as well. Apart from being an exciting sport, footy can be quite rewarding if you manage to get your bets right.
Australian Football

FAQ Section
What are the most popular AFL teams right now?
Are there Australian Rules teams outside of Australia?
Why should I bet on Aussie rules?
When is the best time to bet on AFL?
Which sportsbooks offers the best odds for Australian Rules?