Harness Racing Betting – Legal Online Sports Sites to bet on Harness Racing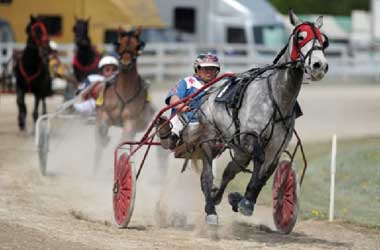 Those unfamiliar with harness racing might think that this is a small-time betting market. Yet, it is a highly competitive sport, with purses that often reach up to $1 million.
A harness race is performed by one horse that pulls a two-wheeled cart that carries a rider. Therefore, there are no jockeys on horses whom you can see in basic horse racing.
Harness racing that we have the opportunity to watch today is the successor of ancient chariot racing. This exciting sport is attractive to watch and offers a lot of opportunities for betting.
Namely, harness racing is divided into two disciplines called "trotting" and "pacing". These differ in the way the horses run. The pace is a two-beat gait in which the two legs on the same side of the horse move forward together. On the other hand, the trot is also a two-beat gait, but the two diagonal legs move forward together. On average, pacing is faster than trotting, which makes pacing races more attractive.
Even though harness racing is not as popular as thoroughbred racing, its history is just as long and interesting, and its fans just as enthusiastic. If it is your first time coming in touch with harness racing, we promise that you will fall in love with it quickly.
List of Sports Betting sites accepting players from the USA:
Moreover, if you are a betting enthusiast, it should not take you long to get hooked on wagering on harness racing. As you will see shortly, there are numerous opportunities when it comes to events you can bet on. Also, there is a huge variety of types of bets you can place, so you do not have to recycle the same ones again and again until you get fed up with them.
Even though horse racing betting can be easily found on most general sportsbooks websites, that's not the case with harness racing. But that's not a big problem since all specialised horse racing sites cover this betting market in great detail.
Above, we've created a list of the best sports betting sites that can help you experience harness racing at its best. We made sure to double-check all of these betting platforms and ensure that they meet your and our strict criteria.
These sites cover all major events, have good odds, are licensed by reputable gaming authorities, and offer numerous types of bets.
Popular Harness Racing Events
Even though thoroughbreds are more popular than harness racing, harness racing offers more opportunities for placing bets. That is for the simple reason that there are two Triple Crowns in this sport — one for trotters and another one for pacers.
The Trotting Triple Crown
The Trotting Triple Crown of harness racing is a three-fold race reserved for three-year-old trotters. The three races that make this famous event are:
Hambletonian: Meadowlands Racetrack, East Rutherford, New Jersey
Kentucky Futurity: The Red Mile, Lexington, Kentucky
Yonkers Trot: Yonkers Raceway, Yonkers, New York
The most popular of the three is definitely the first one, Hambletonian. It is the most prestigious race for trotters in entire North America, held annually since 1926. It commonly has one of the biggest payoffs in harness racing.
This race got its name from the famous horse called Hambletonian (1849-1876) — the common ancestor of all standardbred horses in the USA.
The Pacing Triple Crown
The Pacing Triple Crown of harness racing is also reserved for three-year-old standardbreds. However, only pacers can enter one of the three eponymous events. These are:
Little Brown Jug: Delaware County Fair, Delaware, Ohio
Cane Pace: Meadowlands Racetrack, East Rutherford, New Jersey
Messenger Stakes: Yonkers Raceway, Yonkers, New York
The most popular race during this Triple Crown event is by far the Little Brown Jug. The first time it was hosted was in 1946, and it's been held at the same place every year since then. This race takes place every third Thursday after US Labor Day, so its date is not fixed.
Just like Hambletonian, this race is named after a horse called Little Brown Jug that won nine consecutive races and entered the USTA Hall of Fame in 1975.
Different Harness Racing Betting Selections
Just like in other types of horse racing, there are a lot of ways to place bets in harness racing. This is one of the main factors that make this betting market extremely popular among betting enthusiasts and horse lovers.
Basically, the bets in harness racing are divided into traditional wagers and exotic wagers. Below are just some of the most popular ones.
Traditional Bets
Traditional bets are generally easier to play and cost less money per wager. However, they also offer lower profit margins. They are popular among all bettors, especially beginners and those who prefer playing safe.
Win – Pick a horse you think will win the race.
Place – Pick a horse you think will finish in the first or the second place.
Show – Pick a horse you think will finish the race in one of the first three places.
Across the Board – When you place this bet, you wager that your horse will win, place, and show. So this bet combines all three traditional bets. That makes it more expensive, even though it has less profit potential.
Win/Place, Place/Show – Instead of combining all three straight bets, this one combines just two. This bet is a bit less costly than playing Across the Board and offers more profit. However, it's more difficult to back the right horse.
Exotic Bets
Exotic bets are more complicated to play and usually cost more to place. But if you guess the winners right, the amount you can potentially win is much higher than in traditional betting. These bets are preferred by expert harness racing enthusiasts and those who love taking risks.
Exacta – Pick two horses to finish first and second in the exact order you specify.
Trifecta – Pick three horses to finish first, second, and third in the exact order.
Superfecta – Pick four horses to finish first, second, third, and fourth in the exact order.
Quinella – Pick two horses to finish the race first and second in any order.
Daily Double – Picking the winners of the two designated Daily Double races.
Racing Pick Three – Picking the winners of the three designated Racing Pick Three races.
Harness Racing Betting Tips and Strategies
To be frank, harness racing is one of the most difficult betting markets out there. However, it is the most rewarding one as well. In the beginning, learning all the terms and types of bets might seem daunting, but you'll see that it does not take too much time.
If you feel that you need some help, read our favourite tips and tricks below. We commonly use them to improve our chances of winning and backing the right horses. With a little bit of luck, they'll help you as well.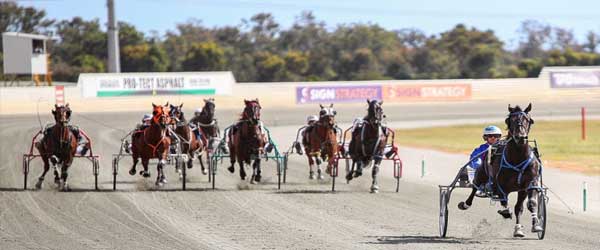 Read the Race Day Program
The race day program is a must-read if you plan to bet on any of the horses performing that day. It contains all the races that are due to take place that day. Moreover, it will tell you all you need to know about the horses, their past performance, and the stats for the race. Analyze it thoroughly before you place a bet.
Consider Race Classes
Did you know that there are different classes of horses in harness racing? The horses are separated into these classes according to their capabilities and performance. They sometimes go up or down a class, which matters a lot. A horse that used to finish first and second consistently in one class will not do that well in the beginning when it moves to a higher class.
Consider the Surface Type
The surface type is another factor that will affect the success of your wagers in harness racing. Some horses do better on one surface, whereas others prefer other types of surfaces. Make sure to learn this detail about the horse you plan to bet on before you put money on it.
Research the Rider
The rider performance is also important. Our advice is to research the rider and see how consistently he wins races. If he used to win with one horse but recently switched to another, that's a red flag. However, if he is able to win regardless of the horse, then that's a sign of talent.
Look at the Post Position
The post position is perhaps one of the most important factors that determine the winner of the race. Those horses that are positioned within the inner circle of the racetrack have less ground to cover in the race, which means they have a higher chance to finish first.
Don't Bet on Every Race
Last but not least, don't bet on every race, not even if you are on a winning spree. Harness racing betting is a betting market that needs to be approached studiously. You can get lucky from time to time, but most of the times you will win a bet because of the ability to analyse important factors.
Legality of Harness Racing Betting
Even though sports betting, in general, is still illegal in many parts of the USA, that's not the case with harness racing and other horse racing disciplines. Apart from the several US states that ban all forms of sports betting, it is completely legal to wager on harness races.
All forms of horse racing are much older than casinos and sports betting, which is why harness racing has a special place in US law books. To make sure that you are not breaking any laws, you should double-check what the legislature says about harness racing in your jurisdiction.
However, in general, there are few places in the world that do not allow both live and online bets on all types of horse races.
Conclusion
To sum up, according to many, harness racing is one of the most interesting betting markets out there. It is very similar to standard horse racing, but more exciting due to the fact that horses are pulling carts with riders.
To bet successfully on harness racing, you should pick the best site that offers this market, learn about different types of bets, and keep in mind the tips and tricks we have provided in this guide. Good luck!
Harness Racing

FAQ Section
Here are some of the most popular questions that we commonly receive about harness racing.
Is betting on harness racing profitable?
What are the most popular harness racing events to bet on?
Is harness racing betting more complicated than betting on horse races?
Is harness racing betting legal?
Is harness racing more expensive to bet on than other betting markets?