Squash Betting – Legal Squash Sports Books and Websites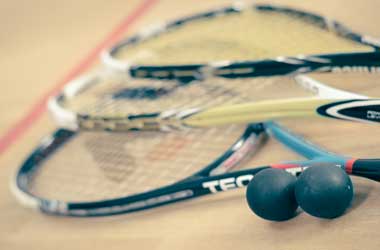 If you try to find detailed information about squash and squash betting online, you will most probably fail.
Even though squash is similar to tennis when it comes to gameplay, it is not at all similar to it when it comes to popularity.
This unique game was first played in 1830, in London, England.
It has been part of the Asian Games and the Commonwealth Games since 1998. Sadly, it has still not been included in the Olympic games, even though the officials have made several applications.
Most people out there have just a vague idea about what squash is. If you're one of those, you should know that squash is a sport played by two or four players with a racquet on a closed court. The players take turns and use their racquets to hit the ball that bounces off the wall in front of them toward the other player.
Even though squash is not the celebrity of sports, it is still very easy to fall in love with it, if you give it a chance. This is a very fast-paced and dynamic game that requires a lot of fitness from the players and a lot of concentration from the spectators.
List of Sports Betting sites accepting players from the USA:
We've decided to create this betting guide for squash because we think a great injustice has been done to it. In this article, we will teach you where to bet on squash and how to do it properly.
If you keep reading, you'll learn about the best squash events you can wager on and the types of bets you can make. We'll also share some handy tips and tricks to help you get started easily.
You might think that finding betting sites that offer squash events is impossible, but that's not really the case. In reality, there is a much larger choice out there when it comes to football, tennis, or basketball. However, during popular squash events, it is fairly easy to find a place where you can place a bet.
Below is a list of some of the best online sportsbooks for squash betting, in our opinion. We have tried and tested all of these and made sure they are completely safe, fair, and reliable.
When we were making this list, we considered factors such as licensing, squash betting odds, the variety of bets, bonus offers, and a lot more. Therefore, if you're not sure where to start, this is what we recommend.
Popular Squash Events
Squash fans have a lot of opportunities to watch and participate in this sport. Even though it is not a mainstream sport, the squash calendar is quite busy throughout the year. Tournaments for both men and women are held frequently around the world.
Some of these tournaments and championships are doubles, some are singles, and there are mixed ones as well. If you want to watch the most popular and the most prestigious squash events, we advise you not to miss the World Squash Championships, the British Open Squash Championships and the Australian Open Squash Championships.
World Squash Championships
The World Squash Championships is an annual tournament held at a different location each year. It is organised by the Professional Squash Association and the first men's event was held in 1976. Today, it includes both men's and women's events.
The first women's event was held in 1979 and continued to be held biennially until the early 1990s. After that, it became an annual event just like the men's event.
This championship has been held every year since it was established, except for a two-year hiatus in 2000 and 2001. Sadly, the organisers could not find the sponsors. However, that's not a problem today since squash is much more popular at the moment.
The British Open Squash Championships
Before the establishment of the official Squash World Championships, the British Open was considered to be the de-facto official championship of the world. It is still considered to be one of the most popular events in this sport, enjoying almost the same level of attention as before. That's why this event is often considered to be the Wimbledon of squash.
Similar to the World Championships, the British Open has had its struggles. At first, the event was held at the Wembley Conference Center for ten years, but in 1994 it started moving around Britain. Today, the British Open is held in a different city every year, and the organizers have no problems securing sponsorships for the event.
The Australian Open Squash Championships
The third most popular squash event is definitely the Australian Open. This event was established in 1980 and has been held annually ever since. It includes both men's and women's events and is part of the Professional Squash Association international circuit.
This event is usually held at the Melbourne Sports and Aquatic Center in Victoria. Just like the first two championships, there have been years when the Australia Open was not held. The most recent hiatus was seen in 2013 and 2014. But, generally, you can count on it to be available for betting in most sportsbooks.
Squash Betting Tips and Strategies
Betting on squash is an interesting choice because of the variety of bets you can make. Of course, you can make outright bets and try to guess who will win the game, but you can make more complicated bets as well.
Here are some of the bets we make most often and recommend you to get started with.
Outright Bets
These are the simplest types of bets that allow you to try to guess who the winner of the game is going to be. You can also bet that the match will finish as a draw if that is a possibility. When it comes to championships, you can place outright bets both for individual matches and for the whole championship.
Over/Under
Over/under bets are quite popular in squash and other sports. They are perfect for beginners because they are simple to make and pretty vague. All you need to do is guess whether the total sum of points is going to be over or under a particular value. These bets usually have decent odds, so we absolutely recommend them.
Period Betting
Period betting is similar to over/under bets, but instead of guessing the total sum of points at the end of the game, you are trying to guess the total number of points at the end of a particular period of the game. For example, you can bet on the total number of points or the score at the end of the quarters, halves, periods, sets, rounds, or overs.
Handicap
Like many other sports, squash also allows you to make handicap bets. This bet is used when the two opposing teams have mismatched abilities. That way, a more balanced betting environment is created. The handicap is usually given to the stronger team in the form of negative scores.
Totals
Totals are interesting and diverse types of bets that let you place a bet on the total number of won sets or the total number of won points. You can make these types of bets for one game or for the whole championship.
Squash Betting Tips and Strategies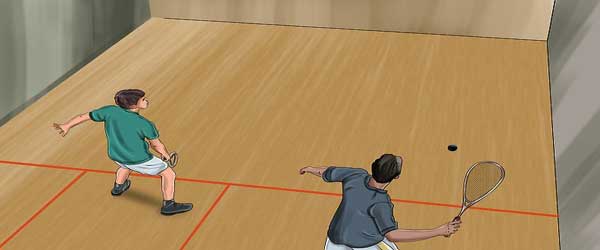 You do not need a lot of time to start betting on squash. However, you need a lot of practice if you want to become good at it and win consistently. There is not much information out there about this exciting sport, so you need to learn most about it on your own.
But there's no reason to worry. Here are some of the most useful tips and tricks we could think of that will definitely make betting on squash more interesting and more worthwhile for you.
Pay Attention to Injuries
Injuries are very important in squash. This is a high-paced and high-impact sport so even a simple injury can significantly impact the performance of a player. Once a player sustains an injury, it is very hard for them to fully recover. Therefore, you should try to learn the weak points of all high-profile players you are betting on.
Subscribe to a Squash Magazine
Since there is very little info online about squash, we recommend subscribing to several squash magazines. Some of the most popular ones are Squash Player and Squash Magazine, both of which can be your main sources of information. YouTube is also a great place where you can try to stay up to date with the latest developments in the sport.
Compare Odds
Don't stick to just one sportsbook. Instead, visit several and compare the odds they offer. We've recommended some of the best ones for you above, so these are a great place to start. Find the best odds and the best betting conditions before you place your first squash bet.
Use Social Media
Social media is a great starting point for making your squash betting strategies. We advise following the official pages of the major championships, national teams, players, and experts.
Legality of Squash Betting
Squash betting is legal everywhere in the world. Even though it is not a very popular sport, you can still bet on it if sports betting is legal in your area. In the US, sports betting is still not legal in a large number of states. Therefore, depending on where you live, you may or may not be allowed to place bets on squash.
Before you start betting on this unique sport, check your local gambling laws to make sure that you are not breaking any.
Conclusion
Hopefully, after reading this squash betting guide, you don't find this sport as daunting as before. As you can see, this is a simple betting market you can easily start betting on. Before placing your first bet, make sure to choose one of the most reputable sportsbooks out there and follow our tips and tricks.
Squash

FAQ Section
If you still have some doubts about betting on squash, consider reading our answers to the most frequently asked questions.
Is it profitable to bet on squash?
What are the best squash events to bet on?
How to choose where to bet on squash?
Is betting on squash legal?
What types of bets can you make on squash?