Futsal Betting – Legal Sportsbooks to bet on Futsal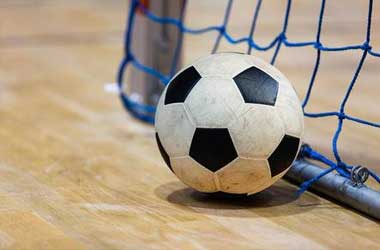 Futsal is the most popular variety of football and a game that has captivated football fans throughout the world. It was first invented by a teacher from Uruguay in 1930, which was the same year when the first football World Cup was played in Uruguay.
The idea behind it was to create an indoor version of the most important and cherished sport in the world – football.
In essence, futsal operates according to the same rules as football, with a couple of additions and alterations. These additions are taken from other team sports such as handball and basketball. The duration of the game is set at 40 minutes, which, like the number of players, was modeled on basketball. The size of the pitch and the goalkeeper rules correspond to that of handball, so you can say that futsal combines highlights from all these famous sports.
Futsal, as a type of association football, is governed by two distinct organizations. The first one is the Asociación Mundial de Fútsal (AMF) — the successor of the first futsal association, while the second one is Federación Internacional de Fútbol de Salón (FIFUSA). The latter holds its separate futsal competitions independently of Fédération Internationale de Football Association (FIFA).
FIFA is the world's organization in charge of development and popularisation of football and futsal. There have been many attempts to unify futsal under one organization, but the efforts have been futile so far.
Under FIFA's wing, the most crucial futsal competition called FIFA Futsal World Cup is played every four years and on the even years between the two world cups. AMF has its own world competitions played by a much smaller number of countries.
What differentiates futsal from football, apart from the distinct structural differences, is that futsal is far more dynamic and probably requires even more technique and finesse. The pitch is much smaller, and the ball is a harder low-bounce ball that moves much faster, so the players' response rate needs to match the enormous intensity.
With all the excitement rising from watching and playing futsal, it comes as no surprise that, apart from the players, punters worldwide have developed a keen interest in futsal and enjoy betting on it.
If you are looking to learn more about betting on futsal, futsal events, various betting options, and the best sites to bet on this game, you have come to the right place. Stay tuned!
List of Sports Betting sites accepting players from the USA:
Although there are plenty of betting sites that offer betting on futsal, not all of them are worth the attention of bettors. Our team of experts has compiled a list of online sportsbooks that provide the best odds, the biggest markets, and cover the majority of futsal events. You can count on them to provide the best possible betting experience, so make sure to check them out.
Popular Futsal Football Events
As we have briefly stated earlier, there are various futsal competitions played under the patronage of both FIFA and AMF. These events can be of a larger scale, like FIFA Futsal World Cup, or individual competitions from the member countries.
The online bookmakers we recommend have worked hard to include both big and small markets in order to cover all the major events. The betting offer is at its peak during the competitions we will present below, so read on!
UEFA Futsal Champions League
Futsal Champions League is an annual futsal competition governed by one of the six continental football and futsal associations, UEFA. This futsal competition is played by top divisional teams from all over Europe, based on their success in minor tournaments and respective national championships.
The UEFA Futsal Champions League has been played since 2001, and the clubs compete first through group stages, and then the best four clubs play in the final four mini-tournament where the winner of Futsal Champions League is declared.
The best teams from Spain, Italy, France, Russia, and the rest of Europe are required to be on top of their game as Futsal Champions League is the most prestigious futsal club competition in the world, much like its football counterpart.
FIFA Futsal World Cup
FIFA Futsal World Cup is a quadrennial competition that includes the best national teams from all parts of the world. It is a true punters' paradise as there are many games to choose from during the Futsal World Cup. Twenty four national teams compete in a six group round-robin tournament, and two top teams from each group advance to the sixteen teams knockout stage together with the four highest-ranking third-place finishers.
This competition has been played since 1989 when FIFA became the governing body of futsal. Until 2016 when Argentina was triumphant, only two nations had won the Cup – Brazil five times and Spain two times. The next tournament is set to take place in 2020 in Lithuania, and we can expect to see many surprises, exciting moments, and betting opportunities.
Different Futsal Betting Selections
Similar or almost identical to the ones placed on football, the betting options in futsal are vast. Also, they are one of the main reasons why bettors choose futsal as their go-to option. As a result, futsal has become a sport covered by all more significant bookmakers that are continually trying to upgrade the betting markets and bring something new to the table. Below are the most frequent betting markets futsal bettors choose.
Straight Bets
Straight bets are the simplest types of bets you can make on futsal, and any other sport, in general. This bet allows you to predict the winner of the futsal match irrespective of the outcome of the first or second half, or the number of goals. There are three options within straight bets: home win, draw, or away win.
Totals
Totals or Over/Under bets are bets where you try to predict the number of goals scored in a game. Bookmakers set a decimal value for the given match, and your job is to guess if there are going to be more or fewer goals than that, regardless of which team scores them.
Handicap Bets
Handicap bets are also quite frequent in futsal and refer to the head start given to the underdogs of the match as a way of evening the odds between the opposing teams. If the odds for the favorites are, let's say, – 1.5 goals, it means that the final score needs to be two or more goals for the favorites for the handicap bet to be successful. Of course, you can always choose the other way around and predict that the favorites will win with a less than 1.5 goals advantage.
Specials
Of course, there is almost an unlimited number of individual bets bookmakers give for each game. These bets are usually so diverse that it's impossible to list them all. The most frequent ones include the number of corner kicks, outs, which player will make the first foul or get a yellow card, the winner of each half, and so on. Each online sportsbook has its agenda, so you should explore all the options carefully.
Futsal Betting Tips and Strategies
When you bet on futsal, there are as many things you need to consider before you place your bets, and even those can't guarantee you'll win, but that is sometimes the beauty of it all. If you are looking to improve the odds of winning and make the most of your bets, you need to have a clear and comprehensive strategy. Luckily for you, we can help you with a series of tips and tricks you should follow.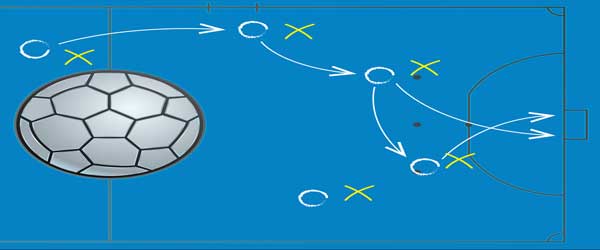 Favorites Don't Always Win
It is clear that the favorites are there for a reason, but that does not mean you should always bet on them. People are sometimes misled, thinking that betting on the favorites is easy money, but in fact, it can entice a considerable risk factor as surprises in futsal are not hard to come by. Also, the odds for betting on the favorites are hardly ever worth the trouble, as the payouts are not going to be considerable, so you should explore other choices.
Tournament History Plays a Role
You can never ascribe any definitive value to the tournament's history, but the impact it has on the outcome of games is undeniable. The tournament favorites and past winners are going to play with vigor and desire other teams can't match. It is said that defending the title is far more complicated than winning it for the first time, but no champion will ever shy away from the challenge, so make sure you consider that as well.
Pay Close Attention to the Players' Form
The player with the hot hand in basketball is the one scoring all the points, and something similar can undoubtedly be applied to futsal, only in futsal the player should have the hot foot. The best players on the team are the ones who can keep scoring game after game, and you need to pay close attention to them, as they are the game changers. Monitoring their progress can tell you if they are going to score in a game or not, or how many successful passes they will complete, so be on the lookout.
Legality of Futsal Betting
Betting on futsal is legal in all countries that have legalized sports betting. However, there are many illegal sites out there, so you should check out our list of the best licensed betting sites that will meet your betting needs.
Conclusion
Futsal is an incredibly dynamic type of football that has a huge fan base that keeps growing. There are many competitions and betting options, and now that you have read our article, you are more than ready to go and place bets on futsal events that guarantee there won't be a dull moment. Good luck!
Futsal

FAQ Section
Is it profitable to bet on futsal?
What events are a part of futsal?
How often do futsal events happen?
What is an alternative to futsal betting?
Is it legal to bet on futsal?