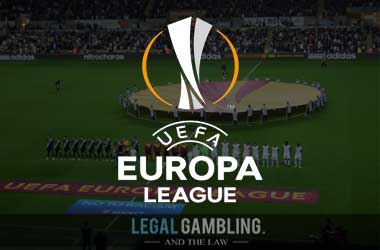 The Europa League is made up of teams that have qualified through a knockout system. Each of the participating teams will play opponents twice, once at home, and once as guests of the opposing team.
Those that play in the same football association are unable to play against each other, and the team that scores the most goals between the two matches will then advance to the next stage of qualifying.
In this article, I discuss the various competitions which you can place bets on, explain the Europa League, include betting strategies and tips, examine the legality of Europa League betting and provide answers to some commonly asked questions relating to the Europe League.
I further add why I believe placing bets on this league is recommended and include a list of recommended legal Europa League sportsbetting sites.
List of Sports Betting sites accepting players from the USA:
Europa League Format
There are 7 rounds of qualifying and 55 associations participating; the preliminary round, first qualifying round, second qualifying round, third qualifying round, playoff round, group stage and finally, the knockout stage.
Preliminary Round
The preliminary round consists of sixteen teams; six domestic cup winners from associations fifty through fifty-five, six domestic league associations forty-nine through fifty-four who were runners-up and four domestic league teams from associations forty-eight through fifty-three who placed third.
Eight winners from the first round of qualifying will advance to the first round.
First Qualifying Round
The first qualifying round sees ninety-four teams participating. This is made up of twenty-five domestic cup winners from associations twenty-five through forty-nine, thirty domestic league teams that were runner up's from associations eighteen through forty-eight and thirty-one domestic league teams that placed third. Forty-seven of the teams in this round will advance to the second round of qualifying.
Second Qualifying Round
The second round of qualifying comprises twenty teams from the Champions Path and seventy-four teams from the League Path. This is made up of seven domestic cup winners from associations eighteen through twenty-four, two domestic league teams that were runners-up from associations sixteen through seventeen, three domestic league teams who placed third from associations thirteen through fifteen, nine domestic league teams who placed fourth from associations seven through fifteen, two fifth-place domestic league teams from associations five through six and four sixth-place finishing teams from associations one through four. Ten teams part of the Champions Path will advance to the round of qualifying, and thirty-seven League Path teams will also advance.
Third Round Qualifying
Third round qualifying will include a total of fifty-two teams. This is comprised of ten winning Champions Path teams from the second round of qualifying as well as ten losing Champions Path teams from second-round qualifying. It will also include thirty-seven winning teams from the League Path and three losing teams from the League Path. It also will include five domestic cup winning teams from associations thirteen through seventeen, six third-place teams from associations seven through twelve and one-fourth place fining domestic team from association six.
Playoff Round
The Playoff round will see a total of forty-two teams. They will include ten winning Champion Path teams from the third round of qualifying, six Champions League losing teams and twenty-six League Path winners from the third qualifying round.
Group stage
After all qualifying rounds have been played, the Group Stage will begin. This will see eight Champions Path winners advancing to the Group Stage and thirteen winning teams advancing from the League Path from the Playoff Round, four losing teams from the Champions Path, two losing teams from the League Path and four losing teams from the Champions League third round participating in the Group Stage. It will include twelve domestic winning teams from associations one through twelve, one domestic league team with a fourth-place finish from association five and four fifth place domestic league teams from associations one through four.
Knockout Phase
The knockout phase will have twelve winning teams from the group stage, twelve runner-up's from the group stage and eight third-place teams from the group stage. The thirty teams will be drawn to play against another team, and this will continue until only two remain, at which time the final will be played to crown a winner.
Different Europa League Bets
Football is by far, the most popular sport in the world today, and with its popularity, there is a great number of different ways to place bets on football, and in particular, the Europa League. Below we highlight a few of the more popular betting options.
Betting on the Group Winner
This is one of the most common bets placed in the Europa League. This will see bettors placing a wager on who they think will win one of the top positions in the Group round. This will see sportsbooks placing odds on favoured teams and will rank each based on previous results.
Winner of the Europa League
Choosing the winner of the Europa League is another popular bet made by punters. This is a simple bet that only requires you to select the team that you think will win the Europa Cup. Odds are based on a number of factors such as how teams performed throughout the league and how they finished in the qualifying rounds.
Score/Win
One of the harder bets to place, but one that is popular is the score/win bet. This requires punters to pick a favoured player that you believe will score a goal. In order for this bet to win, the player must be score a goal and be on the team that wins the match. Odds for this style of bet will be fixed and be based on the players scoring history and their respective team's chance of winning that particular match.
Winner of a match
This is a simple bet but one favoured by many. It simply requires selecting the team you believe will win one of the matches. If you choose correctly, you win, if not, your bet is lost. Odds are based on the usual factors such as past match performances.
Europa League Betting Tips and Strategies
Betting in football is not as simple as picking a team and hoping for the best. It requires the punter to exercise caution and remove the emotional factor from the equation. That is done by investing time in reaching each of the players on the team you are favouring and then understanding their strengths, weaknesses and past performances. In doing so, it will give you a solid picture of what you can expect, or at least, anticipate as to whether the team you are favouring is the best bet for your money.
Home Field Advantage
Teams playing with the advantage of being at home makes a difference. It has a huge impact on the level of support they receive from fans and this is most certainly a factor when cone considers the passion that Europa League fans display. While it is not the only defining factor as many teams perform well when on the road, it certainly is one that must be factored into the decision making process.
Player Injuries
Player injuries is another are that one should study carefully. Each player has his unique qualities that they bring to a team, and if one of those has been injured, it can change the balance of the team and this can and will have an impact on the teams overall performance. This can be in the form of this ability to win against an opposing team but also can impact the team psychologically.
Do your Research!
First and foremost, do your research. You can read all the tips you want on how to bet on football, but if you do not take time in researching the league, each of the teams and their key players, your odds of long term success will be seriously hampered. Research stats on a regular basis, understand how those stats relate to team performance and place bets on facts, not emotions.
Legality of Europa League Betting
Football is a sport that holds immense popularity throughout the world, and as such, there are few boundaries that prohibit placing legal bets on the Europa League. The legality of betting in this regard relates to the geographical location you are residing in, and that will require you to investigate the laws in your country and how they relate to gambling, whether online or offline. One example is the United States, while they do not make betting online illegal, they do make the transferring of monies for the purpose of gaming illegal with offshore operators as it falls under the Wire Act.
If you live in a country that has restrictions relating to offshore gambling, you still will find some sportsbetting sites that will accept your wagers, however doing so is not recommended as if you have a problem when withdrawing your winnings, you will not have any recourse that you can take in order to get paid.
Therefore, it is imperative to investigate the legality in your country, and then once confirmed; you legally are allowed to place an online wager. Then you need to ensure that the sportsbooks you register with and subsequently place bets with are ones that are licensed by respected gaming authorities such as the Kahnawake Gaming Commission, the Alderney Gaming Control or the Malta Gaming Authority. This will ensure that those you are playing with, and those we highly recommended are responsible acting sportsbetting sites that act responsibly, retain your deposits in separate accounts and will pay winnings promptly. The legal sportsbooks you see on this page all meet those requirements, and you have our assurances on their legitimacy.
UEFA Europa League

FAQ Section
How can I purchase tickets for a Europa League match?
What is the origin of the Europa League?
Which teams have won the most Europa League championships?
Why I recommend betting on the Europa League