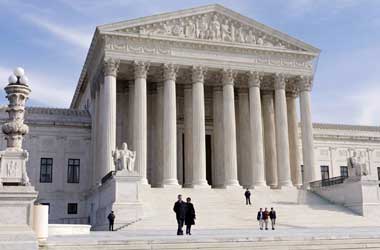 The Supreme Court of the United States (SCOTUS) has finally given the green light for states to permit sports betting. The ruling overrules a federal law that prohibited betting on sports like basketball, football, and baseball.
The Supreme Court justices voted 6-3 to strike down the Professional and Amateur Sports Protection Act (PASPA) 1992.
The Supreme Court ruled that the 1992 federal law was a violation of the US Constitution which limits the federal government's control of state policy.
The SCOTUS decided the federal government used its own laws to prohibit sports betting in all 50 states.
New Jersey has fought long and hard to overturn PASPA for a number of years but has met with failure. New Jersey took the case to the Supreme Court and finally came out on the winning side which also means a victory for a number of other states in the country who are looking at legalizing sports betting.
CNN
One research firm projected before the Supreme Court ruling that if the 1992 law were struck down over 30 statues would probably offer sports wagering within 5 years. The American Gaming Association (AGA) estimates Americans already illegally make $150 billion in illegal sports bets every year, so legalizing the sports betting market will now create a massive opportunity for betting operators, punters who love to bet on sports and for state governments who stand to earn millions of dollars from sports betting operators.
The stock prices of equipment makers and casino operators surged after the announcement of the Supreme Court ruling. They included Caesars Entertainment stock prices surging 6% while DraftKings announced it will join the sports betting industry.
Millions of Americans Happy With This Decision
Millions of Americans will now be able to bet on their favourite NFL, NBA, NHL and MLB games as well as a number of other sports including F1, Tennis, MMA, horseracing and boxing.
In a statement Geoff Freeman, CEO of AGA said
Today's ruling makes it possible for states and sovereign tribal nations to give Americans what they want: an open, transparent, and responsible market for sports betting. Through smart, efficient regulation this new market will protect consumers, preserve the integrity of the games we love, empower law enforcement to fight illegal gambling, and generate new revenue for states, sporting bodies, broadcasters and many others