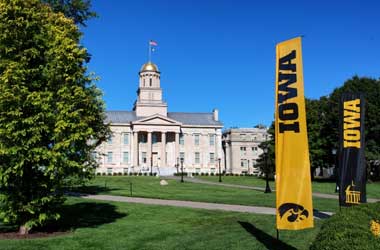 Summary:
One full-time athletic department employee is also under investigation.
An additional 15 athletes are also suspected of breaking betting rules.
111 individuals are under suspicion of betting with the majority being students.
Sports betting is a favorite past time of many sports fans across the United States. Most states offer some form of betting, be it online or within a land-based sportsbook.
In each state, there are rules and regulations that must be followed to ensure the integrity of each sport. In Iowa, over 100 people are under investigation in reference to breaking NCAA rules regarding the industry. A portion of the individuals are athletes.
University of Iowa Investigation
The University of Iowa is currently investigating various individuals that may has violated sports betting rules. Of the 111 involved, 26 are athletes in baseball, football, wrestling, men's track and field and basketball. One individual is a full-time employee within the athletic department.
Iowa State also noted this week that just over a dozen athletes spread across football, track and field, and wrestling are suspected of breaking gambling rules. The majority of the total number under investigation are students, former athletes, or those who are not connected to the athletic department.
Officials of the university were alerted on May 2 of possible criminal activity connected to sports betting. The suspected NCAA violations were handed to officials by law enforcement that included a list of people that participated in wagering.
The school announced the investigation yesterday and immediately notified certain athletes that they would not be competing in upcoming events. The NCAA was also alerted of the investigation.
Little is Known About the Actual Wagers
The Board of Regents in Iowa stated that the wagers occurred at Iowa University and Iowa State. How much was wagered, and any additional details have yet to be provided. The Board said the situation is being monitored and the group feels the University will take the proper precautions to ensure compliance.
The NCAA does not allow athletes, coaches, or staff members to wager on events where the NCAA is involved in a championship capacity. Athletes are not allowed to wager on NFL games as well. The Iowa Gaming Commission is also investing the matter after it was announced that student athletes would not be allowed to compete in upcoming events.
We do know that there is no evidence of suspicious wagering or match fixing. It does appear as though it was simply wagers placed when they shouldn't have been. It is unclear as to what the exact punishment will be for those who are charged with violating the NCAA rules.