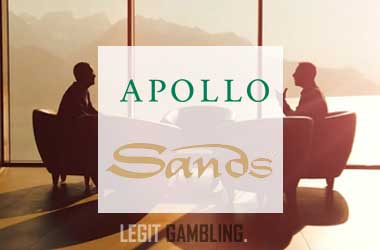 Summary
NGCB gives nod for LVS acquisition
LVS to focus on Asian gaming market
LVS Chairman says Las Vegas will recover soon
Apollo Global Management Inc. along with Vici Properties Inc. has moved a step closer to completing their acquisition of Las Vegas Sands Corp. (LVS) for $6.25 billion. The acquisition includes the Sands Expo and Convention Center, the Palazzo and Sands Venetian.
This acquisition is subject to regular approval and things are going in the right direction so far as the Nevada Gaming Control Board (NGCB) gave the nod for the Nevada Gaming Commission (NGC) to sign off on the acquisition transfer which should take place later this month.
LVS surprised the market when it announced that it had decided to exit Las Vegas and focus on its Asian gaming operations. The decision came not long after long time founder and Chairman Sheldon Adelson passed away. New chairman Robert Goldstein said it made financial sense for LVS to move away from Vegas and concentrate on Asia as the bulk of its gross gaming revenues (GGR) were generated from its casino resorts in Macau and Singapore.
LVS is planning on using the bulk of the capital raised from the sale to renovate and expand its properties in Singapore and Macau. Goldstein said that while they are in the process of exiting the Las Vegas market, they will still keep a close watch on other markets in America such as Texas, New York and Florida.
LVS has currently hired lobbyists in Texas to push for casino gambling legislation. If the Lonestar state does pass gambling legislation, it will create a massive market and LVS will definitely want in. However, for now the attention will be on the Asian gaming market which is still recovering from the COVID-19 pandemic.
Las Vegas Will Recover Soon
The Las Vegas gaming market has suffered considerably during the last 24 months due to the pandemic. Even though Las Vegas casinos have reopened, they are still not doing business like before as travel and tourism numbers are still low due to concerns about the omicron business.
Goldstein sounded positive about the Las Vegas market and says that he expects it to recover soon. He said the new owners have an interesting decision to make as to whether they want to focus on the gaming market or non-gaming market going forward.