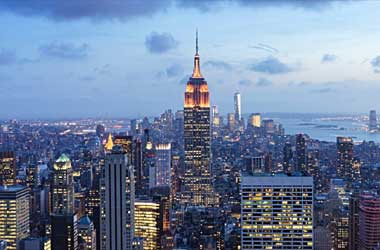 Summary:
It took just 16 months to reach the milestone.
This is the fastest that the $25bn mark has been reached in the US.
New Jersey previously set the record in 47 months.
Sports betting analysts and operators knew that New York State would be a prime location for services. Once lawmakers approved the industry in early 2022, it was go time.
Many operators launched sportsbooks in the state, and in just 16 months, over $25 billion in handle was generated. This is a huge milestone and sets a record in the United States.
Setting a Record for Betting
New York is now the new record holder regarding sports betting handles in the United States. They have reached the $25 billion milestone, surpassing the previous record holder by over two and a half years. New Jersey did not reach the milestone until around 47 months of operation.
Nevada is the only other state to have reached $25 billion in wagers, but this is due to its longevity in the market. It may be some time still before we see additional states enter the prestigious club. The industry's success in New York has created exciting benefits, including bringing over $983 million in taxes.
The tax rate in New York is 51%, which is the highest rate for a sports betting market in the US. Because the state is doing so well, New York may surpass New Jersey regarding total betting handle numbers. So far, NJ has only produced around $38 billion wagers.
Top Operators in New York
The sports betting market in the Empire State is booming, and leading the charge is FanDuel and DraftKings. This is not surprising, considering the providers are considered among the best in the business. FanDuel remained the biggest threat for the duration of available services until DraftKings beat them in June 2023.
Both operators have around 75% of the market share, and FanDuel has the top spot. Last year, FanDuel generated over $6 billion in handle, while DraftKings earned over $4 billion. Taxes from these top operators have given the state over $800 million.
The market is certainly interesting to watch and only continues to grow regularly despite a congressman pushing for sports betting advert bans. The industry is doing well as players visit local sportsbooks and log online to enjoy betting services.
The online sports betting market is doing so well that it has brought lawmakers together to consider legalizing online casino gaming. Mobile casino apps would bring a new stream of steady revenues to state coffers. Legislation is not on the table now, but it would not be surprising to find it added in the future.