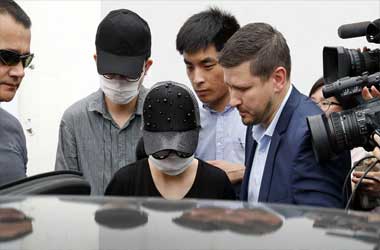 Sixteen of the nineteen Crown Resorts Ltd employees detained by Chinese authorities in 2016 have been sentenced to jail time by a Shanghai court. This information was confirmed by a stock exchange filing made by the company.
The employees who were charged with gambling related crimes included three Australian nationals. China prohibits promotion of gambling activities allowing only advertising of non-gaming attractions. Those detained appeared before the court this week after being formally charged earlier in the month. All 19 employees had been arrested in October 2016.
Zhai Jian, who was named in a Reuters report as the lawyer for the defendants stated that all 16 of them had pled guilty. Out of the total 19 arrested, the three who were bailed in November 2016 were not fined or sentenced according to Crown Resorts.
The court hearing handled the charges against all 19 employees, 17 of whom are current Crown employees while two are former employees. Out of the 16 sentenced with jail time, 11 were sentenced to 9 months in prison while 5 were given a sentence of 10 months​.
Additionally a fine of RMB 8.62 million ($1.26 million) was also levied on the 16 employees. Crown Resorts stated in its filing that it had made the payment ex gratia. The sentences were made effective retroactively from October 2016 the time of their arrest. This implies that most of the defendants will be finishing their jail terms in a few weeks' time.
Among those charged included Jason O'Connor, Crown Resorts' executive vice president for international VIP business who has been given a 10-month sentence. The other two Australian nationals Xuan Peng and Pan Dan were both sentenced to nine months each.
According to Australian broadcaster ABC, since Xuan and Pan have already served eight months in the prison they would be eligible for release in a month's time. Connor is likely to spend another two months in jail. In its filing, Crown Resorts said that it was respectful of China's jurisdiction. The company stated that it would not be commenting further on the issue.
Lawrence Ho Yau Lung, chairman and chief executive of Melco Resorts and Entertainment Ltd, former joint venture partner of Crown Resorts said in May during an interview that Crown Resorts had flouted China's rules against gambling promotion upsetting the authorities.
The arrests resulted in a sharp decline in VIP gaming revenue for Crown Resorts and also other casinos in Australia. Crown subsequently undertook a major corporate overhaul under which it has exited from all international ventures.