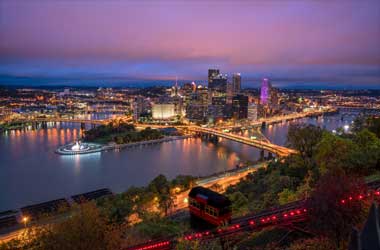 Land based casino operators in the past opposed the legalization of online gambling across America as they were concerned that online casinos would eat into the revenues of brick and mortar casinos. However a number of iGaming analysts stated that this was an unfounded fear and that iGaming would only boost land based gaming.
Analysts from Deutsche Bank carried out a detailed study on the casino market in Pennsylvania and say that it is quite possible that the legalized iGaming market in the Keystone state is cannibalizing revenues of the land based casino industry.
Deutsche Bank said they decided to study the gambling market in Pennsylvania because there was more access to granular data than there was in other legalized markets.
Based on their study, they concluded that Pennsylvania should take into account that land based casino revenue was dropping due to the fact that iGaming was eating into their market share.
The 2021 study showed that brick and mortar casino revenue dropped by 12 percent in March, went up by 1 percent in April and dropped another 3 percent in May. During these three months, the Cordish Group opened two new casinos with one in Philadelphia and the other near Pittsburgh. The increase in the number of land based casinos could have also contributed to a decline in land based revenues.
The iGaming market in Pennsylvania brought in $10 million from July to December 2019 which was the first seven months since iGaming was legalized. However, during the last 14 months, iGaming has brought in a total of $68 million. The increase in iGaming revenues and a decline in land based revenues must be taken into consideration carefully.
Deutsche analysts pointed out that given the recent troubles caused by the COVID-19 pandemic, these numbers don't look really alarming until you compare it with results from other states that have legalized land based and online gaming industries.
iGaming Operators More Aggressive
The study also showed that iGaming operators were a lot more aggressive than land based operators when it came to new player acquisition and gambling advertising. iGaming operators spent more money to acquire and retain players than traditional casinos.
Brick and mortar casino operators also spent 9 percent less on advertising than what they spent in 2019 while iGaming operators increased their advertising budget.
Deutsche Bank expects the online gaming market in Pennsylvania to continue to increase and do well in the coming months.