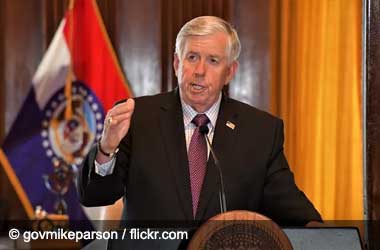 Summary
Sports betting was expected to be a topic of a special legislative session.
Lawmakers want Missouri to join other states in allowing sports betting services.
Sports fans in the state want access to betting.
It was expected that sports betting would be discussed during a recent special session among Missouri lawmakers but that is not the case.
Legislators headed back to the capital this week to deal with state income tax rates and Governor Mike Parson's office has shut down any attempt to put sports betting in the mix.
No Go For Sports Betting
Kelli Jones, a spokeswoman for Parson, stated that sports betting legislation is not relevant to the subject of the current special session. It does not relate the topics on call and will not be part of the special session.
The comments were made just a few hours before a panel in the House were about to debate the newest version of a sports betting package. This latest deal is similar to the one that failed to move forward in the Senate in the spring.
The measure would see Missouri offer the same services that neighboring states provide when it comes to sports betting. Advocates for the industry say that players want access to gaming. When nearby Kansas approved betting, more than 16,000 people from Missouri were stopped from accessing the neighboring states services, based on data from GeoComply.
Details of the Sports Betting Measure
Lawmakers are looking to offer sports betting in existing casinos as well as via professional sports teams. Facilities that house the state's professional teams could install sports betting windows while casinos offer sportsbooks.
Other details of the measure include an application fee as much as $150,000 plus a 10% tax rate on gaming revenues. The annual renewal fee for licensing would cost $50,000 with a $10,000 fee for investigation into operators in four segments.
Lawmakers did expect that the governor would stop the discussion but want to continue with the work while they can. Representative Dan Houx said that the governor might block the legislation from moving forward but its worth continuing to present the issue within legislature.
The state is losing out on revenues from sports betting and many lawmakers feel this issue should have already been covered. The House approved a similar package last year, but the issue has been halted in the state Senate. There is a disagreement as to how to get rid of illegal slot games that has kept gambling from advancing in Missouri.
Now, it is expected that the governor will take up the sports betting discussion in the next regular session which does not take place until January.