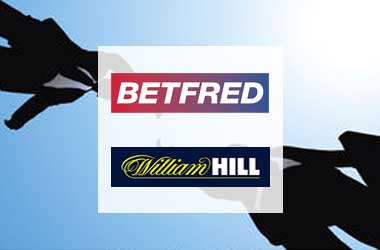 In a major move that has the UK gambling world buzzing, the two brothers that are behind Betfred recently bought stock in their rival company.
Billionaire brothers Fred and Peter Done who established Betfred back in 1967 confirmed that they bought a 3.03 percent stake in rival William Hill. This has given rise to the speculation that the two are thinking of adding the William Hill brand to their portfolio.
This purchase was done through Betfred's main retail subsidiary Done Brothers (Cash Betting) Limited. Market analysts think that this was a sign that the two billionaires are making a play for William Hill's biggest asset, its betting shop chain.
William Hill used to have more than 2,000 betting shops all over the UK. However, this empire of brick-and-mortar locations was hit hard when the UK government decided to put a betting limit on fixed-odds betting terminals (FOBTs). This was a major money earner for the company and the betting limit hit the company hard as over 700 shops had to close. Currently, the company runs 1,568 betting shops and BetFred also operators a similar number.
If BetFred does manage to buy up all those brick-and-mortar locations, then the company would be able to compete GVC Holdings who is the number one operator in the UK when it comes to betting shop chains. This is because GVC owns both Ladbrokes and Coral brands, which has around 3,000 betting shops in the country.
Some sources say that Fred Done has always had plans to buy William Hill's betting shops. Now, it seems that he is finally making a move.
William Hill's Potential
However, few experts think that the Done Brothers are looking at acquiring the entire portfolio of William Hill. These experts believe that the Done brothers see a lot of potential for the William Hill brand, especially with its recent expansion into the US sports betting market.
A spokesperson for Betfred recently said that Fred Done thinks that William Hill is currently undervalued and considers the company as the leader in the US sports betting maker.
Betfred has been showing interest in making its mark on the US sports betting scene. It has already sent feelers to the states of Colorado, Iowa and Pennsylvania for local partnerships. Acquiring William Hill can potentially jumpstart the company's efforts. William Hill's partnership with Eldorado Resorts and a recent deal with CBS sports position it to become a major sports betting brand in the US.