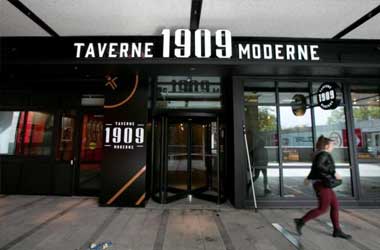 Summary
Loto-Quebec said it's in talks with Montreal Canadiens about the project
The small casino will be located at the former 1909 Taverne Moderne restaurant
Anti-gambling experts are opposed to the idea and have voiced their concerns
Loto-Quebec has revealed plans to install slot machines, sports betting terminals and poker tables at Bell Centre, the home arena of the Montreal Canadiens. Loto-Quebec is looking to start a mini-casino at the site of the former 1909 Taverne Moderne restaurant which seized operations during the pandemic.
In an interview with Paul Arcandon on 98.5 FM, Loto-Quebec CEO Jean-Francois Bergeron said they've been holding discussions with the Montreal Canadiens and other relevant parties about the plan for several months now.
Among the subjects discussed so far is opening hours. According to Bergeron, they're still figuring out if the mini-casino should operate seven days a week, from noon to 3 a.m. The gaming zone is primarily targeted at Bell Centre attendees, but those outside the arena who want to get in and play will be permitted.
Loto-Quebec "Capitalizing" on Montreal Market
Bergeron said some details would need to be sorted out first before they make a formal announcement but is confident that gambling machines will be installed by the end of this year should all fall in place.
The idea of setting up a small casino in downtown Montreal has been met with skepticism from gambling experts. Dr. Jeff Deverensky, head of the International Centre for Youth Gambling Problems and High-Risk Behaviours, said providing people with greater access to gambling machines could lead to an increase in problem gambling cases.
The casino has the potential to attract a lot of people, including vulnerable customers, as it is situated in a highly visible and easily accessible area.
Loto-Quebec said one of the main goals of the plan is to combat illegal operations such as money laundering and online gambling, but Deverensky isn't convinced it would be effective in addressing the problem.
Deverensky, who is also a psychology professor at McGill University, has questioned Loto-Quebec's real intentions for coming up with the plan, accusing the company of capitalizing on a market. He said the project is another profit-making scheme, with Loto-Quebec trying to grow its market share and market penetration by installing gambling machines in a new facility that is easily accessible to the public.
Casino Plan Must Obtain Public Health Approval
Even if Loto-Quebec and Groupe CH (the owner of Montreal Canadiens) proceed with the project with permission from the gambling regulator, there is no guarantee that it will come to fruition.
That's because the plan must first achieve "social acceptability" and obtain approval from Montreal Public Health, according to Montreal Mayor Valerie Plante.