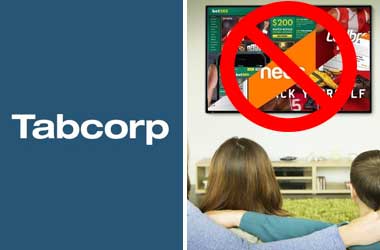 Australian gambling giant Tabcorp addressed the federal government regarding the restrictions on betting advertising via TV during prime hours. The company believes that government intervention is necessary to protect Australia's youngest citizens, especially around sports events since the pandemic already resulted in everyone spending more time watching television and online gaming such as Pokies.
According to David Attenborough, Tabcorp chief executive, betting advertising before, during, and after sporting events can harm Australia's children, teenagers, and young adults. To sort out this issue, the government should impose a complete crackdown on betting advertising around any program which may be attractive to children.
The time of the day when children are primarily in front of the TV is between 6.30 a.m. and 8.30 p.m. when most sporting events are broadcast. Reducing or completely cutting off betting advertising would protect Australian children, as the same restrictive model is live and on in the UK.
Betting advertisements are currently restricted between 6 a.m. and 8.30 a.m. and from 4 p.m. to 7 p.m. on all programs that fall in class G or below. Also, programs targeting children aren't allowed to play any betting commercials between 5 a.m. and 8.30 p.m. — almost throughout the day. Still, Tabcorp who also called for a credit card ban doesn't consider this to be good enough to protect the youngest Australians.
Corporate Bookies Steal the Spotlight in Australia
Another reason why Tabcorp demands a complete advertising ban may be caused by this Australian gambling giant being outspent in this regard by numerous popular Aussie bookmakers such as Ladbrokes and Sportsbet.
The statistics from the last two years show that TAB spent $64.9 million on advertising, while other bookmakers invested a lot more money — Ladbrokes/Neds $99.6 million and Sportsbet/BetEasy spent $112.8 million.
This clearly shows that these famous bookmakers have the right to more TV time in Australia, and it's definitely one of the reasons for Tabcorp's smaller revenue.
Many Establishments Support Gambling Advertising Ban
Tabcorp isn't the only company in Australia that wants to ban gambling advertising. The representative body for online bookmakers, Responsible Wagering Australia, is also interested in working with the federal government on creating a better advertising framework for the iGaming industry.
The chief advocate for the Alliance for Gambling Reform, Reverend Tim Costello, compared the campaign for banning gambling advertising to the tobacco advertising ban. According to him, advertising a product such as tobacco or an activity like gambling sends the wrong message to children that these things are good for them.
He emphasised that we may set specific rules regarding the timing of the advertisements or remove them entirely from certain programs. Still, the most effective way to protect Australia's youth from the harmful effects of gambling is to restrict advertising entirely.