NCAA College Football Betting – Legal Websites to bet on College Football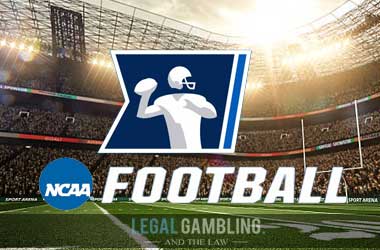 There is a total of four different levels of college football in the NCAA, or National Collegiate Athletic Association, including the Football Bowl Subdivision and the Football Championship Subdivision, along with Division II and III.
The Football Bowl Subdivision (FBS) is considered the top-tier of college football in the U.S consisting of 129 football teams that are divided into 11 different conferences.
The United States Military Academy, The Brigham Young University, The University of Massachusetts Amherst, and the University of Notre Dame are the only four schools in the Football Bowl Subdivision that are not associated with a conference.
The remaining conferences include the American Athletic Conference, the Atlantic Coast Conference, the Big Ten Conference, the Big 12 Conference, the USA Conference, the Mid-American Conference, the Mountain West Conference, the PAC-12 Conference, the Southeastern Conference, and the Sun Belt Conference. The main objective for every college football team is to either finish first or second during the regular season rankings to play in the College Football Playoff postseason tournament. The College Football Playoff tournament determines the national champion of the FBS and consists of two semi-final games and three championship games.
In my NCAA college football article, I will include other popular football events that are similar to college football, provide the various college betting types you will find at legal online sportsbooks and offer helpful betting tips and strategies that you can utilise before placing a bet on college football. In addition to this, I explain the legality of college football betting at online sportsbooks, include frequently asked questions about college football, and tell you why I think betting on college football is necessary to anyone who loves wagering on sports.
If you are already familiar with college football betting and don't want to read my entire article on how to wager on college football, you can choose any of my highly recommended sports betting sites below. However, if you are new to college betting and want to learn more about the betting types and strategies, you will find loads of information in my article.
List of Sports Betting sites accepting players from the USA:
Similar American Football Events
Apart from NCAA college football, there are plenty of other major American football events that bettors can take advantage of every year. As one of the most popular spectator sports in the United States, it comes as no surprise that there are several different leagues and football tournaments that are very similar to college footballl. Therefore, I decided to include other football events that you can look forward to, including a short description of each.

National Football League (NFL)
The NFL, or National Football League, is a major professional football organisation in America that's made up of 32 NFL teams split into two conferences. These include the National Football Conference with 16 teams and the American Football Conference with a further 16 teams.
Each of the conferences is divided into four geographically based divisions, each with four teams. Every NFL team will play 16 games in a regular season to try and qualify for the playoffs and the Superbowl final.

Canadian Football League (CFL)
This is another major professional football league in Canada, which is ranked the highest when it comes to competition level. The CFL features nine football teams from different cities in Canada that are split into two divisions. The divisions include the West Division with five teams and the East Division with four teams.
The league comprises of a regular season lasting 20 weeks, starting in June and ending in November, with a three-week playoff tournament that ends with the Grey Cup Championship.

Arena Football League (AFL)
The Arena Football League is a professional indoor football league in the United States. It was first introduced in 1987 and is renowned for being the third longest running league in football. Indoor football utilises a 28-by-68 field along with game rules that inspire offensive performances resulting in fast-paced action that leads to high-scoring games. The Arena football league features five teams, including Washington Valor, Tampa Bay Storm, Philadelphia Soul, Baltimore Brigade, and the Albany AFL team.
Types of NCCA College Football Bets
NCAA college football is a completely different animal to its NFL football counterpart, offering bettors, even more, matches throughout the week, including over 30 different games on Saturday alone. I included the most popular college football betting types you'll find at legal sportsbooks along with an explanation and an example to help you understand each of them.
Point Spread
Just like the NFL, NCAA college football's most common bet is a point spread. This type of bet equalises the opportunity of winning a bet. The line, or point spread, for college football, is usually released days before the actual match. A plus sign accompanies an underdog team in a point spread, while a minus sign accompanies a favoured team in a point spread. I included an example below of what a point spread will look like:
Michigan +3 -115
Ohio State -3 -105
The juice, or vigorish, for this match is -115 for Michigan, the underdog team. The juice is considered a fee that the oddsmaker will charge for you to place a wager. Usually, the juice for any side bet is -110, but most sports betting sites will offer reduced juice. In my example, a bet of $115 on Michigan will yield $100 profit, making the total win $215. Keep in mind that Michigan will need to cover the spread by losing with less than 3 points for your bet to win.
Moneyline
A moneyline bet removes the spread as bettors merely need to pick which college football team will win the match outright. Different odds will be placed next to each football team, quantifying the payout of wagering on either team. Let's look at a Moneyline example:
Michigan State +250
Alabama -350
Alabama is considered the favourites in this matchup, while Michigan is considered the underdogs. Bettors are required to bet $350 on Alabama to yield $100 profit, while they only need to bet $100 on Michigan to yield a $250 profit.
Game Totals
This type of wager will focus on the combined score accumulated by both teams in an college football game. The bookmaker will set a number of total points they predict the two teams will score together, and you will need to decide if the score will be more or less than the total number. Let's look at an example:
Florida State -130 o49.5
Syracuse +115 u49.5
The "o" indicates over, while the "u" indicates under. The over is set at -130, meaning that this is the expected total point outcome. The bookmaker is expecting the two college football teams to score more than 49.5 points combined. If you decide to wager on the over, then you're expecting the two football teams to score a combined total of more than 50 points. If Florida State wins 40-15 against Syracuse, then you're over wager will be considered a win.
Parlay
When making a parlay bet, you will be making a wager that includes between 2 and 12 individual wagers, also referred to as legs, and essentially link them together. The greatest benefit when making a parlay bet is that your payout will be significantly higher as all legs are required to be correct for you to win. If you make 12 individual bets and only 10 of them are correct, you will lose your parlay bet.
Prop Bets
A prop wager breaks away from traditional college football wagers. Instead of predicting the outcome of the match between two college football teams, you will be asked to pick several other exciting wagers. Prop bets essentially apply to individual players or teams. For instance, you can bet on the number of sacks a specific will player will have during the game, or if a specific quarterback will throw for more than 400 yards.
Future Betting
Betting on Futures is also another popular type of bet when it comes to college football. You are basically wagering on the outcome of a certain college football championship in the distant future. Prior to the start of a regular NCAA college football season, you will notice several future bets on every team. This will allow you to predict which team will win the College Championship. The odds on future bets are outstanding as it's very difficult to predict which team will win the championship at the end of the season.
NCAA College Football Betting Tips and Strategies
There are multiple rules that need to be followed when betting on college football. Unfortunately, fans of college football are extremely passionate about the game, and simply forget to follow these rules. When football fans get into betting on a match, the likelihood of bad decisions immediately increase. Therefore, I included a couple of tips and strategies that you will need to adhere to when making an college football bet.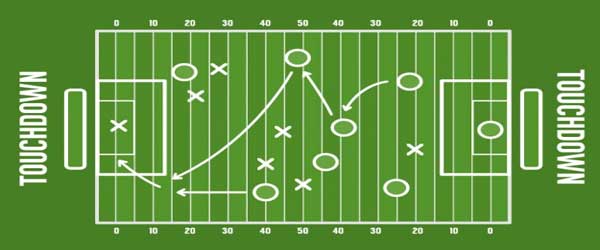 Avoid Betting on Road Favourites
The best way to decrease a card with over 60 games a week is to weed out teams that are favoured on the road. Home advantage plays a big role, and although the odds might seem attractive on a road favourite, the likelihood of them beating a team at home is rather low. Football fans provide extra motivation for a home team, and road teams normally have to travel great distances to play against a home team. They, therefore, have less energy after the extensive travel when playing against another team.
Early Season NCAA College Football Betting
Placing a bet at the start of an NCAA college football season is highly recommended. You will essentially need to do some research on the players in each team and look for experienced players with loads of skill, as they are aware of the importance when it comes to starting the season with a win. You can also keep an eye on new coaches that might have joined a college football team. They are usually driven to prove a point and will be motivated to start the season with a win.
Teams that Bounce Back
College football teams that recently suffered a loss will be more likely to bounce back with a noteworthy win to make up for the loss. You will need to keep an eye out for college football teams that experienced a significant loss, as they will bring their A game on the next matchup. This is the perfect opportunity to place a bet on them, as the odds against them will also be in your favour.
Legality of NCAA College Football Betting
NCAA college football is considered the second most watched sport in America. It also features up to 60 different football games per week, making it more exciting and entertaining for bettors, as there are loads of betting opportunities. However, most U.S citizens are confused on whether they are allowed to place a bet at online sports betting sites due to the State and Federal laws surrounding online betting. Fortunately, the laws are more concerned about sports betting operations as opposed to an individual making an online wager on college football. Therefore, U.S bettors can rest assured that they are welcome to place a bet at any legal online sportsbook that allows U.S registrations. All the legal sportsbooks I included in my review have been vetted as reliable, safe, and completely trustworthy.
Conclusion
Although most bettors prefer to place their bets on the NFL as opposed to NCAA college football, those that do follow college football tend to be extremely successful in turning their wagers into long-term profits. Their key to their success is finding a trustworthy online sports betting site that offers remarkable services and some of the best odds in the business. They then transform their college football knowledge into educated wagers, leading to some extraordinary rewards, thanks to the wide range of betting markets available in college football.
NCAA college football

FAQ Section
When is the College Football National Championship?
How many teams and conferences are there in NCAA college football?
Who is the current NCAA college football champions?
Why I Would Recommend NCAA college football Betting