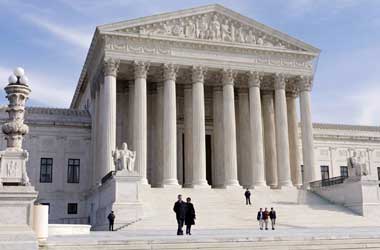 The Supreme Court heard arguments on December 4 regarding the highly publicized sports betting case.
Based on the arguments and the questions pitted by the nine justices who were present during the hearing, sports legal experts expect the Supreme Court to rule in favor of New Jersey.
The case pits New Jersey against NCAA, the four major US professional sports leagues (NBA, NHL, NFL, and MLB), and the federal government. New Jersey has battled for many years to overturn the Professional and Amateur Sports Protection Act (PASPA) of 1992, which outlaws sports betting in all states with the exceptions of Nevada, Montana, Oregon and Delaware.
During the hearing, former US Solicitor General Ted Olson who is representing New Jersey argued that the 1992 federal law violates the constitutional doctrine that prohibits the federal government from commandeering state policy. He also added that since the federal government has not regulated sports betting, it couldn't force a bylaw to preempt state rules regarding the activity.
ESPN
Out of the nine justices who sat during Monday's hearing, only two seemed in opposition of New Jersey's arguments. Justices Sonia Sotomayor and Elena Kagan suggested that nothing in the 1992 federal law was unconstitutional while conservative member of the high court, Justice Clarence Thomas did not ask any questions or share his opinion.
Justice Stephen Breyer was one of the justices sympathetic to New Jersey's plea that the federal law is dictating what the states must do—which is against the freedom the constitution has guaranteed to each state. Legal experts believe that New Jersey will win in one of two ways. The PASPA act could get revoked by the Supreme Court or the court could issue a partial decision granting New Jersey's appeal to allow states to offer sports betting, without ruling that the PASPA is unconstitutional.
Sports legal expert David Wallach predicts a 6-3 ruling in favor of sports-betting, without addressing the constitutionality of the federal law in question. A decision from the Supreme Court is expected to come in June.
The American Gaming Association (AGA) is also pushing for the legalization of sports betting and stands behind New Jersey. According to the AGA, the illegal sports betting market has generates over $150 billion each year. If states were to regulate the sports betting market, this would provide a safer gaming environment for everybody, protect the sport and also bring in significant revenue for state governments through sports betting licenses and gaming taxes.