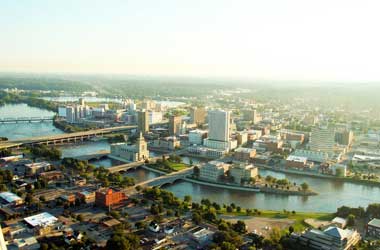 US Casino Operators in Iowa are not thrilled over the fact that the Iowa Racing and Gaming Commission is once again considering the option of approving a casino license for the city of Cedar Rapids. The Commission had considered a similar proposal in 2014 but ended up rejecting the proposal on the basis that the Iowa casino market was too saturated for another casino to be added.
However there are companies who are interested in developing a casino in Cedar Rapids and believe that that gaming market is strong enough to accommodate another casino. Cedar Rapids Development Group in partnership with Peninsula Pacific has sent in two proposals outlining their potential casino site location and amount of investment. A third proposal was sent in by Wild Rose Entertainment.
Cedar Rapids Development Group and Peninsula Pacific's first proposal is to develop a casino in a skydeck that will be joined to the DoubleTree Hotel and U.S. Cellular Center and will cost the company around $118 million, while the second proposal is to develop a casino at the River on First Street S.W and will cost the company around $187 million.
94.1 KRNA
The second proposal is very similar to a casino proposal made in 2014 that was rejected 4-1 by the Gaming Commission due to the fact that it was too big and would cannibalize the casino industry. Wild Rose Entertainment has proposed to build a small casino on First Avenue S.E at an estimated cost of $55 million.
Casino operators from Waterloo, Quad Cities and Tama asked the Gaming Regulator not to approve a Cedar Rapids license as it would negatively impact their business as Iowa's market was saturated. Dan Kehl who heads Elite Casino Resorts, a company that operates the Riverside Casino & Golf Resort; Rhythm City Casino in Davenport and the Grand Falls Casino & Golf Resort in Larchwood told the Commission that the state's gaming market had not changed in the last three years and approving a Cedar Rapids casino license at this point of time would cannibalize the industry and cause major layoffs at the Riverside Casino.
Local businesses in Cedar Rapids and a majority of residents are not against the idea of having a small casino in their city as they know it will create jobs and help boost the local economy. The Commission has visited all three proposed sites and is expected to make a decision in November.