US Open Betting – Sportsbooks To Bet On The US Open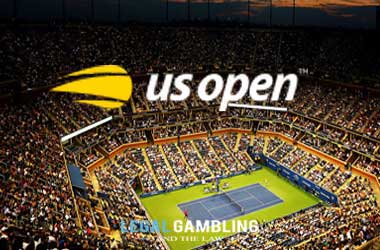 The United States Open Tennis Championships is one of four Grand Slams held every year in tennis. It is the fourth of the Grand Slams and replaced the U.S. National Championship in 1968. This is an annual event that takes place at the end of August and carries into the first two weeks of September.
There are five events played on an acrylic hard court surface located at New York's Billie Jean King National Tennis Center.
Organized and owned by the United States Tennis Association, it is a none-profit organization that donates all profits from the sale of tickets, television deals and sponsorships to promote tennis in America. The tournament is the only one of the four grand slams that allows for set tiebreakers if needed.
List of Sports Betting sites accepting players from the USA:
The early beginnings of the tournament date back to 1881 when the United States National Lawn Tennis Association held a tournament for members on a grass court in Newport, Rhode Island. In 1915, the tournament moved to Forest Hills at the N.Y West Side Tennis Club at Forest Hills, New York, before finally being moved to New York. Initially, the event only allowed male players to participate, however in 1899 saw the addition of women events.
The tournament attracts the best players in tennis, in part due to its prestige and part due to the lucrative prize pools and potential endorsement deals winners of the U.S Open can secure. The total prize money awarded in 2017 was over $50 million with the winner earning $3.7 million and those who finish in the round of 128 earning a respectable $50,000. (all amounts quoted are in U.S dollars)
Popular Tennis Events

Wimbledon
The oldest and most prestigious event on the tennis circuit, Wimbledon is held yearly in July and plays host to five events for both gentlemen and ladies. The list of events includes gentlemen and ladies singles, gentlemen and ladies doubles and mixed doubles. The 2017 Wimbledon, played on a grass court, provided prize money of £31,600,000.

Davis Cup
The Davis Cup is team competition tennis event for men held each year. Each team of players are made up of competing countries in a knockout style tournament. The average number of nations participating in the Davis Cup is 135.

Indian Wells Tennis Masters
The Indian Wells Tennis Masters is the 5th largest tournament in tennis. It is hosted at the Indian Wells Tennis Masters Garden in California. As a master's event on the men's circuit and a premier mandatory event for women, it is a stop on the Grand Prix Super Series and hosts top talent from around the world.
Miami Open
The Miami Open is a yearly tennis event on the professional tour for both men and women. It is part of the ATP World Tour Masters and is held every March at the Crandon Park Tennis Center. Known for spring hard courts, it is one of the largest events on the circuit beside the grand slams.
Different Types of Tennis Bets
There are multiple different types of bets that can be made in the sport of tennis. Each is unique in its own way, and each allows opportunities to be profitable. Below you will find five of the most popular bets that can be made on a tennis event or match.
Tennis Match Betting
Match betting is the most common, and also the easiest bet you will come across. The goal here is to pick who will win the match, but there are some areas you should be aware of before placing your bet. The first of those is how a bet will be settled in the event one player retires from play. Some sportsbetting sites will void all bets and return the amount bet back to the punter, while others will settle bets based on the outcome of sets played before the retirement took place. This is information that is critical to know for peace of mind, let alone potential disappointment should a retirement take place.
Set Betting
This type of brave is for the braver at heart as it requires punters to guess the exact score of a set, and is substantially more difficult, yet the payout is also much higher as a result. This is because the odds will usually be higher and for those who wish to place set bets it is highly recommended you do extensive research before doing so.
First Set Winner
Bets on the first set are also popular with punters and can be a lot easier to predict. This is ideal for punters who enjoy throwing a few bets towards underdogs with the hopes of a larger payout based on odds. To win you only need to pick the winner of the set – pretty simple really.
Handicap Betting
Handicap betting is another popular bet in tennis, as it is in many other sports. It is more geared towards experience punters versus those with limited knowledge on how it works or the sport in general. If you are betting on a player with odds of -5- 5, it means that the player chosen must win and that the total sets won by that player must equal -4- 4. (an example of this would be a score of 6-5, 6-3 as 6 + 6 – 8 = 4)
Proposition Bets
Proposition Bets are usually reserved for larger tournaments. An example of a proposition bet in tennis would be betting on which player will make the most aces or faults. Those choosing this style of bet must be willing to put in the time to research players past performances and histories in order to be successful.
Betting Tips & Strategies in Tennis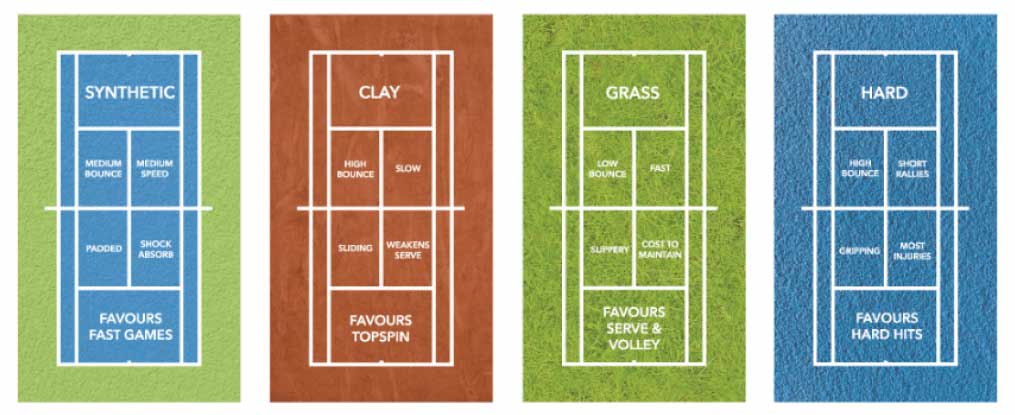 While tennis bettors come in different sizes, the majority fall into casual bettors or professional bettors. The casual bettor is one that is simply out to add a little excitement to an event they enjoy from a sportsman point of view, while the professional bettor is there for profit and focuses a lot of time on the finer details of the game and its competing participants. With that in mind, we thought a few tips would be helpful for those who are casual bettors who hope to make a profit while betting on the sport they love.
Player History
There is always value in history, it allows U.S to look back in time and compare it to the current and in doing so, hopefully, be able to predict a particular outcome, or prevent one from reoccurring. The same is true when it comes to player evaluation. Player history is relevant as it gives you as a punter insight into the players past in relation to their performance overall, and also their performance on particular surfaces to how they perform under certain weather conditions and events. Studying a player's history will give you additional information that could pay off.
Injuries
While tennis may not be a physical sport on par with rugby or American football, it is still physical, and injuries occur. In tennis, it is more relating to muscles, shoulders and elbows. Those injuries can vastly impact a player's performance and limit their ability to compete at the level needed to win a match or tournament. Take time to study the players involved in a particular match, check if there are any injuries that will impact their play and consider this when making your selection.
Read and Study Predictions
It is not hard to find predictions about players in tennis. It seems almost everyone is a pro analyst today and that can have a negative impact on many people as they may be getting false information or information that is inaccurate. While it is important to read predictions for some insight, it is also important to verify the source who provided that insight. It is equally essential for you as a punter to then research their predictions by looking at the event in question and the players who are entered or who were referred to in the predictions you read.
Psychological Strength and Motivation
There is a level of mental psychology that goes into a layers performance. How a player views themselves and their competitors can have an impact on their overall performance. There are some who are designed to be strong mentally such as Venus Williams, and it is players like her that overcome when faced with challenges and adversity. Even though they have achieved great success, they remain motivated, and that is a mental conditioning that impacts a player's performance. Do some research to try to determine a player's psychological strength as it could provide additional insight into how they may perform under certain conditions.
Legality of Tennis Betting
When you consider the popularity of tennis as a sport, it is easy to see how some question whether it is legal to place bets on tennis matches. If you reside in the U.S, bettors can make legal bets but only with those who are licensed to accept real money wagers on U.S soil. This generally relates to land-based casinos that cater to sportsbetting, however, while there have been several states that have legalised online gambling, the activities related to online poker and slots, but a few markets such as Las Vegas will permit sportsbetting online.
However, for other markets, betting on the U.S Open is legally dependant on your geographical location and the laws that govern gambling. This can include land-based betting as well as offshore. There has been a large number of countries that have enacted new laws, or revised current laws that related to offshore betting and the legal acceptance of bets from players within their borders. It is recommended that you take due process and verify if it is legal within your jurisdiction.
For those where betting on tennis is legal, we recommend you take additional precautions by playing only with betting sites that are licensed and regulated. As this is an area of expertise for U.S, we have gone to great lengths to investigate and review all of the top online sportsbooks and in doing so have compiled a list of recommended sportsbooks we know operate legally, are licensed, responsible and have the experience to provide a top-notch experience to its players. As one last recommendation, I would also suggest you invest some time and read our sportsbook reviews as they will give you further insight into what each sportsbook offers.
US Open Tennis

FAQ Section
When is the U.S Open played and who is the governing body?
Who has won the most U.S Open Championships?
Who has won the most Women's titles at the U.S Open?
Why I recommend betting on the U.S Open