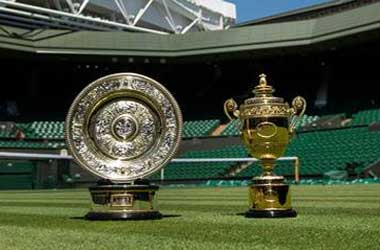 Whatever happens at SW19 this summer, nobody will be taking it for granted this time around. After being cancelled in 2020, and with some crowd restrictions still in place in 2021, the Championships are back to their glorious, colourful best this year – to the joy of tennis fans everywhere.
As one of the sport's four grand slams, Wimbledon evokes a sense of excitement as soon as the clay courts make way for the familiar luscious green grass. While we now know who will be taking to the courts later this month, the task of predicting the eventual champions is as challenging as ever, with new contenders arriving on the scene ready to face off against familiar heroes of the past.
Getting underway on Monday 27th June, all eyes will be trained on former winners like Novak Djokovic, Rafael Nadal, and the returning Serena Williams. And yet, for those who are yet to lift the famous gold trophies, there is a chance this year to etch oneself into tennis folklore with a victory at one of the sport's truly great theatres.
The 135th edition of the Wimbledon Championships is set to be one for the ages.
Best Online Sports Betting Sites To Bet On
Who has won the Grand Slams so far this year?
So far this year, Spaniard Rafael Nadal has been the man to beat. Back to his very best at the age of 36, he won both the Australian Open in February before adding his 14th French Open title – a new record. In doing so, he also became the first man to win 22 grand slam titles, made even more impressive by his epic four-set win over World Number 1 Novak Djokovic in the QF at Rolland Garros.
On the women's side, Ashleigh Barty won her home Grand Slam in Australia at the start of the year. She then stunned the sporting world by retiring from tennis, which allowed Iga Swiatek to assume her world number 1 spot – and also seal the women's title at Rolland Garros. The 21-year-old dominated the women's side of the draw at the French Open, defeating Coco Gauff 6-1, 6-3 in the final.
What Happened Last year
After a year of absence due to the Covid-19 pandemic, Serbian Novak Djokovic picked up right where he left off to win the Men's singles title in 2021. A six-time winner at Wimbledon already, including in 2019, the 35-year-old sealed the title with a four-set win over Italian Matteo Berrettini, moving him up to fourth on the all-time list of men's singles champions.
In the women's draw, it was Australian and former World Number 1 Ashleigh Barty who became champion for the first time after she edged out Karolina Pliskova in three. Having subsequently retired from tennis earlier this year at the age of just 26, she won't be back to defend her title this time around.
Wimbledon 2022: Latest Odds
Odds have been provided by William Hill and are accurate as of June. 23.
Mens Prediction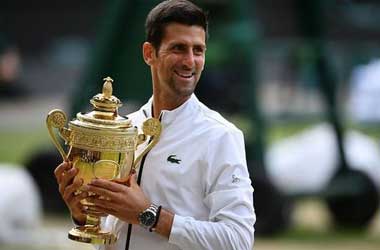 Favourite: Novak Djokovic (5/6)
The Serbian superstar may have endured a tough start to 2022, but in recent years, he has very much inherited Roger Federer's crown as the king of grass-court tennis. Djokovic has won the last three men's singles titles in succession at Wimbledon – making him a six-time champion in total.
Nadal may have shone on clay and hard courts this year, but back on grass, his old adversary will be very difficult to get past. In last year's final, Djokovic managed to put Berrettini to the sword with relative ease in the final.
The Italian should pose a threat to 'Nole' again this year, but if neither he nor Nadal can put up a fight, you have to fancy the 35-year-old to etch his name onto the famous old trophy for the seventh time.
Sleeper pick: Rafael Nadal (13/2)
It's very tempting to select Berrettini here because of his dominant Queens Championship win earlier this month. And yet, his recent return from injury has some questioning his ability to see out an entire grand slam tournament. By contrast, there are no such concerns over the stamina of the man we've picked instead.
Rafael Nadal is, without a doubt, the form man in world tennis right now. Back to his scintillating best, you'd be a brave man to bet against him following his remarkable recent triumphs in Melbourne and Paris. The 36-year-old has tended to struggle on grass more than some of his great contemporaries, as is evidenced by his two Wimbledon titles to Djokovic's six.
And yet, with big wins over the Serb already this year, Nadal will be confident if the pair meet at SW19 in the coming weeks.
Longshot: Marin Cilic (20/1)
Another veteran pick at the age of 33, Cilic is also enjoying something of an Indian summer this season. After reaching the Semi-finals of the French Open last month, he followed that by reaching the last four at Queens, eventually losing to Filip Krajnovic.
These two performances hint that Cilic, who won the 2014 US Open, maybe back to his best. The Croatian has previously reached the final at Wimbledon, using his 6'6 frame and monstrous serve to significant effect back in 2017.
In a year where some of the world's best players either aren't present or aren't fully fit, Cilic at 25/1 – not bad odds for a former majors winner – could be a very shrewd longshot bet.
Other selected odds
Carlos Alcaraz (7/1)
Felix Auger Aliassime (16/1)
Hubert Hurkacz (16/1)
Stefanos Tsitsipas (12/1)
Andy Murray (22/1)
Womens Prediction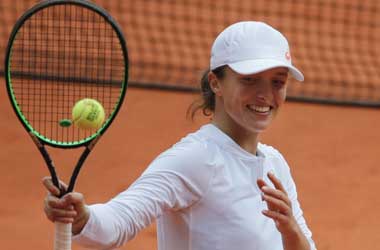 Favourite: Iga Swiatek (11/8)
Fresh from winning the 2022 French Open singles title – her second grand slam overall – the 21-year-old comes into Wimbledon as a heavy favourite. Swiatek has essentially taken over from where Barty left off following the Australian's shock retirement, becoming the new world number 1 in April of this year.
While the Polish player's only other grand slam title also came on the clay of Rolland Garros, she is currently in the form of her life – and is perfectly placed to improve on last year's fourth-round elimination from Wimbledon.
An aggressive all-court player, Swiatek will undoubtedly keep the British entertained fans whatever the outcome.
Sleeper pick: Simona Halep (10/1)
As one of the best grass-court players on the WTA tour, the Romanian cannot be written off at this year's Championships. Her form in 2022 hasn't been the greatest, with early-round exits in both the year's grand slams dropping Halep down to 19th in the world but has appointed Patrick Mouratoglou as her coach which should see some improvements going forward.
However, after reaching the Semi-finals of the Birmingham Classic earlier this month, she will now be hoping to replicate her 2019 form – which led to a maiden Wimbledon title in July of that year.
Having also won the French Open in 2018, the 30-year-old has pedigree in the majors – it's now just a question of whether she can still reach such heights in 2022.
Longshot: Serena Williams (16/1)
As one of the greatest female tennis players of all time, it's almost bizarre to see the American at such long odds to win a staggering eighth Wimbledon title.
Following a year-long layoff with injury, Williams has had to gain entry for this year's tournament by way of a wildcard invitation, as she'll have only played in a handful of doubles games in Eastbourne prior to the Championships.
At 40, it seems improbable that she'll still be in the draw by the second week, especially as her last grand slam win came back in 2017. With that being said, far stranger things have happened on Centre Court down the years, and with former world number 1 Barty now retired, an opportunity could present itself for one of the sport's truly great competitors.
Other selected odds
Coco Gauff (9/1)
Ons Jabeur (12/1)
Elena Rybakina (16/1)
Karolina Pliskova (16/1)
Emma Raducanu (25/1)
Our Predictions
In the men's draw, it's increasingly looking like Djokovic will win the title for the fourth time in a row. The likes of Berrettini and Nadal are both hitting great form at just the right time, but on grass – rather than clay – few players in history can match the Serb for sheer consistency.
Can Nadal adapt his all-action approach to the quick grass courts? Tell will tell, but the safer bet on this occasion is most certainly Djokovic. Nadal's young compatriot, Carlos Alcaraz, could also threaten after a solid 2022, but in last month's French Open, the 19-year-old showed signs of fragility when the pressure was really on. A host of potential favourites like Daniil Medvedev, Alexander Zverev and Roger Federer are all missing through injury. Andy Murray may also be nursing an issue if he plays. All of this points to Djokovic's name being on the trophy once again.
There is also a clear front-runner in Swiatek on the women's side. However, unlike Djokovic, she is yet to replicate her best tennis on grass courts, with clay being her favoured surface. A better bet could be American Coco Gauff at 9/1 or Halep at 14/1. Gauff reached the final at Roland Garros this year and has racked up some impressive wins at Wimbledon in the past, despite not yet winning a grand slam. Halep is a former winner at SW19, but the Romanian's form this year is undoubtedly a cause for concern.
Ons Jabeur could be a good shout at 12/1, as the Tunisian player is enjoying a fine 2022. Ranked 3rd in the world at the time of writing, the 27-year-old's best performance at a grand slam came at Wimbledon in 2021, where she reached the Quarter-finals. Maybe this could be the year we finally see a female African winner at Wimbledon.