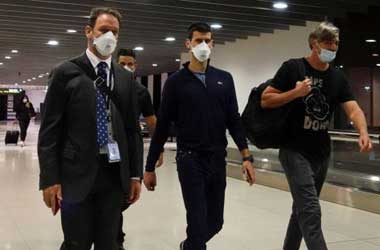 Summary
Australia cancels Djokovic's visa for the second time
Djokovic to miss 2022 Australian Open
Most Australians happy with the decision
Novak Djokovic had his visa cancelled for the second time over the weekend after the Australian immigration minister made his decision after pondering on it for the last few days. No details were published as to why the visa was cancelled.
Djokovic flew to Australia to take part in the 2022 Australian Open and defend his championship. He was also on the quest to win another Australian Open and in doing so create history by winning the most number of Grand Slam tournaments in the men's division.
Djokovic currently has 20 Grand Slam wins to his name and is tied with Rafael Nadal and Roger Federer. His absence from the 2022 Australian Open is a big blow to the tournament and also to his fans who were very keen to seeing him play and push to create history in Melbourne.
Djokovic was deported from Australia over the weekend and caught a flight back to Dubai. There is no indication if he would be flying on to Serbia from Dubai or going someplace else. Djokovic did tell the press that he was very disappointed to see his visa cancel for the second time and then get deported. However, he said it was time to get the focus back on the 2022 Australian Open and put an end to the entire drama.
Ana Brnabic, the Serbian Prime made it clear that she wasn't very happy with how Australia treated Djokovic and welcomed him back home. Brnabic said the decision take by Australia was scandalous and left her very disappointed.
Most Australians Happy With Decision
While Djokovic's fans in Australia were terribly disappointed with the decision and not being able to see their favorite player in action at the 2022 Australian Open, most Australians were happy with the decision.
The general public felt that Australia was giving Djokovic special treatment by allowing him to enter the country even though he was unvaccinated but preventing others from entering if they were unvaccinated. Aussies took to social media to support the decision to cancel Djokovic's visa and deport him.
When Australia deports an individual, they are usually not allowed to return into the country for the next three years. If this rule is applied to Djokovic, his fans will dearly miss him playing the Australian Open for the next few years.