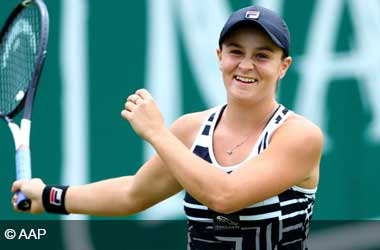 Summary
Ash Barty shocks tennis world with surprise retirement
Barty who is just 25 years old says she wants to pursue other dreams
Claims she has not physical or emotional drive to train and play anymore
Tennis fans around the world were shocked when top female tennis ace Ashleigh Barty took to Instagram to announce that she had decided to retire from tennis. It came as a shock because the Australia ace is just 25 years old and is ranked as the number one female tennis player in the world.
Ash Barty looked like she was going to dominate women's tennis for many years to come as she kept getting better each year.
She won three grand slams, including currently being the Australian and Wimbledon champion. With the tennis world at her feet, it comes as a big surprise to everyone that she decided to close the door on a very promising career.
Barty was emotional during her Instagram interview and said that her biggest dream was to win Wimbledon.
After she conquered that mountain in 2021, she no longer feels emotionally charged or physically driven to train and compete at the highest level anymore. Barty says that she felt content to call time on her career as she was physically spent and had nothing more to give to the sport. Barty finished as the world number 1 in 2019, 2020 and 2021.
Barty said that she felt right in her heart about her decision and while many will not understand why she is retiring at such an early age, she knows she is doing the right thing!
Will Barty Make A Comeback Later?
Given the fact that Barty admitted she is physically and mentally spent, one wonders whether her decision might be a hasty one!
Barty sounds like she is burned out and might need to take an extended break to recover and regain her passion for playing competitive tennis. Playing through covid-19 during the last few years has taken a mental toll on just about every tennis player.
Barty said that she wants to pursue some of her other dreams but did not go into detail about her dreams and future plans. Will Barty decide to pursue another sport or get into a business venture, or will she change her mind after a year and make a comeback?