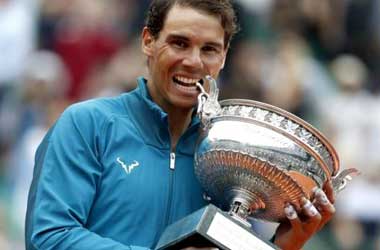 Summary
Rafael Nadal shares details about a painful foot injury
Nadal not certain that he will participate in Wimbledon
Mueller-Weiss Syndrome could determine early retirement for Nadal
Rafael Nadal made a worrying revelation about a career-threatening injury that could stall his dreams of winning the Wimbledon this year, and might force him into retiring soon. The Spaniard recently won the French Open but his celebrations were dampened a bit as he shared the seriousness of an injury he battled throughout the tournament.
Nadal suffers from a degenerative foot disease called the Mueller-Weiss syndrome, which causes excruciating pain and might stop him from competing at Wimbledon. The 36-year-old tennis icon has won the first two grand slam events of 2022, despite his battle with Mueller-Weiss syndrome. He has survived by taking injections to numb the chronic pain in his left foot and playing through the pain.
The Spaniard was seen limping during the Italian Open in May 2022, when he played against Canada's Denis Shapovalov. It was apparent that Nadal's foot injury had made a comeback after forcing him to miss an entire season in 2021. Sports enthusiasts observed Nadal's loss to Shapovalov with grave concern, as the former's chances to register any more victories after his success at the Australian Open in January seemed to dampen.
Despite professing his willingness to play in Wimbledon, Nadal was doubtful about continuing to play as he is not keen on taking pain killers daily just to keep playing. Australian National University professor of Musculoskeletal, Sport and Exercise Medicine Kieran Fallon said that the extent of damage caused by the disorder cannot be determined without examining Nadal's X-ray and MRI scans. He said Nadal might risk developing arthritis in his foot if he continues to play, despite the injections.
Another issue is if the injections would qualify as performance enhancers, which Fallon says is dubious, as it depends on the player's condition and the event they are playing in.
Nadal to Seek Radio-Frequency Injections
While Nadal dwelt on the possibility of him undergoing major surgery to arrest the pain that might force him to retire, he said that he was seeking radio-frequency injections to burn the two nerves that are causing him pain. If it works out for him, he will look to continue his career but if things do not improve, Nadal is open to retiring and not put his body through more pain!