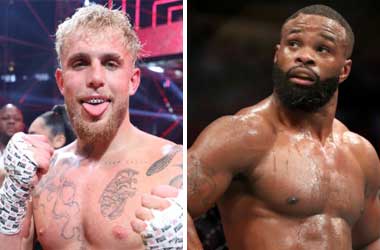 YouTuber now turned professional boxer Jake Paul is set to fight former UFC welterweight champ Tyron Woodley on August 29.
The fight will be showcased on Showtime and will take place at the Rocket Mortgage Fieldhouse in Cleveland, Ohio.
This fight will headline a card that has a number of interesting fights including one between WBC and WBO featherweight champ Amanda Serrano who will take on super bantamweight champ Yamileth Mercado.
Jake Paul fought former UFC welterweight fighter Ben Askren in a boxing match on April 17, 2021 and won by first round TKO.
The MMA community supported Askren for this fight and they wanted him to shut up Jake Paul who has made it a habit to target and called out UFC fighters.
Askren's TKO silenced the MMA community and Tyron Woodley who was in the corner of Ben Askren decided to call his shot and pick a fight with Jake Paul. The two of them had words during the Askren fight and it paved the way for them to set up a boxing bout for August.
Most of the MMA community is once again supporting Tyron Woodley as they believe he is a much better boxer than Askren and has the ability to stop Jake Paul.
Jake Paul
Will You Bet on Paul or Woodley?
While Woodley is a professional MMA fighter, he is not a professional boxer. The UFC decided to cut Tyron Woodley recently after he suffered a string of losses in the promotion and UFC President Dana White felt that it was time for the 39 year old to retire.
Woodley was happy to call for a boxing match with Jake Paul as it is guaranteed to bring him a big payday whether he wins or losses. Ben Askren claimed that he made over $1 million for less than 2 minutes in the ring with Jake Paul and Woodley is expected to make upwards of $1 million for this fight.
Jake Paul and Tyron Woodley will fight at 190 pounds which should favour Jake Paul as Tyron Woodley is used to cutting weight and fighting at 170 pounds in the UFC. Jake Paul is also 24 years old and has shown that he has good KO power. This will be his biggest test to date when he faces Woodley.
Make sure you return to our site nearer the action when we will have a complete preview of the bout.