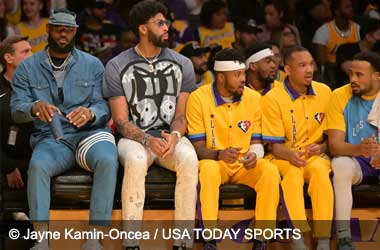 Summary:
NBA looking at signing a new media rights deal
NBA Board of Governors gives nod to tougher rest rules and penalties
50 players from 25 teams will be immediately impacted by these changes
The NBA is currently in negotiations to sign a new media rights deal and the Board of Governors are working out internal policies to ensure that they get the most attractive media rights deal possible.
The Board of Governors met at St. Regis New York on Sep 13 and approved a new set of rest rules and penalties that will make it tougher for All-Star players to sit out and miss games.
Tougher Rest Rules For All-Star Players
The new rules will make it difficult for All-Star players to sit out games and be on the side-lines when they are not hurt or injured. The idea behind these changes is to ensure that All-Star players end up playing a minimum of 65 games out of the 82 game season. Players who don't hit these numbers, will no longer be eligible for awards during the postseason.
The player resting policies were put together during the 2017-2018 season and the Board of Governors decided that it was time to make these policies more stringent. The NBA defines a "Star player" as an individual who has been a part of the All-NBA teams or All-Star teams during the last three seasons.
Based on this definition, a total of 50 players from 25 teams will now have to comply with the new player rest rules. NBA teams who violate these rules will be subjected to a $100k penalty for a first offense, a $250k penalty for a second offense and a $1 million penalty for a third offense.
The NBA has sent out a memo highlighting these changes in detail and the exceptions that can be made.
NBA Commissioner Shares His Thoughts
NBA Commissioner Adam Silver said the idea was to get NBA teams to play at full strength as much as possible and ensure that their All-Star players are not rested for in-season tournament games and nationally televised games.
In a statement, Silver said
We're trying to deal with some of the most egregious examples. Where multiple star players, for example, healthy, healthy all out on the same night. We're letting down the fans, we're letting down our partners by doing that.