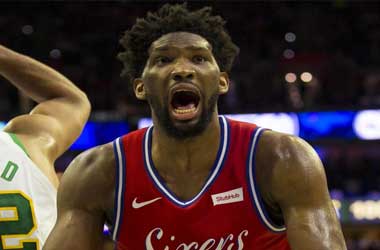 Summary
Joel Embiid was voted as the Most Valuable Player in the NBA
This was the first time that the Philadelphia 76ers center has won the award
Nikola Jokic who was the MVP for the last two seasons, took second place
One of the most coveted awards in the NBA each year is the Most Valuable Player (MPV) of the year award.
The NBA announced the MPV for the 2022-2023 season on 02 May and Joel Embiid from the Philadelphia 76ers was named as the MPV for this season.
First MVP Award For Joel Embiid
During the last two NBA seasons, there was stiff competition for the MVP award between Joel Embiid and Nikola Jokic who plays center for the Denver Nuggets. Nikola Jokic got the better of Embiid for the last two seasons and won back to back MVP awards.
Things looked pretty similar for the 2022-2023 NBA season as the competition was once again between Joel Embiid and Nikola Jokic. However, Embiid managed to break Jokic's streak and stop him from winning 3 MVP awards in a row.
Based on the voting process, this time around it wasn't a close call as Embiid ended up winning 73 out of the 100 votes, while Jokic took 15 out of the first place votes. Finishing in third place was Giannis Antetokounmpo who plays as a forward for the Milwaukee Bucks with 12 votes.
Jayson Tatum who plays as a forward for the Boston Celtics finished in fourth place and Shai Gilgeous-Alexander who plays guard for Oklahoma City Thunder took fifth place.
Embiid Thrilled To Win His First MVP Award
This is the third consecutive MPV award that is being given to a center and the 5th MVP award that is going to an international player. Embiid was born in Cameroon and currently holds dual citizenship with France and the United States.
In a statement, Joel Embiid said
I don't even know where to start. It's been a long time coming, a lot of hard work. I've been through a lot, and I'm not just talking about basketball … it feels good. I don't know what to say. It's amazing.
The 29 year old Embiid has had a fantastic season with the Philadelphia 76ers averaging 33.1 points per game, 1.7 blocks per game and 10.2 rebounds which made it his best season till date.