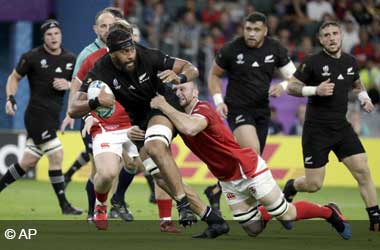 New Zealand had to wait for 10 days before they could play their second World Cup game against Canada on October 2. The All Blacks were rearing to go and they made the game completely one sided as they overwhelmed Canada and won 63-0.
The 2019 Rugby World Cup has 20 teams taking part and Canada is one of the weaker teams. To be honest, most teams are going to be weak when they take on the two time defending champions New Zealand, and who we predict to win the competition for a third time.
Canada tried putting up a fight especially during the first half but found the All Blacks to be too powerful in defense and too crafty in attack. The Canadians were overpowered, outrun and outplayed in all areas that they could not get even any points on the scoreboard.
All Blacks head coach Steve Hansen experimented with his team selection and started with the three Barrett brothers. This was the first time that a trio of brothers started out in a World Cup rugby game and it turned out to create history as it was also the first time that all three brothers scored in a World Cup rugby game.
World Rugby
Scott, Beauden and Jordie Barrett had a fantastic game along with Sonny Bill Williams and Richie Mo'unga who won the player of the match award. Scott and Beauden Barrett should of finished with two tries each but both brothers ended up dropping the ball. Scott crossed the try line but lost control of the ball just as he was about to touch down. Beauden had a great run in the dying minutes of the game and was a few yards away from the touchline when he also lost control of the ball.
The All Blacks did commit quite a few errors in the field, especially with ball dropping but Canada wasn't able to capitalise on these errors.
Real Test Will Come Against Stronger Teams
The All Blacks have never lost a playoff game in the history of the Rugby World Cup and their last loss in a World Cup goes back to a quarter-final in 2007 when they went down to France.
New Zealand will use these playoff games to get themselves acclimatised to conditions in Japan and prepare for the bigger challenges ahead when they take on some of the stronger teams like France, Australia and England.