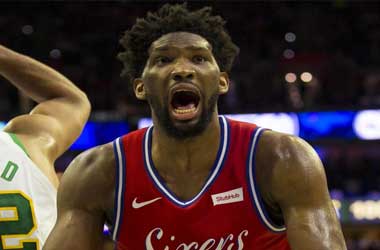 The Philadelphia 76ers lost yet again to the Boston Celtics on Wednesday night in a game that went down to the wire and finished 112-109 in favour of the Celtics.
It was a tough pill for the 76ers to swallow and center Joel Embiid expressed his frustrated in the media which resulted in him being slapped with a $25,000 fine by the NBA.
Joel Embiid gave it everything against the Celtics as they were determined to turn their string of losses against them and come out on top.
He had a good game finishing with 23 points, 14 rebounds and 3 assists but it still wasn't enough to get his team across the finish line.
The match went down to the wire and the game was in the balance during the final minutes of the game. Embiid felt robbed during the final minute of the game as he did not get a call in his favour when he was blocked by Al Horford. It looked like it was a foul but the referees did not think so and the Celtics went on to win by a 3 point margin.
After the game, Embiid had to face the media and answer a tirade of questions. He was clearly frustrated and ended his interview by saying "The referees f… suck!" His remarks caused quite a stir on social media and the NBA was quick to react.
ESPN
Reports suggest that the NBA has imposed a $25,000 fine on Embiid for criticising the referees in public. The NBA has taken a strong stance against players being disrespectful and critical of officials and Embiid would have most likely knew he was going to pay a financial penalty for his remark.
76ers Struggling To Beat The Celtics
While Embiid might have a legitimate bone to pick with the referees, the frustration also stems from the fact that the 76ers have struggled to beat the Boston Celtics. If we look at the wins vs. losses between the two teams from the 2018 season, the numbers show that the Celtics have a 10-2 record against the 76ers. The record also includes the Celtics 4-1 win during the 2018 Eastern Conference semi-finals.
The 76ers and the Celtics have a similar standing on the points table as they are both in fourth place. The 76ers will have to come up with a better plan if they are going to defeat the Celtics. The final game between the two sides during the regular season is set for March 20.