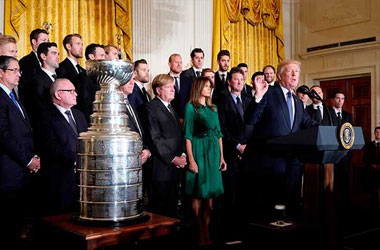 The Pittsburgh Penguins won their second consecutive Stanley Cup in 2017 and received an invitation to visit the White House and meet with President Donald Trump. There's nothing new to it as it is customary for the winning NBA and NHL teams to get an invitation to visit the White House.
However there were many NHL fans who took to social media to urge the current Stanley Cup champions to not visit the White House.
President Donald Trump is involved in a with professional athletes in the NFL and NBA who do not respect his stance on a number of issues including the President wanting the NHL to fire players who did not stand during the national anthem.
The White House
The Golden State Warriors (GSW), current NBA Champions were also supposed to visit the White House and meet with President Trump. However star player Stephen Curry stated that he was hesitant to accept the invitation due to Trump's views and as a result President Trump took to Twitter to let Curry know that he wasn't welcome anymore and that the invitation to the GSW was cancelled.
Going to the White House is considered a great honor for a championship team.Stephen Curry is hesitating,therefore invitation is withdrawn!

— Donald J. Trump (@realDonaldTrump) September 23, 2017
The Penguins decided to accept the invitation and met with the President and the first lady Melania Trump in the East Room. President Trump welcomed the Penguins and gave a 13 minute speech, highlighting some of their achievements and congratulated them on being winners. He also said that he believed they had a great chance to successfully defend and retain the Stanley Cup. Trump also took another dig at Stephen Curry by saying the Penguins had no hesitation in accepting the invitation.
Penguins head coach Mike Sullivan was also present as was Penguins captain Sidney Crosby who has received consecutive MVP awards. The Penguins did not get address or make any comments regarding the on-going controversy over players sitting or kneeling during the national anthem. Coach Sullivan said that he did have an opinion on the matter but did not believe that it was the right time for him to share it.
The last time the Penguins visited the White House was when Barack Obama was in power. The Penguins presented Obama who was the 44th President of the United States with a Penguins jersey that featured his name along with the number 44. They did not give President Trump any gift nor did they post pictures of their visit to the White House on their official social media accounts.