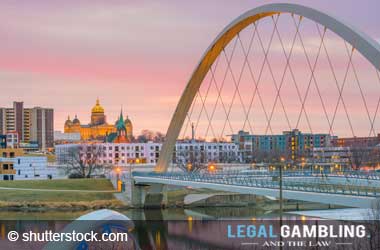 Last year, Iowa lawmakers unsuccessfully tried to legalize sports betting in the state. They are not giving up as they have once again started to push for sports betting legalization in January.
Iowa Rep. Bobby Kaufmann thinks that the 2018 attempt gave the state a good foundation that will help them go all the way this year.
Kaufmann heads the committee through which any proposal for sports betting legislation will pass and his optimism is a good sign of things to come. He projects that he will be scheduling the first hearing on sports betting legislation in the first week of February.
Iowa Press
Kaufmann points out that although sports betting legalization often needs years of support before becoming reality, the acceleration caused by the Supreme Court's verdict in 2018 to repeal PASPA 1992 has given Iowa enough momentum to push the sports betting law through in 2019.
In a statement, Kaufmann said
I think the consensus has been building for years. I think one of the things that was preventing a bill from becoming law in years past was the fact that we knew that the Supreme Court ruling might come down and we didn't want to pre-empt them and do something that would then be nullified by a potential ruling. The groundwork that was laid these last several years I think gives us a very good shot of getting this done this session.
Opposition To Be Expected
Although there is a lot of support for sports betting to be made legal in the state, the details in the sports betting bill will require a lot of discussions. There are several interested parties that need to come into agreement for the bill to be passed and that will take a lot of work as each of these parties have their own views on what the bill should entail.
Most states have had to deal with the pro sports leagues demand for an integrity fee. The leagues want a special integrity fee so that they can try their best to ensure that the games are fair and have no tampering or interference. It will also go to protect them from any harmful effects that legalized sports betting may have.
Casino operators will push for sports betting licenses as they want a piece of the market. However, the state lottery systems may want to go against them on that matter as other states have allowed their lottery systems to run sports betting operations. Solving all of these conflicts of interest will be necessary to see the bill successfully passed.