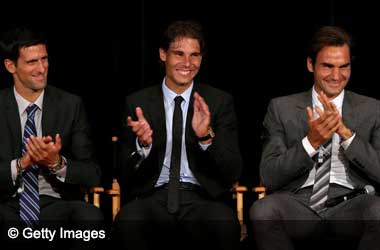 Summary
Rafael Nadal has more grand slam wins than any other male tennis player
Roger Federer opens up and praises long-time rival
Djokovic congratulates Nadal on new record
Rafael Nadal, Roger Federer and Novak Djokovic were all tied on 20 grand slam wins at the start of the 2022 Australian Open.
This was the most number of grand slam wins a male tennis player had in history and all three players were pushing to create history and win their 21st grand slam title.
Federer did not play the 2022 Australian Open as he was injured while Djokovic showed up to play but was deported due to visa issues.
This left Nadal with an open field as his two biggest rivals were not there to stop him. The Spaniard created history when he beat Daniil Medvedev in the final to create history and become the first man to win 21 grand slam titles.
Federer Posts Emotional Tribute
Roger Federer who was the first man to get 20 grand slam titles also at the Aussie Open is arguably the most loved male tennis player in the world and one of the reasons why the fans love him as he is a great ambassador of the game and a fantastic sportsman.
The Swiss great took to social media to congratulate his long-time rival Nadal and share an emotional message.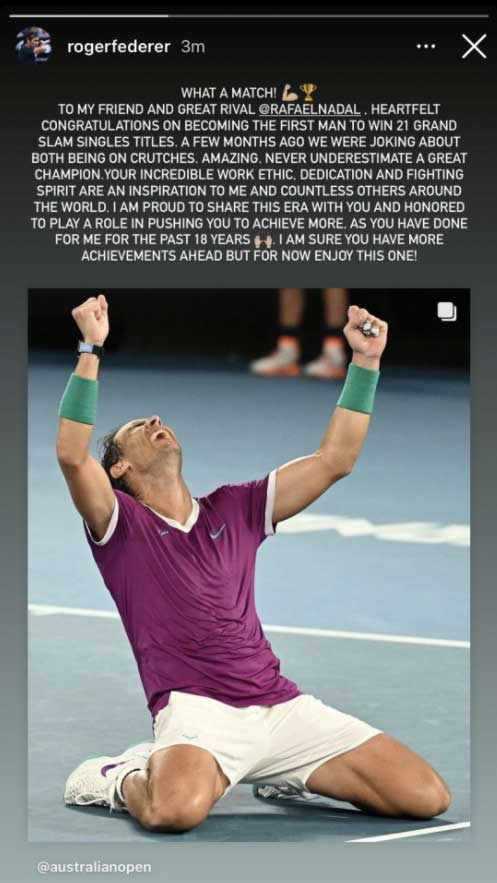 Federer said that only recently both he and Nadal were on crutches and were joking with each other. Federer said it was great to see Nadal overcome so many challenges and become the first man to win 21 grand slam titles.
Federer said he was honoured to share this era with Nadal and was happy to push him over the years and help bring out the best in him. He ended by saying that he was sure Nadal would achieve more in his career but reminded him to enjoy the moment!
Djokovic Congratulates Nadal
This must have been a bitter-sweet moment for Djokovic as he also had a great chance of becoming the first man to win 21 grand slam titles but it wasn't to be with his visa controversies in Australia.
Djokovic congratulated Nadal and paid tribute to his impressive fighting spirit and amazing achievement. He also praised runner-up Medvedev for playing with passion and determination.
Congratulations to @RafaelNadal for 21st GS. Amazing achievement. Always impressive fighting spirit that prevailed another time. Enhorabuena 👏🏆👍 @Medwed33 gave it his all out there and played with the passion and determination we have come to expect from him. pic.twitter.com/DsOvK8idNc

— Novak Djokovic (@DjokerNole) January 30, 2022
Nadal will look to extend his lead to 22 grand slam wins as he has been dominant over the years at the French Open which is set to take place from 22 May to 5 June.