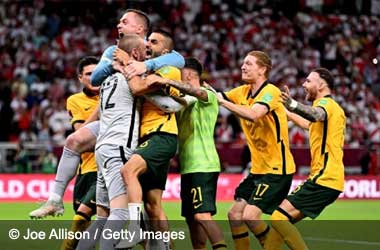 Summary
Australia beat Peru in a penalty shootout to qualify for Qatar World Cup
The Aussies took a calculated gamble by changing their goalkeeper
Head coach asks Aussie PM to declare a holiday for fans to celebrate
Australia and Peru faced each other in a high pressure World Cup qualifying game on June 13 at the Ahmad Bin Ali Stadium in Doha.
There was a lot on the line for both teams as the winner would automatically qualify for the 2022 FIFA World Cup which starts from Nov 21 in Qatar.
Australia have qualified for the last four FIFA World Cups and were desperate to make it 5 in a row. Standing in their way was a talented Peruvian side that wanted to beat the Socceroos and book themselves a spot in the 2022 World Cup.
The game was evenly contested as both sides had openings but did not capitalize and the game was forced into extra time. Extra time was difficult for both sides as the players gave their all in the sweltering heat of the Middle East. The Aussies registered a total of 11 shots with only 2 of them on target while Peru had a total of 10 shots with only 1 of them on target.
Peru was slightly ahead in terms of ball possession with 54 percent while the Aussies were not far behind with 46 percent. In the end, the game was pushed into a penalty shootout, something the Aussies were expecting and were prepared for!
Aussie coach Graham Arnold made a surprise move just before extra time could finish when he decided to substitute captain and goalie Mat Ryan in favour of Andrew Redmayne.
Arnold's Gamble Pays Off
This was a big and bold decision from Arnold but he later told the media that they had prepared for such a scenario and discussions were held between Ryan, Redmayne and the third goalie Danny Vukovic about who should take the penalty shootout.
Redmayne was very dramatic in the box, dancing and trying to distract the penalty kicker from scoring and he succeeded in the end by pulling off a great save that gave Australia a 5-4 scoreline. Peru was devastated at their loss while the Aussies celebrated qualifying for the Qatar World Cup.
Coach Arnold has called on the Aussie PM to announce a holiday to give football fans in Australia a chance to celebrate!