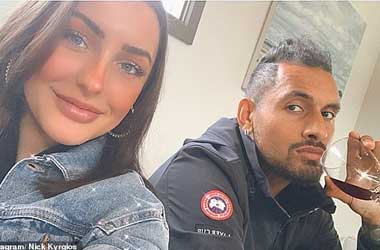 Summary
The Australian tennis star is facing a common assault charge related to a January 2021 incident involving his ex-partner
The court has now pushed back his trial till February 2023
Kyrgios's mental health history makes the application for dismissal appropriate
Tennis bad boy Nick Kyrgios is asking for the court to have his assault charge dropped on mental health grounds. His lawyer appeared before the Australian Capital Territory magistrates' court this week on his behalf and requested an adjournment so they could proceed with gathering and preparing forensic mental health reports.
Kyrgios is currently facing a common assault charge arising from an incident that took place in January 2021 involving his ex-girlfriend Chiara Passari. If found guilty, the tennis star could receive a maximum sentence of 2 years behind bars.
Under the local crimes act, the magistrates' court can dismiss a charge if it is proven that the defendant is mentally impaired and dealing with an allegation in that manner would benefit the community and the accused.
Kyrgios's attorney Michael Kukulies-Smith said they decided to apply for a dismissal of the charge after looking into his client's mental health history. Kyrgios made several public statements over the past few years revealing his mental struggles.
Back in February, the 27-year-old opened up on social media about his battle with mental health issues and drug and alcohol abuse around the time of the 2019 Australian Open, saying it was one of the darkest periods of his life. Kyrgios said depression hit him so bad that he was having suicidal thoughts and was harming himself.
The Australian tennis star said he has since completely turned himself around with a different outlook on things. When he reached the quarterfinals of the 2022 US Open after defeating Russia's Daniil Medvedev, he said he was proud that he was able to overcome his mental struggles.
His US Open run came to an end after losing a five-set quarter-final match against Karen Khachanov. Kyrgios once again made headlines after he was seen smashing two rackets on the court following his defeat, which resulted in him being fined $14,000 for unsportsmanlike conduct.
Kyrgios to Appear in Court in February
Kyrgios won his opening match at the Japan Open on October 5 against Taiwan's Tseng Chun-hsin. He revealed he struggled to breathe during the match due to high humidity.
Kyrgios, who is currently ranked 20th in the ATP world rankings, will personally appear in court at the next hearing in February.