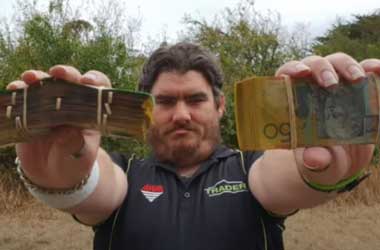 Summary:
Marley Wynter was allegedly involved in a $30 million sports betting Ponzi scheme
Wynter won the WPT Australia Super High Roller in 2022
Wynter closed down his business but has yet to repay all of his investors
Australia's Marley Wynter, the winner of the World Poker Tour (WPT) Australia 20th Anniversary Super High Roller, is under investigation for allegedly running a multi-million dollar Ponzi scheme.
Wynter topped a 63-entry field to secure the WPT Australia SHR title back in September 2022 for a career-best A$430,919 (US$287,164).
Wynter Facing Complaints in Australia
Based on his Hendon Mob profile, Wynter has so far only cashed in six live tournaments, with his total live earnings sitting at $297,781. Poker may not be his main focus as he was the owner of a sports betting agency called Marley's House of Sport and a second firm named Marley's House of Investment.
Now, it has emerged that both businesses could be involved in a massive Ponzi scheme victimizing hundreds of Australian investors, including poker players. According to a report from Poker Media Australia (PMA), Wynter and his two businesses are now being probed by Queensland Police Service's Financial Crime Assessment Team and its Cybercrime Unit over allegations he ran a fraudulent betting investment scheme.
Massive Profits Without Proof
Wynter's alleged illegal practices were exposed when Australian poker pro Craig Abernethy created a Facebook group to warn people about the scam
Abernethy shared that he was asked about putting money into Wynter's business but declined after noticing some red flags. Wynter allegedly promised investors that they could get up to 10x their sports betting investment which is too good to be true. Wynter also asked investors to pay unnecessary fees, and in some instances, he would require members to top up their accounts but discourage them to withdraw their profits.
Abernethy said Wynter wasn't transparent to his investors and failed to show proof that his business was indeed generating high returns.
Wynter ended up shutting his business but he reportedly assured investors they would get back their initial investment plus a 5% bonus. But the poker pro has yet to return the funds to all of his clients two months after closing down his business, as per a report from a local newspaper. Wynter also allegedly restricted access to MHS's social media pages, including Facebook, YouTube, and Instagram. Wynter earlier denied the fraud accusations, but with complaints against him piling up, he could be in deep trouble.