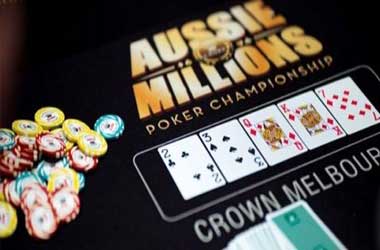 Summary
New laws in Victoria will result in a significant decline in revenue for the casino
The new rules could negatively impact major poker tournaments like the Aussie Millions
Crown Melbourne will need to take a call and clarify on the Aussie Millions soon
Victoria recently announced a package of reforms for Crown Melbourne stemming from a royal commission inquiry which found the casino unfit to hold a license.
This could affect the casino's poker offerings, including hosting the prestigious Aussie Millions poker tournament each year.
Crown Melbourne Could See Revenues Plunge
Under new gambling laws, Crown Melbourne patrons will not be allowed to play pokies unless they place a loss limit first. It will be up to the players to decide on the amount they will set, but Crown could be compelled to introduce a maximum loss limit.
On top of that, cash spending will also be capped at just AU$1,000 per 24 hours, and those wishing to spend more than that should present an ID.
Slots players will be directly affected by the changes as soon as they come into effect as their gambling activities will be limited. As a result, Crown's revenue will also suffer, considering that slots are the biggest drivers of revenue for the casino.
Aussie Millions' Future Now Uncertain
Crown Melbourne would need to consider making changes to other areas of its operations to compensate for the losses, and its poker room would be a top candidate given that poker doesn't generate that much revenue compared to slots and other casino table games.
Major tournaments usually held at Crown, including Aussie Millions, don't make huge profits for the venue either. For example, the AU$10,600 buy-in Aussie Millions Main Event in 2020 only pulled in 820 entrants, delivering AU$492,000 in rake, but the actual money that went to the casino's coffers was significantly smaller than that when the high staffing costs are factored in.
Crown won't be able to add as many slot machines as it wants due to existing restrictions on the number of slots that the casino can operate, but it can expand its casino table games, such as blackjack, baccarat, and roulette which drive far more revenue than poker.
This only means one thing — the future of the Aussie Millions could be hanging in the balance with the new rules set to be implemented at Crown Melbourne. Players and fans of the prestigious tournament should brace for what's to come as there's a high possibility that the casino would decide to cut its poker offering and eventually scrap Aussie Millions.