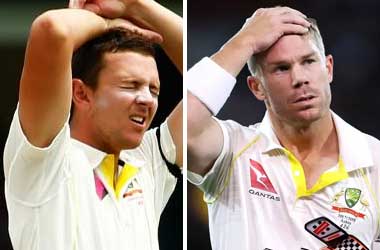 Summary
England chances of winning Adelaide test improve
Hazelwood and Warner set to miss D/N test
Anderson and Broad could return in Adelaide
England lost the first Ashes test in Brisbane and is now 0-1 down in the five match test series. The second test match will be a day/night test at the Adelaide Oval from Dec 16 to 20 and Australia will once again go in as the favorites but England will feel confident because Australia will not be playing at full strength as two of their top players are battling injuries.
Hazelwood And Warner To Miss Out
Josh Hazelwood did not bowl a lot in the second innings of the first test and there were rumours that he was carrying an injury. Australia has confirmed that the big quick is battling a side injury and will not be available for the Adelaide test. Hazelwood has flown back to Sydney and will work hard to regain his fitness to be ready for the Boxing Day test which takes place at the Melbourne Cricket Ground (MCG).
Hazelwood is likely to be replaced by the 25 year old Jhye Richardson who has played 2 tests for Australia so far and taken 6 wickets. Hazelwood's absence will be greatly missed by Australia as he is one of their best bowlers.
The next concern for Australia is veteran opening batsman David Warner who suffered a rib injury during the first innings at the Gabba. Australia have not ruled out Warner officially but it seems likely that they will rest him to have him fit for the MCG test.
This is another big blow for the Aussies as Warner is one of their most experienced players. The likely candidates to replace Warner are Usman Khawaja and the 23 year old Bryce Street from Queensland who is likely to be added to the squad.
Will Anderson and Broad Play At Adelaide?
England will be happy to know that Hazelwood and Warner could miss out because it strengthens their chances of winning. England need to get their playing XI correct for the Adelaide Oval as they made a big mistake in Brisbane when they rested their two most experienced bowlers.
England head coach and selector Chris Silverwood has confirmed both Anderson and Broad are fit but is yet to officially confirm if both bowlers will play at the Adelaide Oval.